Posted on October 18, 2012 by Tobias in
News
Tak and Koshi kicked off their EXTRA leg of their LIVE-GYM 2012 -Into Free- tour at the Nippon Budokan in Tokyo last night. The band opened with Love Bomb just like during their North American tour. In addition to the songs played during the North American tour, they also performed HEAT and Itoshii Hito yo Good Night...
The B'z version of HEAT seems to come off much brighter and — given Koshi's stronger voice — seems a lot more melodic. It's a shame that B'z did not play their own version of HEAT during the North American tour. It seems that it's fan service for their Japanese fans.
Check out the full set list below. The songs highlighted in bold are the ones that have been added to the set list compared to the set list of the North American tour. The next show will be at the Nippon Gaishi Hall tomorrow.
Posted on December 4, 2011 by Tobias in
News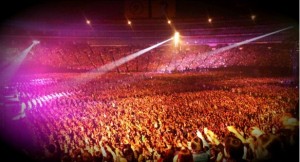 The first show of the LIVE-GYM 2011 C'mon Dome Tour has just wrapped up, and we have the set list right here for you. There have been a few changes, but nothing too major. I liked the fact that they threw in a few more rarely played songs. Changes made to the set list are marked as bold.
Check out the set list after the break!
Posted on January 14, 2010 by Tobias in
News
Yep, the tour kicked off today, and the first concert is already over, and here's the set list for those eager to find out.
SPOILER WARNING: If you plan on attending the LIVE-GYM I suggest you don't read this as it will probably spoil your fun at the concert.
Posted on July 20, 2009 by Tobias in
News
First day of the SHOWCASE 2009 tour is over, and here we have the set list for Kurume City after the break. A new song has been performed in the ENCORE part.
Posted on September 6, 2008 by Tobias in
News
First concert of the Pleasure 2008 -GLORY DAYS- tour is over. Set list below.
!!! SPOILER ALERT !!!
If you plan on going to any of the concerts, you should be aware that this might spoil the fun you're gonna have at the concert. If you don't care, please read on.
Posted on May 9, 2008 by Tobias in
News
The first day of ACTION just ended in Nippon Budokan, and I bet every one of those 14,951 B'z fans went home with a smile on their face. Why? Well, they played a complete new version of a song today.
Check out the whole set list by reading on!
Posted on May 5, 2008 by Tobias in
News
B'z seems to have finally updated their set list to feature 3 new songs. What's weird about the whole thing is that they didn't play the new set list at yesterday's(May 4th) concert in Nagano Big Hat. The venue is able to hold 8,000 in its concert hall. That's probably why they're staying there for a longer time.
We'll see how B'z will change their set list with the upcoming 4 days of ACTION in Nippon Budokan. Nippon Budokan will be able to hold 14,951 fans, so it's going to be interesting how B'z is going to adapt to that.
Anyway, check out today's set list below.