Details regarding the special campaign for Tak Matsumoto's upcoming solo album 「enigma」 have been revealed. A show dubbed "Tak Matsumoto Special Live" will take place amidst his solo tour on May 2nd. The show takes place at "Mt.RAINIER HALL SHIBUYA PLEASURE PLEASURE" in Tokyo. People who buy his new album will find a special code within the package that allows them to enter a lottery for tickets for the special show.
Instructions on how to apply are written on the card that comes with the code. Application deadline is April 11th, so make sure you get your copy in time.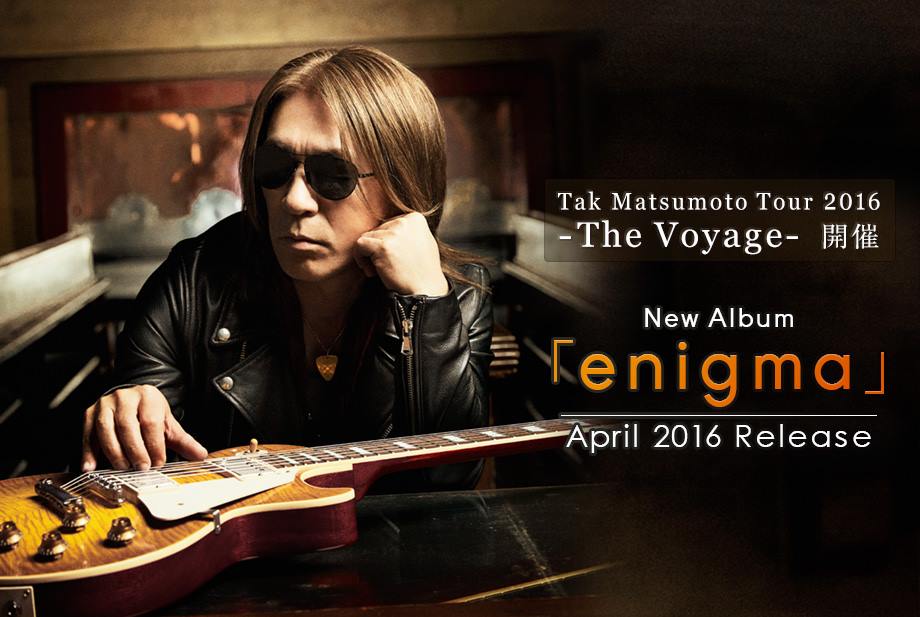 During last week's Music Station 3 hour special, it was revealed that Tak Matsumoto's 「#1090 ~Thousand Dreams~」 will be replaced by his reworked version 「#1090 ~Million Dreams~」as the show's theme. The latter song is also included in Tak's upcoming album 「enigma」 as a bonus track.
While Tak's new version of #1090 was played for the first time, a written comment by Tak himself was also read out. The comment read "I'm thankful and at the same time proud as a musician, that this track has served as the theme song for such a long time. This song was known for 'Music Station', and I believe a lot of people don't know that this song has been made by me. 「#1090 ~Million Dreams~」 is a newly reworked version of this very song. Working on a track that the me from 24 years ago wrote was a very fun experience. I think it's a great mix of a young person's vigor and an adult's laid-back kind of atmosphere. Sound-wise, the track has also improved quite a lot, which prompted me to rename the track from "~Thousand Dreams~" to "~Million Dreams~". I am very satisfied with the result. I would be very delighted if my track was used as the show's theme in the future as well."
The TV commercial for Tak's upcoming solo album 「enigma」 has started airing from today. 「enigma」 is due for an April 6th release, with Tak's solo tour 「Tak Matsumoto Tour 2016 -The Voyage-」 kicking off a week later, on April 16th. The commercial seen above features the songs 「Ups and Downs」 as well as a reworked version of one of Tak's classics called 「#1090 ~Million Dreams~」.
Koshi Inaba has announced today that his new song 「YELLOW」 will be featured in KOSE's new line of "Sports Beauty" commercials that advertise sun protection. The commercial (seen above) will be broadcasted nationwide in Japan from March 19th.
A release date for 「YELLOW」 has yet to be announced.
Tak Matsumoto has released a message regarding the 25th anniversary of ZARD. ZARD singer Izumi Sakai passed away in 2007 and this year would've marked her 25th anniversary since her debut as a musician.
Message from Tak Matsumoto
Happy 25th anniversary, ZARD! I wish you were here...
The last time we've met was when I had her sing 「Ihoujin」 on the cover album 「THE HIT PARADE」 I was producing.
She had a very charming and yet somehow sad voice, truly making it one of a kind in the world of Japanese pop music.
Almost 9 years have passed since she passed away, but the wonderful works she has left behind continue to enrich our daily lives.
Unfortunately, there won't be any new works by ZARD, or by Izumi Sakai, but her works will live on for generations to come and will also be listened to by people in the future.
Koshi Inaba has announced today that his signature blues harp model made by German musical instrument manufacturer Hohner is going to be sold exclusively to fanclub members at the price of 15700 Japanese Yen. Koshi Inaba is the first Japanese artist and the fifth artist to have a signature model made by Hohner. Hohner's signature artists are Jean Jacques Milteau, Bob Dylan, Steven Tyler and John Lennon. The blues harp comes in a special casing that features an exclusive picture and a special inlay that presents the signature blues harp in an elegant way, making it a great object to put on display aside from the harp's musical capabilities.
The fanclub exclusive online shop is taking orders from today until March 31st, 12:00 PM JST. Every order is limited to 4 pieces per person. As this is a build to order item, shipping will not take place until November 2016 to allow for manufacturing.
Posted on March 5, 2016 by Jd- in
Reviews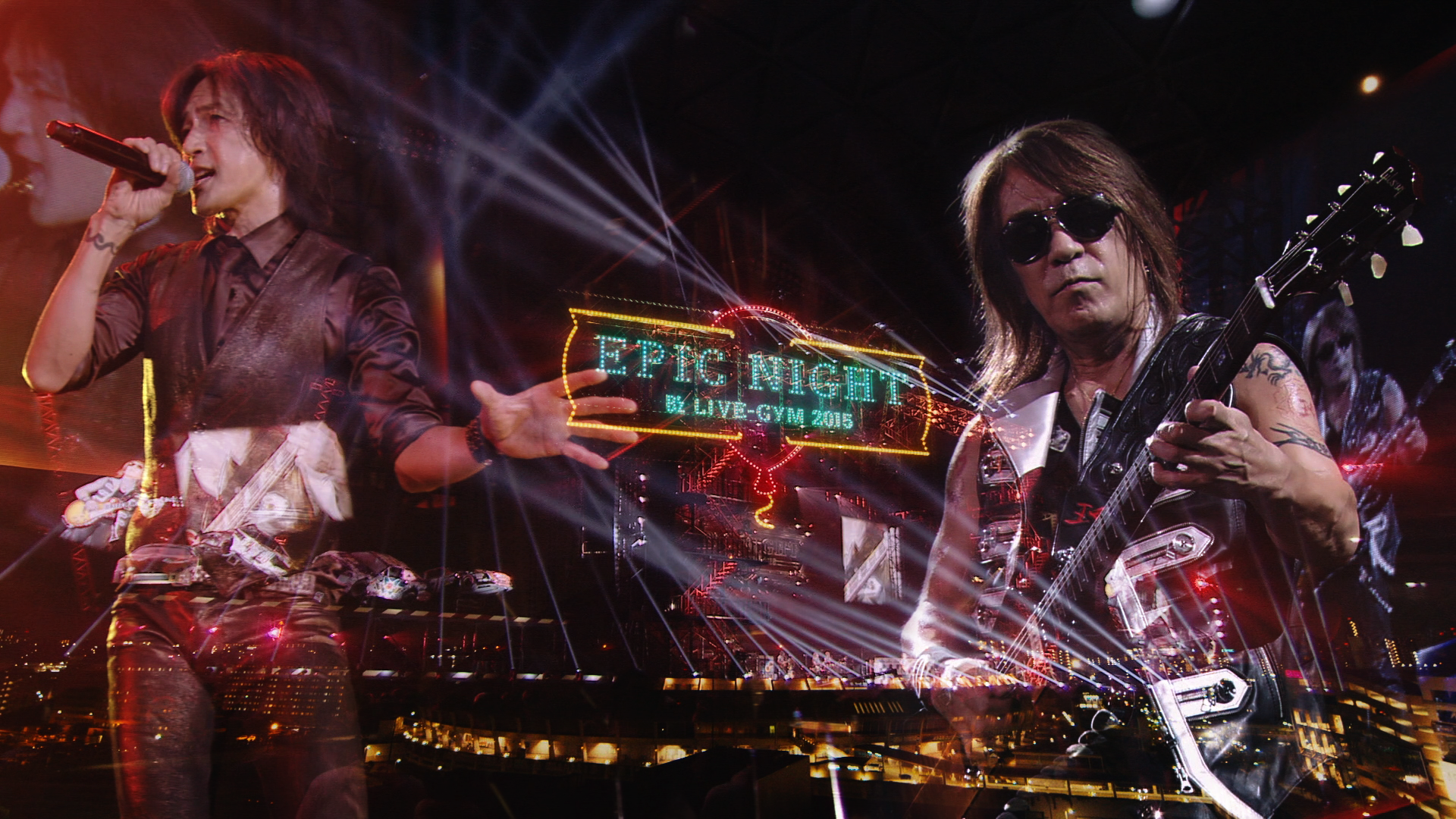 Over two years have passed since the home video release of B'z LIVE-GYM Pleasure 2013 ENDLESS SUMMER -XXV BEST-. The band has had their share of singles, albums, and solo works in the interim, but it is with the recently-released B'z LIVE-GYM 2015 -EPIC NIGHT- that the band makes their big return to the live stage on DVD and Blu-ray.
Today, we have for you an exhaustive review and report on the band's latest release. Please be advised that this review is written to be mostly as spoiler-free as possible with regard to the specific surprises of the show, but the song inclusions and beat-by-beat moments are discussed at length. Additionally, translations and summaries of Koshi's dialogue with the band and the audience are included for those seeking clarification.
Read on to see exactly what awaits in the band's latest home video offering and feel free to offer your own thoughts as well.