After years of work, an integral part of the B'z Wiki has been completed. Today, we have published eleven new articles which means, at long last, articles for all 52 B'z singles are now completed!
This project was especially difficult because of the language barrier involved. Hours of research into a base article can in turn lead you down a rabbit hole attempting to track down the origin of one solitary comment. Prior to the B'z Wiki and associated efforts, virtually none of this information was available in English. These 52 articles total over 60,000 words—approaching the length of a proper novel—and attempt to offer something new for even the most seasoned B'z veterans.
All told, the breadth of the band's career and the litany of releases to cover has made this an especially daunting task, but today, that is no longer a concern—the long-promised singles pages are now completed!
For those that have browsed the Wiki for such information before, here are the most recent articles you may have missed:
Additionally, in commemoration of this milestone, read on for 52 facts about the 52 singles that you may or may not yet know!
Posted on August 27, 2016 by Tobias in
B'z News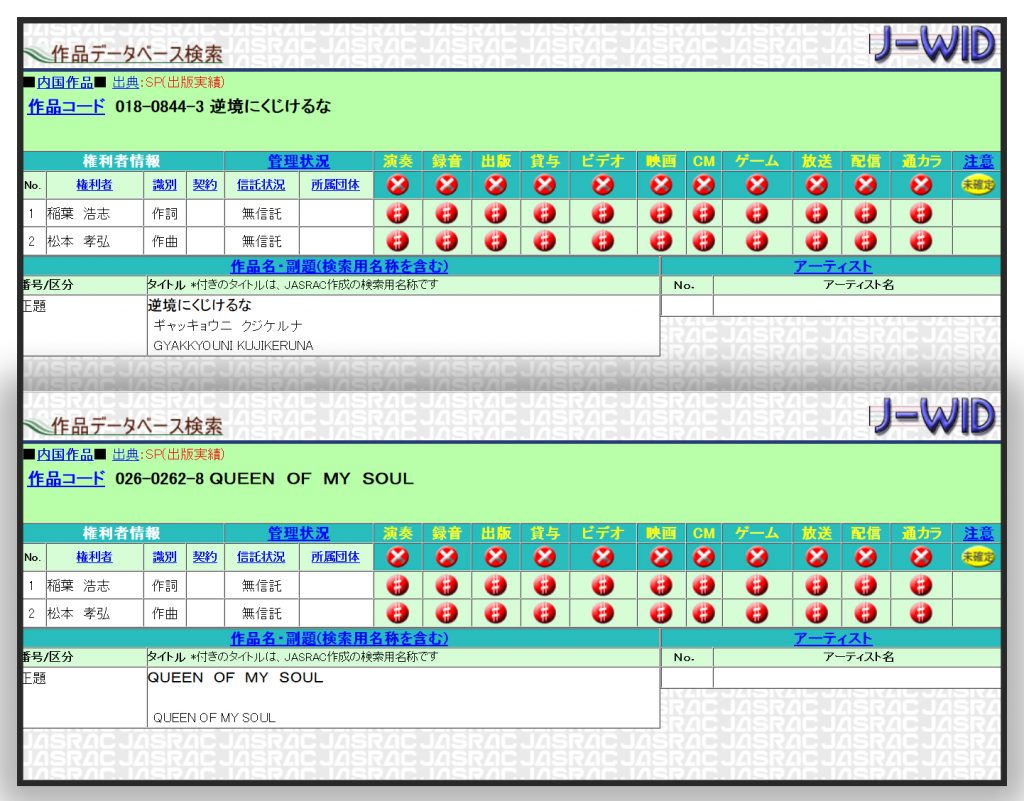 New entries in the JASRAC database (short for Japanese Society for Rights of Authors, Composers and Publishers) may be giving us our next glimpse at what B'z may have in store for their upcoming album. The two new songs—like all other B'z songs listed—are attributed to Tak Matsumoto as composer and Koshi Inaba as lyricist and bear the titles "QUEEN OF MY SOUL" and "Gyakkyou ni Kujikeru na" (Never Waver in the Face of Adversity, 逆境にくじけるな). The entries are still new and lack a publishing entity, so they may be registered for tie-up promotions later instead of Being Publishing, or are simply tentative registrations.
This is not the first time in recent months a new B'z song was registered with the same official entity for governing song royalties in Japan. As previously reported, "Cost" (コスト) was also registered earlier this year, though it has yet to materialize in released form.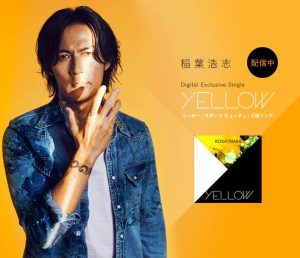 Koshi Inaba has just released his latest digital exclusive single 「YELLOW」 through digital music channels such as iTunes Japan, Mora and Dwango. The release comes after the song was announced in March, to be featured in the latest line of KOSE sun protection commercials. Ever since, the song has been reworked and has now been released in its current form.
Alongside the release of the single a stylish music video featuring Koshi in vectored out form from various live shows has been uploaded to the band's official YouTube channel. We have embedded the video for your viewing pleasure below!
Koshi is currently in Nashville, working on his new solo record with Stevie Salas. The solo record is expected to release in the Fall. A potential solo tour is planned for early 2017.
Posted on August 16, 2016 by Jd- in
News
A recent and previously unreported blog post by noted bassist Juan Alderete confirms his involvement with a brand new B'z studio album. Longtime fans may recall Alderete's earlier stint in the studio with the band, during which he provided bass on a healthy number of ACTION tracks in 2007 and later three tracks for 2009's MAGIC. Most recently, he contributed to "Vermillion Palace" and "Step to Heaven" on Tak Matsumoto's solo album enigma.
Additionally, he mentions that Jason Sutter is also involved and will be providing drums on select tracks. Fans of Tak's recent live output and studio album may recognize the name. The former Foreigner and Marilyn Manson drummer most recently contributed to Tak Matsumoto's enigma and on all dates of the subsequent live undertaking, Tak Matsumoto Tour 2016 -The Voyage-.
Alderete also notes that he auditioned in 2001 for what would become B'z LIVE-GYM 2002 "GREEN ~GO★FIGHT★WIN~". Famed Mr. Big member Billy Sheehan eventually assumed the role for that tour, though Alderete had made quite the impression which lead to him being called in to provide bass on memorable album tracks "Junjou ACTION", "Ore to Omae no Atarashii Kisetsu", and "Isshinfuran" as well as both "Ichibu to Zenbu" and "DIVE" later. His role in the 2009 sessions alongside Red Hot Chili Peppers drummer Chad Smith was filmed and released as part of the documentary Magical Backstage Tour 2009.
No release date is currently known for the much-anticipated twentieth B'z album, though the normal gestation period for the band's sessions would suggest a release date of late 2016 or, more likely, early-mid 2017. It can also reasonably be expected that the pairing of Shane Gaalaas and Barry Sparks will appear on other tracks for drums and bass respectively and that "Sekai wa Anata no Iro ni Naru" will be included.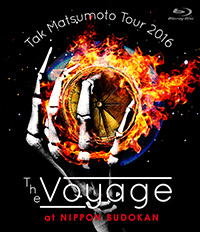 Tak Matsumoto's latest live show 「Tak Matsumoto Tour 2016 -The Voyage-」 has finally been announced as a home video release! The release will feature the final show at the Nippon Budokan on DVD and Blu-ray, and will be out on 28th anniversary of the B'z debut: September 21st, 2016. Bonus content will feature two optional angles to the guitar spectacle for select songs:
Stage View: Stage view allows viewers to experience the whole atmosphere and stage scene while taking in the music.

Close-up View:

 Ever wanted to know how Tak plays his guitar? Well, now you can! Close-up view allows viewers to see Tak's fretwork up close for the entire song.
[SET LIST]
01. Dream Drive
02. enigma (+ STAGE VIEW)
03. Vermillion Palace (+ CLOSE-UP VIEW)
04. Step to Heaven
05. Koi Uta
06. Hana (+ STAGE VIEW & CLOSE-UP VIEW)
07. Theme from Fist of the North Star ~The Road of Lords~ (+ STAGE VIEW & CLOSE-UP VIEW)
08. Theme from ULTRAMAN
09. THE THEME OF B.J. (+ STAGE VIEW)
10. THE WINGS (+ STAGE VIEW & CLOSE-UP VIEW)
11. 99
12. Wanna Go Home
13. Hopes
14. Under The Sun
15. Drifting (+ STAGE VIEW)
16. The Voyage (+ STAGE VIEW)
17. Mystic Journey
18. Ups and Downs (+ STAGE VIEW & CLOSE-UP VIEW)
19. enigma ~epilogue~ (+ STAGE VIEW)
20. RED SUN ~ SACRED FIELD (+ CLOSE-UP VIEW)
21. GO FURTHER (+ CLOSE-UP VIEW)
22. #1090 ~Million Dreams~ (+ CLOSE-UP VIEW)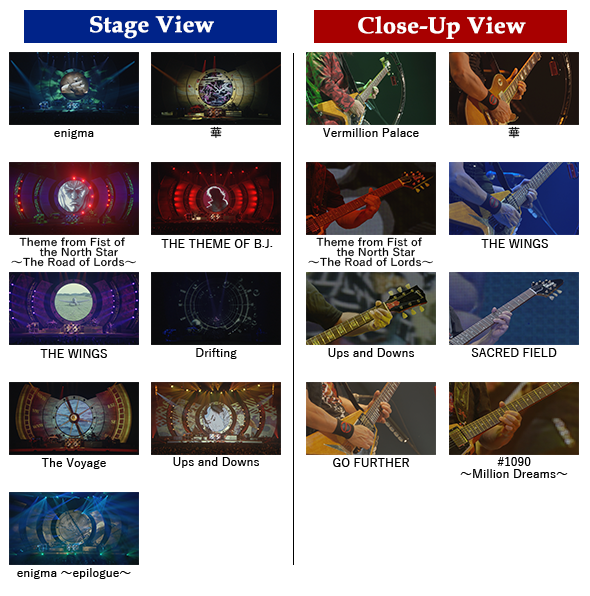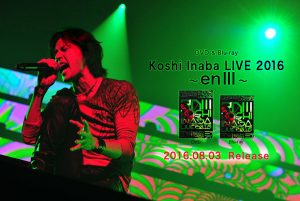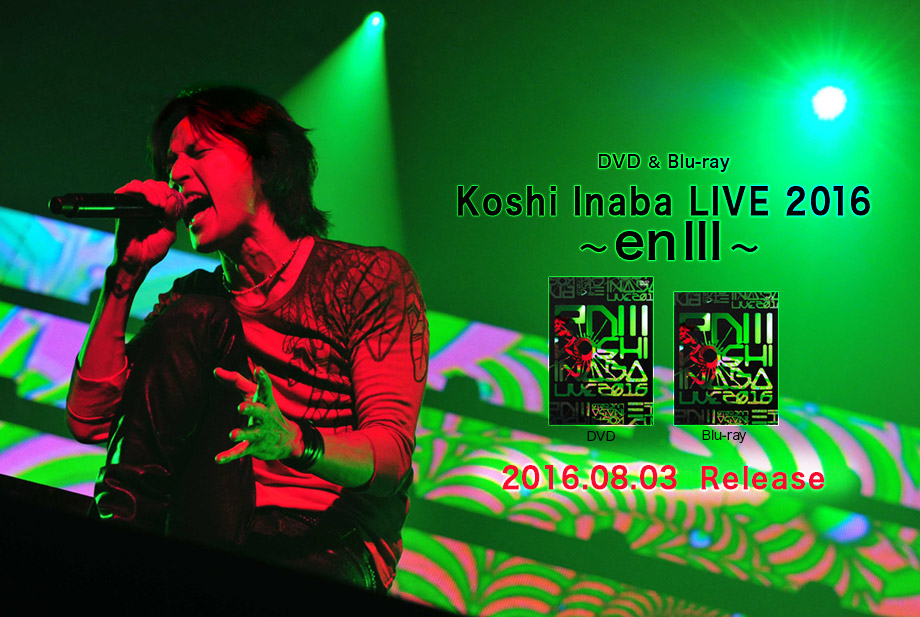 The recently released home video of Koshi Inaba's 2016 solo tour 「Koshi Inaba LIVE 2016 ~enIII~」 has gained the pole position on both the general DVD as well as the general Blu-Ray Oricon charts.
The home video release sold 12,000 copies on DVD and 23,000 copies on Blu-ray in its first week. Koshi's last solo home video release of "en-ball" only managed to score second place in the Blu-ray charts in its first week on sale. With the release of "enIII", this is Koshi's first home video release to be #1 on both DVD and Blu-ray charts.
Via: Oricon
Posted on August 8, 2016 by Tobias in
News
As you've probably noticed, ever since Koshi and Tak had wrapped up their respective solo projects, it has been very quiet on the B'z front despite the announcement of a new song, "Sekai wa Anata no Iro ni Naru", which ties into the Conan franchise. The latest issue of the fanclub magazine, Be With! Vol. 110, was supposed to shed some light on their future plans and their current work, but no new information could be extracted from the interview.
Both say they are working on new music. Tak Matsumoto is very likely preparing new B'z songs, while Koshi is working on a solo project with Stevie Salas. In the interview, Koshi mentions he wasn't in the mood for work for quite a while, and didn't start working until after Golden Week in the beginning of May. He does not mention why, but the passing of his father on April 15th may be the cause of that. Said solo project may not come to fruition until Fall, with an announcement to be expected for September at the earliest. Another solo tour for early 2017 may also be thinkable for Koshi, depending on how well the record does, according to Salas.
Koshi's recently announced song 「YELLOW」 was, in fact, rushed to meet the deadline for the commercial, and Koshi has since reworked the lyrics to the song, as evidenced in the new version of the commercial. (old one for comparison)
As for Tak, he talked about his solo tour and the recent reveal of his 1959 Gibson Signature model. Gibson approached him last year, and asked him what he'd think if they made such a model for him. Tak gladly accepted. A Gibson employee visited Tak and took pictures of Tak's 1959 model from every angle and in great detail, so they'll be able to reconstruct it later. On the B'z front, Tak assures that he's working on something, but it may take some time before they can announce something. Koshi may even be working on his solo project and the new B'z project at the same time, as Koshi is in contact with Tak.
All in all, us B'z fans are expected to be patient for just a little longer! We'll keep you updated, of course!