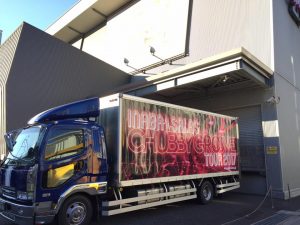 Koshi Inaba and Stevie Salas have kicked off their tour "CHUBBY GROOVE Tour 2017" in support of their recently released collaborative album CHUBBY GROOVE on January 25. The set list constists of seventeen tracks, with "SAYONARA RIVER" being the opener to the show. All tracks off the CHUBBY GROOVE record have been performed live, in addition to Koshi Inaba solo tracks "My Mirai", "Hazumu Sekai" and "Shoumen Shoutotsu".
Furthermore, the band has covered Davied Bowie's "Moonage Daydream" live on stage as well as performed a cover of The Clash's "Police on My Back", which is found on Stevie Salas' cover album JAM POWER released in 2010.
To date, the band has also done two shows in Osaka at the Zepp Namba with the same set list. Their next show is on January 30th at the Zepp Sapporo in Sapporo.
Check out the full set list and additional information on the tour on the B'z Wiki!
With the release of their collaborative album CHUBBY GROOVE set for this Wednesday, another full-length music video from Koshi Inaba and Stevie Salas has been uploaded to their joint YouTube channel. This time, the two have released the oft-previewed "OVERDRIVE", whose music video was filmed in and around Austin, Texas. You can pre-order the album at the usual places: [YesAsia] [CDJapan] [Amazon Japan]. Their joint tour CHUBBY GROOVE TOUR 2017 kicks off January 25 and runs through a showing in Nagoya on February 20.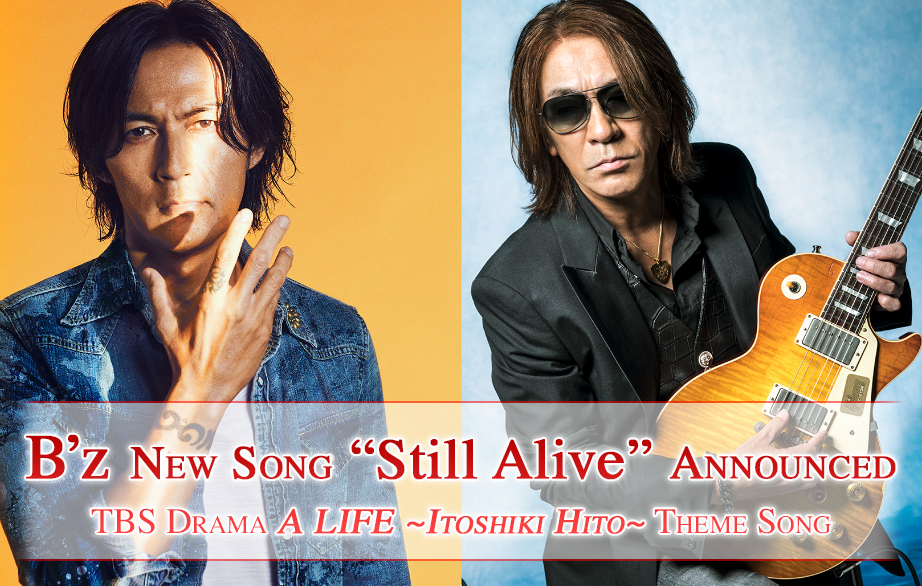 In a surprise announcement, it has been revealed in its first airing that a brand-new, previously-unheard B'z song entitled "Still Alive" will soon be serving as the theme to the new TBS medical drama A LIFE ~Itoshiki Hito~. The drama stars well-known actor and singer Takuya Kimura of SMAP fame. In commemoration of the announcement, B'z also released a message about its creation:
We started working after having received an offer for the theme song. We also took the chance to talk with the drama's production team. After some trial and error, we were able to produce a track we were content with. We'd be glad if this song contributed to the atmosphere of the drama. —B'z
This is the second time B'z have contributed to a Kimura-starring drama. In 2000, one of the band's best-known singles in "Konya Tsuki no Mieru Oka ni" accompanied Beautiful Life which went on to sweep the Television Drama Academy Awards for the year and net B'z a win for Best Theme Song.
Whether the song will be released as a digital exclusive single in the near future or issued as a physical release has not yet been announced. In the meantime, check out "Still Alive" as it aired during the first episode today!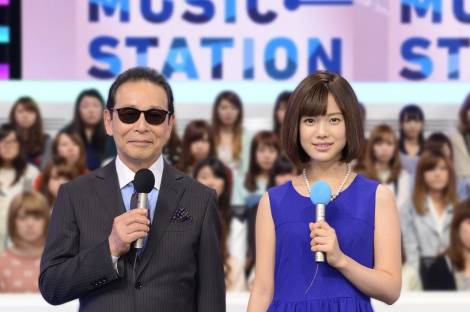 TV Asahi has just announced that Koshi Inaba & Stevie Salas will be appearing on this week's edition of Music Station for an interview and performance of their new song "AISHI-AISARE". Other acts appearing for the episode include Bruno Mars, KinKi Kids, backnumber, and Busaiku.
Notably, this will mark the duo's first performance from upcoming joint album CHUBBY GROOVE. Moreover, this is their first performance together in nearly seven years—since Salas appeared as a guest for a Nippon Budokan show during Koshi Inaba LIVE 2010 ~enII~ to play "Hazumu Sekai", a song co-written by the two years earlier.
The 2-hour special edition of the perennial music program airs this Friday, January 20.
With the release of Koshi Inaba & Stevie Salas's collaborative album CHUBBY GROOVE due out this week, the last of the promotional push is now getting underway. Foremost, the pair's song "OVERDRIVE" is now serving as the theme to the new edition of Porsche's Panamera as shown in the clip below:

Additionally, the duo have also made available a brief behind the scenes video with their song "WABISABI" as well:

A full video for one of the new Koshi Inaba & Stevie Salas collaborations has now been made available on the pair's YouTube channel. The song "AISHI-AISARE" (Love, Be Loved) is set to be included on their album CHUBBY GROOVE, due for release on January 18, 2016. You can pre-order the album at the usual places: [YesAsia] [CDJapan] [Amazon Japan]. Their joint tour CHUBBY GROOVE TOUR 2017 kicks off January 25 and runs through a showing in Nagoya on February 20.

Additionally, another short music video for fellow album song 「Kunou no Hate no Sore mo Kotae no Hitotsu」 (What Lies At the End of Sorrow Is Also An Answer) has been uploaded and can be streamed below as well:

Given the rising popularity of lyric videos in today's internet music culture, we decided to try our hand at creating one featuring a B'z song. The song we decided to work with was the English tune "Love Bomb", itself being a new rendition of the 2005 Japanese single "Ai no Bakudan".
(Update for 2017—This edition of the song was previously released in 2012 as part of the band's debut English album but was recently delisted from international iTunes stores with the coming of the new year. A similar delisting followed after five years of availability for the band's 2007 International EP. It bears noting that "Into Free -Dangan-" remains available worldwide as a single.)
As a bonus: You can also now download a collection of eight custom wallpapers inspired by this project right here. Each wallpaper was created for a resolution of 1920x1080 but should scale nicely to any widescreen resolution.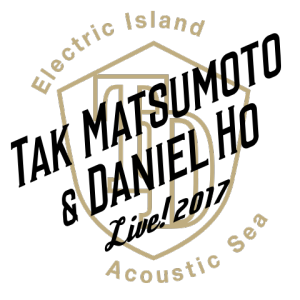 Just before the new year, an overseas performance has been announced for Tak Matsumoto's and Daniel Ho's "Tak Matsumoto & Daniel Ho LIVE! 2017 -Electric Island, Acoustic Sea-" tour. The show will be at the Blue Note Hawaii on March 19th. There are performances scheduled at 6:30PM and 9PM HST. Tickets are available through TicketWeb. Be sure to get your ticket early!
In other news, the logo and members of supporting band have been announced for the tour. Keyboardist Akira Onozuka and guitarist Yoshinobu Ohga will be joined by Randy Drake on drums and Steve Billman on bass. Both have been performing on stage with Daniel Ho in the past.
Keyboards: Akira Onozuka
Guitar: Yoshinobu Ohga
Drums: Randy Drake
Bass: Steve Billman