Posted on September 4, 2008 by Tobias in
News
Asahi Shimbun Publications is planning to release a 400 page photobook to celebrate B'z 20th anniversary. This 400 page book contains photos from a variety of occasions, demonstrating the past 20 years of B'z. You will see a lot of familiar as well as unfamiliar photos. It includes 326 pictures taken by photographer Sachiko Kume. The book will be in B5 format and will go on sale on September 19th at a suggested retail price of 4900 Yen(~$44/~30€).
If you would like to pre-order it already, you can do it here: http://www.amazon.co.jp/gp/product/4022586893?ie=UTF8&camp=247&creative=1211&creativeASIN=4022586893
Posted on May 15, 2008 by Tobias in
News
Apparently, the B'z 20th Anniversary Special Website seems to have received an update. It now includes news on CS(Communications Sattelite) Broadcasts of a special show for B'z The Best "ULTRA Pleasure".
Check out the broadcast dates below.
Posted on April 22, 2008 by Tobias in
News
The official B'z Website was updated just a few hours ago and now features a new, flashy 20th anniversary design. Most importantly, though, a new site related to two new releases has gone online. It may serve as the home for more releases in the future, but for now, only two are listed. The new site's address is: http://bz20th.com/
Read on for the full awesomeness of the two new releases.
Posted on April 13, 2008 by Tobias in
News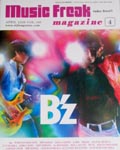 The latest issue of the free Music Freak Magazine features a review of the latest single, BURN -Fumetsu no Face- (BURN -フメツノフェイスー), as well as the latest article from their "more plus B'z life" series.
"more plus B'z life" Vol. 5 features a survey of "B'z Songs Women Want Men To Hear" (女性が男性に聴いて欲しいB'zの曲).
See the Top 20 songs below.
.....