Posted on September 17, 2011 by Jd- in
News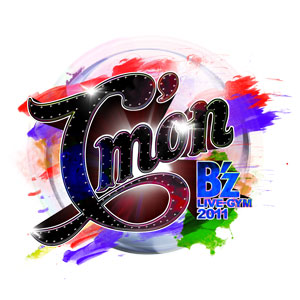 Just under two months since B'z made their triumphant return to the North American music stage following an eight year absence, they are now back in Japan and back doing what they do best. As support for only the latest number one studio effort from the band, the similarly titled "C'mon" LIVE-GYM tour kicked off today with a performance at Miyagi Sekisuiheim Super Arena.
B'z will play an encore concert at the venue again tomorrow night, and from there will move onto Sundome Fukui on September 24th. The arena portion of the tour will conclude on November 6th after seventeen performances, with the dome shows beginning on December 4th in Fukoka before wrapping up on Christmas Day at Tokyo Dome.
Setlist obscured beyond the break to avoid potential spoilers.
Posted on July 28, 2010 by Lum in
News
B'z latest release "B'z LIVE-GYM 2010 "Ain't No Magic" at TOKYO DOME" on DVD and Blu-Ray has already topped the Oricon chart, and a massive advertising campaign has been launched.
This morning, two coloured pages featured B'z ads in the Asahi Shinbun (one of Japan's most renown newspapers), promoting this new release. Also, busses with ads on it could be seen on the streets.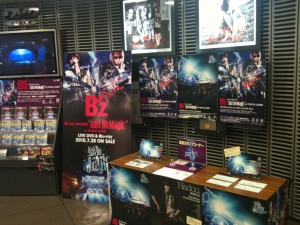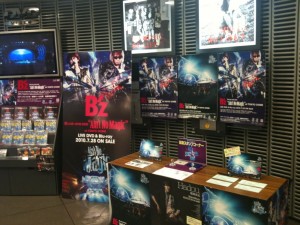 Until August 1st, Tower Records music shops are hosting a corner called "B'z SHOP-GYM". Both DVD and Blu-Ray are offered with a 15% discount, and you can get a special commemorating seal (in 2 different colours, red and blue) and mini-uchiwas with tour's logo on it.
In some shops you can also see a scale model of the "flying stage" used during dome tour dates.
photo credit: Q-DICE
Posted on September 14, 2008 by Tobias in
News
First of all, I forgot to mention that the japanese TV channel NHK is going to air a 20th anniversary B'z special on October 6th. It is going to be 48 minutes long and won't include any commercials. It's probably going to be something similar to the 15th anniversary special that aired on TV, which included a thorough interview with B'z and a secret live performance.
Furthermore, B'z Official LIVE-GYM page has been updated to feature the first impressions on the Pleasure 2008 tour! Be sure to check them out here: http://bz-livegym.com/report/index.html
Also, as B'z The Best "ULTRA Treasure" is about to be released, people have a chance to receive special goods when they buy a copy of B'z The Best "ULTRA Treasure" in stores listed on the 20th anniversary special website. These goods include a "Treasure Can", a set of pair rock glasses, an "ULTRA BOX", a clear file, a key holder or a set of stickers. More information here: http://www.bz20th.com/shop/
And, what's more, is the fact, that B'z PARTY members seem to get a copy of a new official B'z PARTY bootleg called B'z Official Bootleg Hidden Treasure~Typhoon No.20~. A bunch of people discussed this in a community's thread on mixi. It looks like a few people got the bootleg delivered a little early, since it was originally scheduled to ship to B'z PARTY members around September 20th. And, guys, it's going to be a DVD. If I get my hands on more information, I'll let you know!
Posted on May 5, 2008 by Tobias in
News
B'z seems to have finally updated their set list to feature 3 new songs. What's weird about the whole thing is that they didn't play the new set list at yesterday's(May 4th) concert in Nagano Big Hat. The venue is able to hold 8,000 in its concert hall. That's probably why they're staying there for a longer time.
We'll see how B'z will change their set list with the upcoming 4 days of ACTION in Nippon Budokan. Nippon Budokan will be able to hold 14,951 fans, so it's going to be interesting how B'z is going to adapt to that.
Anyway, check out today's set list below.
Posted on April 19, 2008 by Tobias in
News
Today, B'z officially kicked off the second part of their LIVE-GYM 2008 "ACTION" tour which involves bigger venues such as arenas, and bigger concert halls. They started their tour in the Mie Kenei Sun Arena which is able to hold about 11,000 fans. Furthermore, Ohta Shinichiro from doa has joined the crew of support members from here on out, as back-vocalist and back-guitarist par usual. The concert has just ended in Japan and we have the set list right here for you.
Check it out below.