Posted on April 30, 2012 by Tobias in
News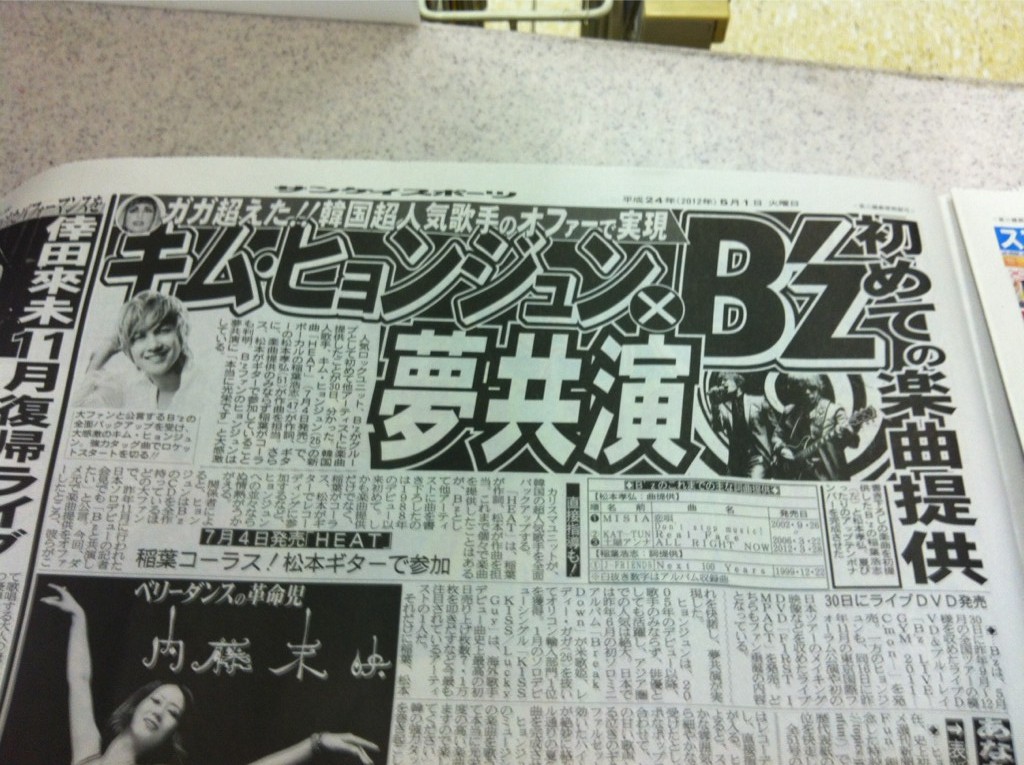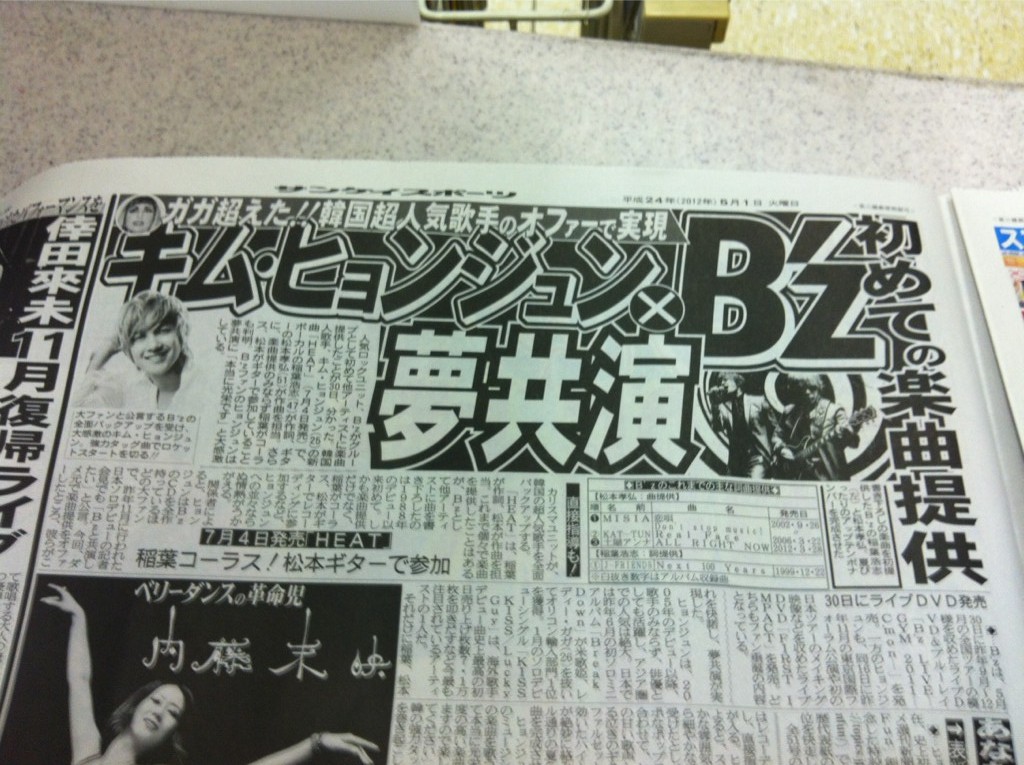 May 1st's morning papers are reporting a very interesting bit of news: K-Pop singer Kim Hyun-joong is going to collaborate with B'z on his new single "HEAT". Said single is going to be released on July 4th, 2012. Kim Hyun-joong became known as leader of the Korean boyband SS501 and has started a career as a solo artist last year, releasing his debut solo mini album Break Down on June 8, 2011.
As for the song itself, Tak provided the guitar work for the piece and Koshi provided the lyrics for the song. The two can even be heard on the track itself: Tak is supporting on guitar and Koshi is doing the vocals for the chorus!
This news has angered a considerable amount of Japanese B'z fans as they are disappointed by the band. If B'z was collaborate with another band, it should be a high profile one. B'z has played with Aerosmith, Linkin Park and Steve Vai in the past. Now a K-Pop singer? We'll see what else this year has in store for us!
Stay tuned!
UPDATE 5/1:
Apparently I have made a huge mistake here. I didn't think there would be a Kim Hyun-joong and a Kim Hyung Jun in the same boyband. And that there would be a difference. haha I apologize for the confusion this has caused.
Posted on January 23, 2012 by Tobias in
News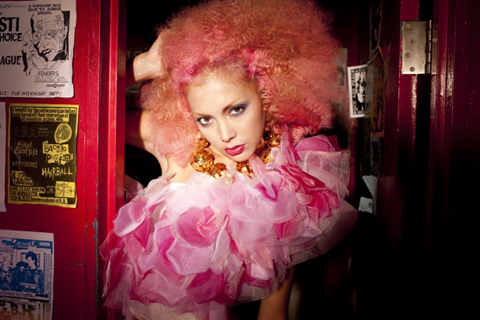 After having released her triple A single "UNCHAINED GIRL" last month, rock singer Anna Tsuchiya has recently announced on her official website that she's going to release a "Best Collaboration Album" on December 21st. The album is going to come in two flavors: CD and CD+DVD.
Among others, Tak Matsumoto has been mentioned to be on the collaboration album as composer.
*UPDATE (January 23rd, 2012)*: The launch of the album was postponed in December, but a new date has now been announced: March 28th, 2012. The title of the song Tak is collaborating on has also been revealed: ALL RIGHT NOW. This is a completely new song by Anna Tsuchiya and will feature Tak. It is currently unclear as to what extend Tak is involved. My guess would be: Composition, Arrangement and Guitar.
Past projects Tak Matsumoto was involved in include(but are not limited to):
Fantasia by Takamiy (Released: August 25, 2010)
Chuo-sen by Kine Naoto (Released: April 7th, 2010)
SET IT ON BLAST!! by Stevie Salas (Released: July 15th, 2009)
Source: B'z松本、ハイスタ難波書き下ろし曲収録! 土屋アンナのコラボ・ベスト登場 - TOWER RECORDS ONLINE
Posted on October 1, 2010 by Tobias in
News
The official announcement for Stevie Salas' new cover album "Jam Power" has been posted on B'z Official Website. As we previously reported, it's going to be released on October 20th, 2010 priced at 2500 Yen in Japan. It looks like it is going to be available internationally as well, since the Japanese edition contains a bonus track which is exclusive to Japan. Koshi Inaba is going to be the lead vocalist on the track "Police on my back" which was originally recorded by the band The Clash.
Also, as posted on HMV.co.jp in the song credits, there's a story associated with it:
After I had dinner with Koshi Inaba in Beverly Hills, we went back to his place in my car. When I switched on the radio a song by The Clash was playing and Koshi really had to turn up the volume as he enjoyed the song. One year later, while we were in the car again, a song by The Clash was playing on the radio. Seeing how Koshi was singing along to the song hitting all the notes and getting the lyrics right, he told me he's a great fan of them! So when we went to record for "JAM POWER", I asked him if he could sing a song from The Clash. "In English?" he asked. "Yeah" I replied. Then I checked out a bunch of my favorite Clash tunes to find the one I liked best. As you all know I'm a big fan of funk, so I gave "This Is Radio Clash" a try, but Koshi's voice was not suited for such a song.

When I met Koshi in Hawaii again, we were barbecuing steaks and once we listened to "Police On My Back", we said "This is it!!" When I was in high school in San Diego, the band I was in performed that song numerous times, so I knew the song quite well. After Jara Slapbak added the funky style to the rhythm track, I flew over to Tokyo to record the vocals with Koshi. When I came back to LA, King's X singer Doug Pinnick sang the chorus for the song and, with that, polished it.

(Translated from Japanese)
And here's the tracklist as well as cover:

01. Tell Me Something Good (Chaka Khan)
02. Girls Got Rhythm (AC/DC)
03. Police On My Back (The Clash)
04. Disco Lady (Johnnie Taylor)
05. Everybody's Got Something To Hide Except Me And My Monkey (The Beatles)
06. This Is Radio Clash (The Clash)
07. No Air (Jordin Sparks)
08. Getaway (Earth, Wind & Fire)
09. Only Happy When It Rains (GARBAGE)
10. Moonage Daydream ~Live in New York version~ (David Bowie)
11. Ondularte ~Fading Out~ (Gandhi) * Japanese Bonus Track
Posted on March 6, 2010 by Tobias in
News
Kine Naoto has been famous in the 80's with the band TM Network, which he also founded together with Komuro Tetsuya and Utsunomiya Takashi in 1983. Tak Matsumoto also used to support TM Network with his guitar skills by producing some songs that involved an electric guitar.
To no surprise it seems that Kine Naoto has been keeping in touch with Tak ever since. So now Tak has collaborated with an old friend from the pre-B'z days, and it's going to be track number #6 on the new album "Chuo-Line"(that's a train line in Tokyo) by Kine Naoto. According to his official site, it's going to be a folk-style album.
The title of the song Tak is collaborating on is "Mitaka Blues". One can imagine that it's no surprise that Tak is called in for a blues session on the spot.
The album will be out April 7th, 2010 and will be priced at 3060 Yen.