Posted on December 4, 2013 by Tobias in
News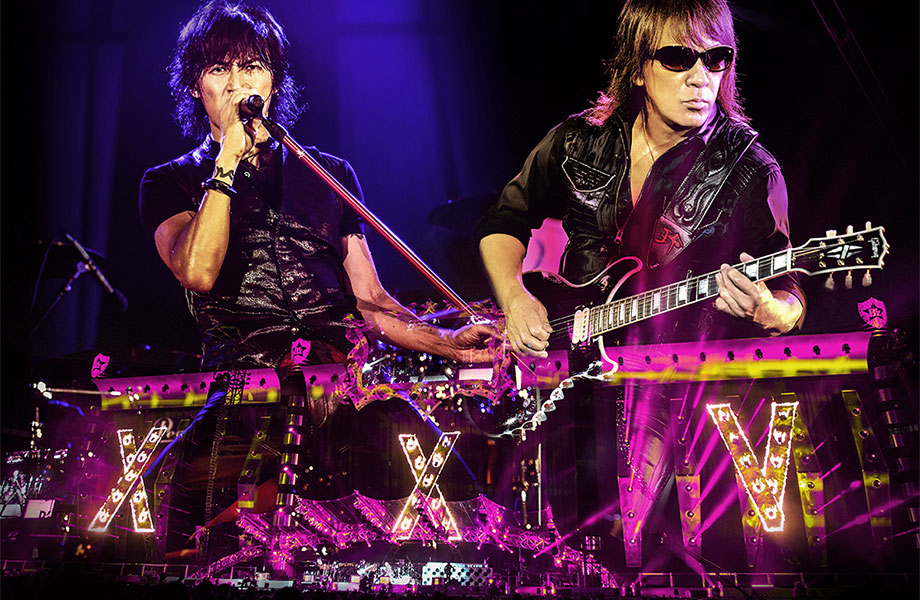 From the moment the latest B'z tour came to an end, fans have been eagerly anticipating the home video release for their 25th anniversary nationwide tour B'z LIVE-GYM Pleasure 2013 -ENDLESS SUMMER-. Today, we finally know when the package will be released, and much to everyone's surprise, it is coming in a bigger and better form than anyone ever expected!
B'z LIVE-GYM Pleasure 2013 ENDLESS SUMMER -XXV BEST- will be released on January 29, 2014, and will be available on both DVD & Blu-ray. What sets this release apart is that it will come available in not just a Regular Edition containing the full Nissan Stadium finale concert but also a Complete Edition that is no doubt the biggest B'z has ever released!
The Complete Edition contains not only the full finale concert but also a feature-length hall & dome tour documentary as well as yet ANOTHER full concert from the band: an earlier July performance during the hall tour with a vastly different setlist comprised almost entirely of rarely played songs and full of gems that fans have long clamored to have added to their home video collections. This massive addition to the B'z home video collection comes in at a staggering 348 minutes (nearly 6 hours!) runtime and is definitely not one to be missed!
Hit the jump for the full contents of both editions of the upcoming release as well as a trailer (the music in the video is OVERTURE, by the way!) just released by the band!
Posted on December 25, 2010 by Tobias in
News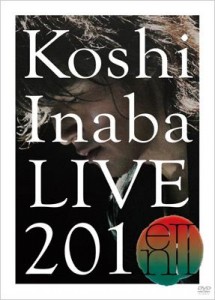 What a great Christmas present for Koshi Inaba fans! On B'z Official Website, the video release of Koshi Inaba's ~en II~ was announced, and it is going to be out on February 16th, 2011. The release will come in two flavors: DVD and Blu-ray. I think it's about time they started releasing live videos in HD...
Anyway, the DVD version will be 2 disks and the Blu-ray version will be just one disk. There are no extras included, just the live performance itself. I find that a little disappointing, but I guess that every true Koshi fan will buy it anyway! Both releases will be priced at 6300 Yen, which is pretty pricey. The total runtime is 129 minutes, so you've got over 2 hours to watch. If you're wondering what performance was recorded... it is the one at Nippon Budokan. If you would like to catch a glimpse at the live performance, you can visit B'z Official Website as they have updated their intro video.
Setlist:
・ Tamayura
・ My Mirai
・ The Morning Call
・ Okay
・ Eden
・ AKATSUKI
・ Nami
・ LOVE LETTER
・ Toumei Ningen
・ Akai Ito
・ Lone Pine
・ Kono Te wo Totte Hashiridashite
・ LOST~Wonderland
・ Tooku Made
・ ~jam~
・ CAGE FIGHT
・ Koyoi Kimi to
・ Zettai (teki)
・ Shoumen Shoutotsu
・ Hazumu Sekai
・ Itaike na Taiyou
Source(s): B'z Official Website
Posted on March 7, 2010 by Tobias in
News
Right after the tour is over, B'z official website got updated to show a new opening video stating that the live video will hit in both DVD and Blu-Ray (Yes, that's high-definition B'z!!) flavors soon.
Expect more details in the future.
Posted on December 22, 2008 by Tobias in
News
The B'z PARTY website has been updated today to feature a new flash movie on the website. On it, it says that the release date for the video of the last 2 days of the B'z LIVE-GYM Pleasure 2008 GLORY DAYS tour has been decided. It's going to be February 25th, 2009! No further details have been given, so we don't know how many discs it's going to feature or in what formats it is going to be released (Blu-ray would be cool, eh?).
UPDATE: The setlist has been confirmed as the 9/21 show (not that you were expecting anything less). Click on for the setlist.