Koshi Inaba has just announced that he will be guest on NTV's morning news program 「ZIP!」 on March 4th, 2016. He will most likely talk about his current live tour and about the recently announced live streaming of his tour finale through Hulu.
Via: B'z Official Website
Translating all these interviews word by word takes a lot of time and effort, which has created a huge backlog on our part. To still keep you all updated with the latest information, we will from now on give you a quick summary of the most important points that have been made or revealed during each interview.
Be With! Vol. 108 was delivered to fanclub members in January 2016. The interview section is split up into "Tak Matsumoto" and "Koshi Inaba" interviews respectively. Both interviews were conducted at the end of November 2015.
Tak Matsumoto Interview
Tak was interviewed in his private studio in L.A., currently busy with recording. Below is a brief summary of what they talked about.
TV Asahi Dream Festival
- Enjoyed performing there very much
- Playing two versions of "ZERO" was Koshi's idea: playing one chorus in the way they played it during the "EPIC NIGHT" tour
- Didn't get to see the other artists as he was busy in his wardrobe
- Went to OZZFEST and saw 9mm Parabellum Bullet, Black Label Society, Hatebreed and BABYMETAL
- Wanted to see BABYMETAL and therefore went to OZZFEST; he liked BABYMETAL's performance very much
Fanclub Exclusive SHOWCASE
- Thought they had done a fanclub exclusive event before
- Was surprised that fanclub members remembered the lyrics to "hole in my heart" and "Naite Naite Nakiyandara"
- Would do such an event again if there was a plan to do it
New Songs For "The World Heritage"
- Made the ending theme first
- Producers of the show had a lot of requests regarding the main theme
- Hasn't decided on a title for the track yet
- Sometimes makes songs before deciding on a title; this seems to be the case here
- Jason Sutter on drums
- Juan Alderete on bass (also worked with B'z on "SUPER LOVE SONG" and "ACTION")
- Main theme for "The World Heritage" was recorded in L.A.
- Ending theme was recorded with Shane and Barry while on tour in Japan
- Akira Onozuka on piano
Song for Ukiyo-e Exhibition: "Ups and Downs"
- At the time he received the request, he had already finished all songs for the new album
- Decided to make one more song
- Thinking about putting that song on the new album as well
- Enjoyed working on the song as he also likes Ukiyo-e
- Recorded with Jason Sutter and Sean Hurley ("Kuroi Seishun" from "ACTION")
- Was looking for a drummer for next year's solo tour and wasn't sure about Jason Sutter, so he invited him to work on recording first
- Liked him as a person as well as his musical skills; Jason plays drums on over two-thirds of the new solo record
New Solo Album
- Didn't specifically choose to make a rock-style album; just makes what he wanted to do at the time
- He is self-producing the new solo album (compared to "New Horizon" with Paul Brown and Robert Williams)
Upcoming Solo Tour
- Two of his solo shows will be in big venues: Osaka Jo Hall and Nippon Budokan
- Thought something special could be done in bigger venues
- Unusual for instrumental performances to take place in big venues
- Will perform both new and old songs with a focus on the new album
- Fans will not get to see him sing
Private Time
- Went to see LOUDNESS in LA
- Saw American Football for the first time; Watched UCLA vs UC Berkeley in the stadium
- A friend, who is a sports eventmanager, invited him
- Was surprised that a football game can take 3-4 hours to finish although each quarter is only 15 minutes.
B'z Recording
- Still a secret what they are working on, but they are working on something
- As they promised, they will be back as B'z in 2016
I finally got around to posting about the Tak and Slash interview published in the 「Young Guitar」 magazine today! But let's make one thing clear first: They did not announce a collaboration or something along those lines. But perhaps we will see one in the future, who knows? The article starts by explaining that Tak and Slash have a lot in common: They have their own Gibson Signature Models, they have won a Grammy Award, they both released a number of no.1 albums, ... So it was about time that the two sat down for a proper talk. As it turns out, they have even more in common!
Find out more after the break!
Posted on January 7, 2014 by Tobias in
News
American rock drummer Carmine Appice was recently interviewed by the Examiner and when asked a question about Japan, he mentioned one very particular band...
Ray Shasho: There are so many legendary rock bands from the 70's that are having more success overseas these days … especially in Japan.

Carmine Appice: "Japan has their own domestic artists that are huge. It used to be that Japan didn't have any domestic artists until the mid 90's. All of a sudden they started getting their own artists. So all the American and UK artists who used to go there and play the Budokan are now playing smaller venues. But their artists are playing stadiums. There's a group over there called B'z and they can play three stadium nights in every major city in Japan. We're talking 150,000 people. It's a singer and a guitar player. I went to see them in Japan as a guest, they're friends of mine, and I think it was the night before or night after I saw Kiss over there. Kiss was playing at the stadium too. The B'z production was bigger than the Kiss production. It was ridiculous…it was so big. Over there they don't travel around in big semis, they travel around in these sixteen to twenty foot trucks … so they must have had about a hundred trucks going from city to city … it was crazy. But there just huge over there."
Posted on February 24, 2012 by Tobias in
News
As promised, here is the subtitled version of the interview. Enjoy!
Posted on July 16, 2011 by Tobias in
Other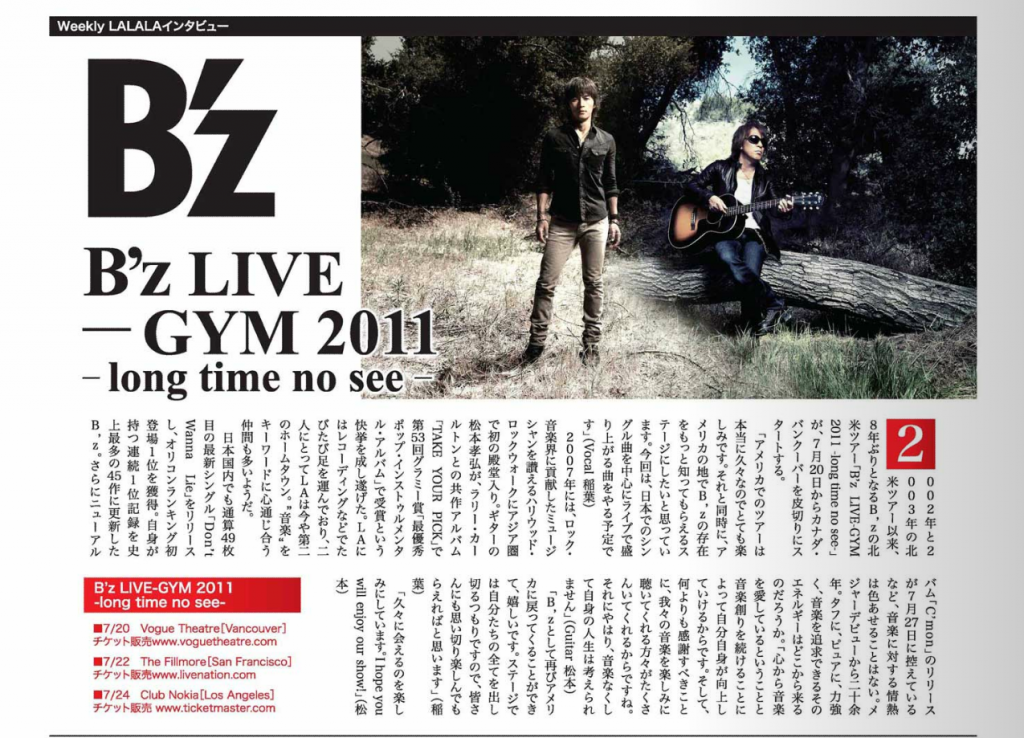 Issue no. 393 of the Weekly LALALA, a Japanese free magazine from Los Angeles, features a short article on B'z North American tour including a short interview with Tak and Koshi. It reads like this:
After their North American tours in 2002 and 2003, for the first time in 8 years, B'z is doing a North American tour called "B'z LIVE-GYM 2011 -long time no see-", which will kick off on July 20th in Vancouver. "It's been a long time since we toured in North America, I'm really looking forward to it. At the same time, I want to set the stage so that more people get to know B'z in North America. This time we're going to focus on our Japanese songs that have been released as a single and play songs that will be rocking the house.", says vocalist Koshi Inaba.
In 2007, B'z was the first asian artist to be inducted into the Hollywood Rockwalk. Guitarist Takahiro Matsumoto won the Grammy for "Best Pop Instrumental Album" with his album "TAKE YOUR PICK" which he recorded together with Larry Carlton. Since both of them are regularly in LA to do recording and other things, for them, Los Angeles has become their second hometown. It also looks like they have a lot of friends there who interpret the keyword "music" the same way.
With releasing their 49th single "Don't Wanna Lie", they've immediately topped the Oricon chart, raising the bar once again. B'z, who updated their record of series of no.1 singles to 45 and is going to release their new album "C'mon" on July 27th, doesn't show a sign that their passion for music is fading. It has already been more than 20 years since their major debut. Where does that energy come from, that enables them to continue producing music?
"It's because I love music from the bottom of my heart and when it comes to producing music, because I can always improve myself. More importantly, though, because there are so many people that enjoy our music. Also, I can't imagine a life without music.", answers guitarist Tak Matsumoto.
"I'm happy to be back in North America as B'z. We're going to give it all on stage and I hope everyone will enjoy it." says Koshi Inaba. Tak Matsumoto adds "I'm looking forward to meeting everyone again. I hope you will enjoy our show!"
So... is B'z looking to push into the (North) American market? What do you think?
*UPDATE*: This is an extract from the interview in the Nichi Bei [ http://www.nichibei.org/2011/07/taking-the-world-by-storm-b%E2%80%99z-ready-to-rock/ ] :
NBW: Mr. Matsumoto, you were awarded a Grammy and the band became the first Asian musicians to be inducted into Hollywood's Rockwalk of Fame. What's next?
TM: It's been 8 years since we last played in the U.S. We would like to keep on playing all over the world from now on.
KI: We would like to do more shows and introduce our music to the people in the U.S.
Source: http://lalalausa.com/digitalmagazine/weeklylalala393/index.html
Posted on July 13, 2011 by Tobias in
Other
The Vancouver Shinpo, a Japanese newspaper located in Vancouver(Canada), features an interview with Shane Gaalaas in its issue dated June 23rd. It looks like B'z management are really focusing on Japanese fans in general, seeing how the interview was published in a Japanese newspaper... in Japanese. Odon of B'z no bise as well as myself have requested Shane Gaalaas for an interview, but he never got back to us with an answer from B'z management.
In the interview, he's talking about the upcoming North American tour as well as his connection to Canada and Japan. I apologize for any translation mistakes I might have made.
The interview
Please tell us about Tak Matsumoto and Koshi Inaba
I haven't met such humble people before. I think their CD sales, ingenuity and skills show pretty much how much work they're putting into their music. But still, they're keeping the balance between being humble and being proud. And it deeply impressed me that they're not egocentric at all, they're working as a team. Matsumoto-san and Inaba-san are like the Sedin brothers (Star players for the Vancouver Canucks).  They're supporting each other to become better at what they do.
Please tell us something about the performance in Vancouver
The set list is a secret, but I think everybody who's coming to see the show will enjoy it. There are a lot of great songs, so it's difficult for me to choose my favorite one, but I'll enjoy performing every single song. As a drummer, I'm challenged with playing a lot of different styles. From funky to jazzy.
What's your current goal?
To create good B'z CDs. As a drummer, I want to continually improve my skills. If I have some free time, I'd like to compose some solo songs, too. And I'd like to get better at surfing and ice hockey as well.
What do you think are the charm points of Japan and Canada?
I love spending time in Japan. I especially like Japan's culture, food and people. There's a lot of wonderful places in Japan, and every time I'm there, there's always a new place for me to discover.
I also like Canada's culture. It's pure. The people are relaxed and I think they enjoy their life without being too materialistic. You can really feel it when you're there.
And it's especially a great place in summer.
You're originally from Innisfail, Alberta. What kind of place is it?
I was born in Edison, Alberta and raised in Innisfail. Innisfail is a small, traditional and idyllic community. It's about an hour drive from Calgary. The place has grown a lot. When I was a kid, about 2500 people were living there, but now, about 7000 people live in the city. It was a great place for me to grow up in. The winters have always been hard and long, but we made the best of it and had fun at playing ice hockey and skiing. And when I was 10 years old, making music became my dream. Since there aren't that many opportunities in such a small place compared to big cities, I had to jam with my band members in my personal time. Most of my family still lives in Innisfail, so I'm trying to see them about twice a year.
Are you looking forward to the North American tour?
Yeah, I'm really looking forward to it. My friends and family plan to come to the performance in Vancouver.
Before I started living in Los Angeles, I used to live in Vancouver for two and a half years.
I remember I was very surprised how open Vancouver's society is. There are a lot of delicious restaurants and I got to meet a lot of wonderful people. I think Canadians are the most friendly people in the world. If I have some time during the tour, I'd love to show my friends the great places in Vancouver.
Do you watch NHL?
Of course!! I'm Canadian, after all!! I probably started playing ice hockey at the same time. Even now, I sometimes go to the skating rink near my house and play hockey.
I support the Calgary Flames as well as the Vancouver Canucks.
When you showed me your CV, I admired all the things you've achieved in your life.  Your skills and passion are a given, but what makes you different from other people?
Thank you. I'm thankful that I can lead my life as a musician. I'm not exactly sure how that makes me different from other people, but I think I've always had the strength to set new goals and pursue them until I've achieved what I wanted. I wanted to do music. I think when people manage to put their energy and passion into something, they'll be able to achieve what they desire. This might be a common way of saying it, but whatever difficulties you might experience, you should always pursue the things you like doing. There might be a lot of difficulties, but you should turn these hurdles into good experiences. And you should have fun at doing that.
The original article: http://www.v-shinpo.com/index.php?option=com_content&view=article&id=274:2011623-26&catid=7:ryugaku&Itemid=8
Posted on February 22, 2011 by Tobias in
News
Here you can see the finished commercials - both the 15 second and 30 second versions. Afterwards, Tak and Koshi are interviewed about their thoughts on the commercial filming as well as their new song. Translation of the interview is below the video!
Also, you can preorder your copy now!
Normal Edition: [YesAsia (Global)] [YesAsia (US)] [CDJapan.co.jp] [HMV.co.jp] [Amazon.co.jp]
Limited Edition: [YesAsia (Global)] [YesAsia (US)] [CDJapan.co.jp] [HMV.co.jp] [Amazon.co.jp]
Thanks to JIJI Press for uploading the video to Youtube! http://www.jiji.com/
Original video: http://www.youtube.com/watch?v=wOxF_IsFfJc
Interview translation:
Q. What are your thoughts on your first TV commercial appearance?
Tak: Since it's our first time, I didn't know what to expect, so I was a little bit surprised by the speediness of the crew as well as their planning. I enjoyed it.
Koshi: The location of the filming was a place where there's nothing at all. We have been to such places before, but there have been a lot of staff members and because of that it turned out to be a very pleasant experience and I'm thankful for that. Thank you very much.
Q. What do you think about the fly-by shot?
Tak: I was really surprised by that one. I didn't think they would come so close. I bet I look so surprised there that perhaps you can't use that scene.
Q. About the song in the commercial "Sayonara Kizu Darake no Hibi yo"
Tak: First we talked about [the commercial] and had a look at the storyboard. When I composed the song, I felt it had to be speedy and fresh and the like. That's what I realized.
Koshi: Before we actually went into the studio, we bought Pepsi and while drinking it - this is real, by the way - we composed the song in the studio. Also this is our first try at doing something like this and a part of last year was dedicated to our solo projects, so I think the link between our solo and our band works is well done because we were able to go back to producing songs as a band right after that.
Q. A message to the fans
Tak: It's the first time we've done something like this and I think this song turned out great. Please look forward to checking it out! Thank you.
Koshi: A lot of people have put their work into this song, so I think it's a wonderful piece of work. Please look forward to checking it out!
Posted on July 20, 2010 by Tobias in
News
Koshi Inaba has given an interview on his latest solo album "Hadou", which will be out on August 18th. We don't know if it's going to be the same interview in every magazine.
An interview with Koshi Inaba will be in these magazines:
smart - July 24
DIME - August 9
FRaU - August 12
WHAT's IN? - August 12
ori star(オリ☆スタ) - August 20
GQ JAPAN - August 24
If we get ahold of this interview, we'll translate it for you!
Yep, this is an interview, from the March 2009 issue of the official B'z fanclub magazine. You only get it if you're a member of B'z PARTY. This is just a rather small part of the interview, but I'll continue to translate parts of it until I have the whole interview translated. I'll keep you updated. For now, just enjoy.