With the release of their collaborative album CHUBBY GROOVE set for this Wednesday, another full-length music video from Koshi Inaba and Stevie Salas has been uploaded to their joint YouTube channel. This time, the two have released the oft-previewed "OVERDRIVE", whose music video was filmed in and around Austin, Texas. You can pre-order the album at the usual places: [YesAsia] [CDJapan] [Amazon Japan]. Their joint tour CHUBBY GROOVE TOUR 2017 kicks off January 25 and runs through a showing in Nagoya on February 20.

Posted on March 2, 2015 by Tobias in
News
With the release of B'z new album 「EPIC DAY」 drawing near, the remaining two short version music videos for 「Classmate」 and 「Kimi wo Ki ni Shinai Hi Nado」 have been posted on B'z Official YouTube channel. Check them out!

Posted on May 7, 2013 by Tobias in
News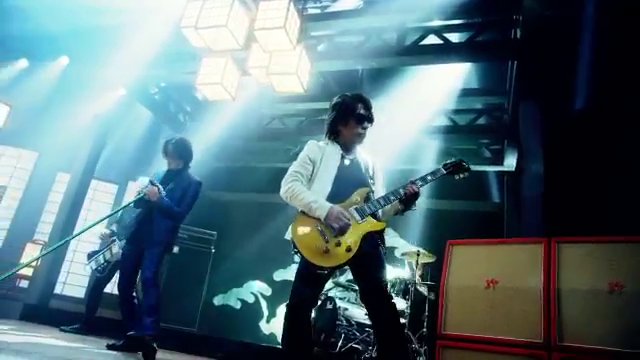 The newest song by B'z, entitled "Q&A", has started airing as the new opening to the anime series Detective Conan as of May 4th. "Q&A" is set to be released as part of B'z The Best XXV 1999-2012 — one of the two best-of compilations B'z is going to release on June 12th of this year. In addition to the song premiering on the anime series, B'z has also published a 90 second excerpt from their newest effort's music video. (Be warned: It features a samurai warrior fighting multiple fierce ninjas. Brace yourselves!)
In addition, we also have the lyrics thus far, along with their accompanying translation, available on the B'z Wiki. For your viewing pleasure, we have taken the time to subtitle aforementioned music video made available by the band on their YouTube channel. Feel free to view it below and be sure to get in your pre-order for the two compilations due for release in just over a month!
Posted on March 23, 2012 by Tobias in
News
We are just little over a week away from the release of B'z 50th single GO FOR IT BABY -kioku no sanmyaku- and the music video for said single has been posted on the band's official YouTube channel today. I have uploaded the video for your convenience - especially if you are from a region where you cannot view it (e.g. Germany). Feel free to leave your opinion on the music video in the comments!
Moreover, additional details regarding the Pepsi NEX special campaign have been unveiled. As you know, with the purchase of B'z new single you get the chance to win one out of two thousand B'z x Pepsi NEX special T-Shirts! All you have to do is send in the postcard that comes with the single. Now the designs of these T-Shirts have been revealed.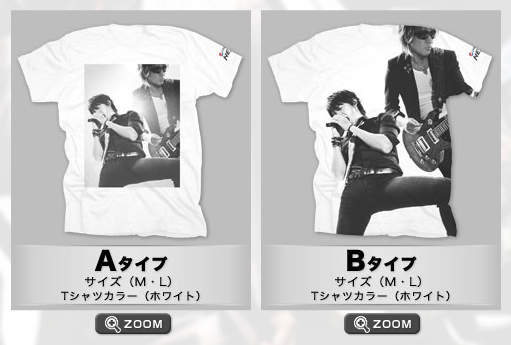 When you receive your postcard with the single, you can choose whether you'd like type A or type B in case you are one of the few lucky winners. You'll also have to choose your T-Shirt size (M or L only).
Deadline for submission is April 30th, 2012.