Tak Matsumoto's latest solo album entitled Strings of my Soul will be on sale in the United States on August 7th through 335 Records.
The rumor has been around for quite a while after a friend of mine (www.bznobise.eu) has reached out to 335 Records a while ago and asked if they could imagine an international release. They got back to him and said that the album could be released in August. And now, here we are. This has yet to be confirmed officially, but Amazon is listing it already.


This is also a great chance to save some dollars, too. If you do not feel like importing the record from Japan, you should definitely wait and grab the US version. The Japanese version will set you back at least $36 plus shipping for the regular edition! However, it is currently unclear whether the limited edition will also be on sale in the United States.
Source: Strings Of My Soul on Amazon.com
Posted on May 11, 2012 by Tobias in
News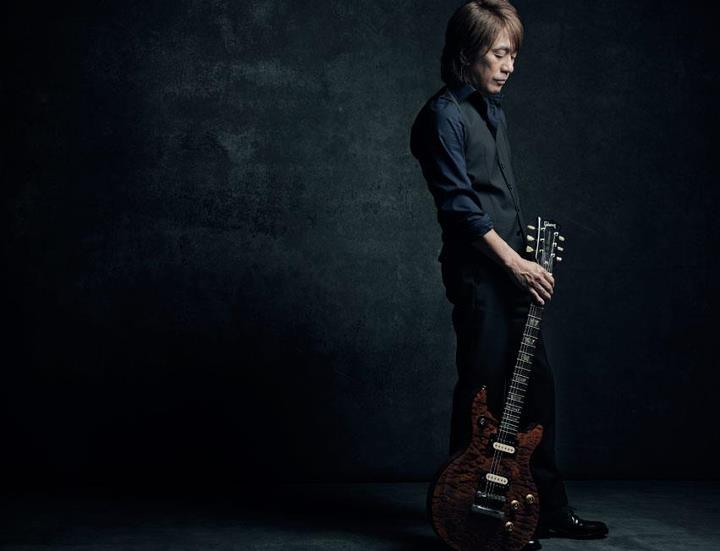 Tak Matsumoto's very own label, House Of Strings, has announced that Tak Matsumoto's latest album Strings Of My Soul is going to be released on June 20th, 2012. Tak's new album gives off a feeling that it is a best-of compilation as quite a few tracks have already been released on Tak's previous works.
A huge part of the album is made up of tracks from Tak's self-described solo magnum opus, Hana (2002). Tracks such as "Koi-Uta", "#1090 Sen Mu Ichiya", "Hana", "BLUE" ("Misudouji BLUE") and "Romeo & Juliet" are all from Hana, leaving it to account for five of the thirteen tracks from Strings Of My Soul.
While this may the vibe of a best-of compilation, all of the tracks on the album have been remixed and remastered. In addition, Grammy Award winner Paul Brown has been involved as producer, engineer, and mixer on a couple of tracks such as Tak's new song "Live Life". Tak's old friend Larry Carlton also makes an appearance on the track "SUKIYAKI" where the two play a cover together.
The album comes in two flavors: a CD-only edition and a limited CD+DVD version. The CD version will set you back 3,059 Yen while the CD+DVD version will cost you 3,780 Yen.
Pre-order:
CDJapan: [Regular Version] [CD+DVD Version]
Amazon(JP): [Regular Version] [CD+DVD Version]
HMV: [Regular Version] [CD+DVD Version]
See the track listing as well as the CD+DVD version content after the break.
Posted on September 29, 2009 by Tobias in
News
Slash, former guitarist of the famous band Guns N' Roses, has announced that he has been working with Koshi Inaba on a collaboration track, which will be featured on his new solo album slated for a February 2010 release. The track is called "SAHARA".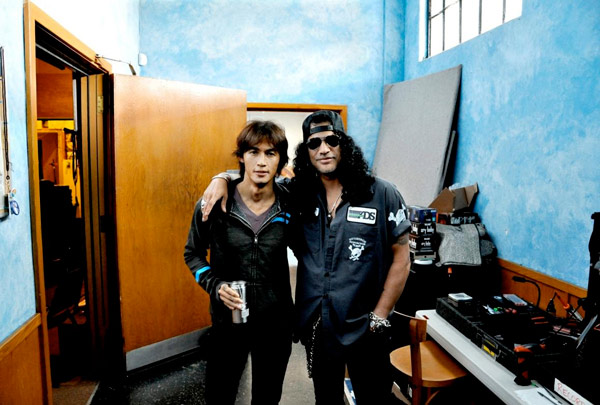 Prior to the release of the album, a single will be released exclusively in Japan on November 11th. It will feature the track "SAHARA" featuring Koshi Inaba and a second track called "Paradise City" which features Fergie from Black Eyed Peas as well as the hip hop group Cypress Hill.
As I have no idea how famous Slash is in Japan, I think that the single is released to make him known in Japan, especially now that Koshi Inaba is featured on one track, a lot of die-hard fans of B'z will order that single.
CD Details


Name: SAHARA~Feat. Koshi Inaba / Paradise City~Feat. Fergie & Cypress Hill
Type: Single
Number of Tracks: 2
Release: November 11th, 2009
Price: 1200 Yen (tax excl./$10/8€)