T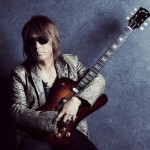 he interview for the next issue of the fan club-exclusive magazine Be With! (due in January) was conducted the other day. In it, Tak talks about his new album and his upcoming tour. An excerpt of the interview has been posted exclusively on the official fan club's website. Tak mentioned that his new album will have a lot more rock tunes compared to his previous works. Furthermore, he revealed that he will try to make use of the size of each venue to turn each performance into a unique one. To tie in with these plans, B'z Party is collecting votes for songs that Tak should play live.
Excerpt from the Tak Matsumoto interview from Be With! Vol. 108
Interviewer: The image song "Ups and Downs" for the Ukiyo-e exhibition is a strong rock tune and I felt that it is an unusual one compared to your previous solo works.
Matsumoto: It just turned out to be that way, I guess?

Interviewer: Your recent solo works are more jazzy and thus that's the image I have of your works.
Matsumoto: That's true. But this time I made more rock songs.

Interviewer: I also get the feeling that your new album has more rock songs...
Matsumoto: It will be an overall rock album compared to previous solo albums.

Interviewer: And the long-awaited solo tour has been announced. It's different from previous solo tours as it includes arena venues.
Matsumoto: I just thought that I'd be able to make something interesting with instrumental music in a big venue...

Interviewer: I am sure it will be a different atmosphere from shows at the Zepp concert halls or the Blue Note. Can you tell us what kind of show you have in mind?
Matsumoto: Of course the atmosphere will change with the size of the venue. I would like to make it a fun show with lighting, stage set and performance tailored to a big sized venue!

Interviewer: Of course we will get to hear songs off the new record, but will you also perform older songs?
Matsumoto: I will focus on the new tracks but of course I will also perform older songs! I'm not sure if there will be more of the new or the old songs, though...