Will "BURN" Become the 41st Consecutive No.1 Single?
Posted on April 12, 2008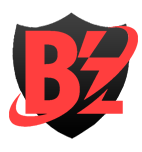 News
With BURN -Fumetsu no Face- coming out next week, everyone's wondering if it has the power to give B'z their 41st consecutive No.1 single on the Japanese Oricon charts. Oricon themselves recently conducted a survey of the band's popularity in general and among specific age groups.
Check out their findings below!
Oricon's research shows that the band's current recognition rate in Japan is at 93%, which is quite an impressive percentage. Oricon further notes that the rate didn't suffer from any major changes and seems to stabilize overall.
Also, the rate of people listening to B'z went up to 39.3% from the former 30.5%. This is an increase of 9% from before, and seems to create a good environment for the sales of the upcoming single with more and more people tuning in to the latest release. However, it seems it won't be able to surpass OCEAN's listener rate of 43.3% in 2005.
While a small percentage of women in their 40's are going to buy the latest single, a lot of men in their 40's are planning to buy the CD. They top the chart with a percentage of 15.9%.
The graph below shows the percentage of the different age groups of women and men that either want to buy the single (orange bar) or are still contemplating picking it up (peach bar).
The X-Axis reads from left to right: Women in their teens, twenties, thirties, forties, Men in their teens, twenties, thirties, forties.
The title of the graph is "Percentage of People Who Will Buy 'BURN' According to Age Group and Sex."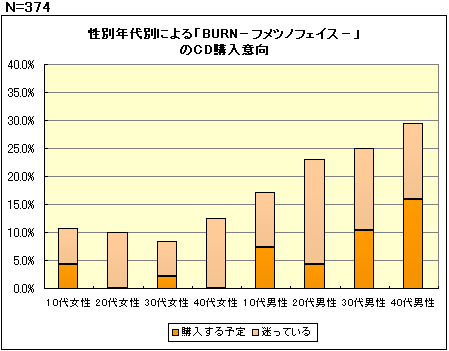 Source: Oricon