B'z To Release Three LIVE-GYM Home Videos Next Year!
Posted on November 19, 2012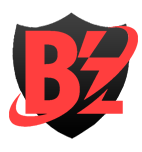 News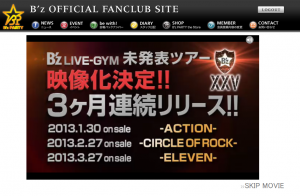 The first news of the B'z 25th anniversary year is here, and… it's BIG! In typical B'z fashion, the celebration is being kicked off in a huge way! Beginning January 30th, the band will be releasing not one, not two, but THREE previously unreleased LIVE-GYMs on home video in the span of only three months!
The news came down on B'z PARTY (the official B'z fanclub in Japan) this morning and you won't have to wait long! For the first time ever,B'z LIVE-GYM 2008 "ACTION" will be seeing its home video debut, while—finally—we will be able to see the full shows of LIVE-GYM 2005 "CIRCLE OF ROCK" and LIVE-GYM 2001 "ELEVEN" (previously highlighted on compilation discs released over the years). ACTION will be coming in January, with the other two to follow in February and March respectively.
What is perhaps most noteworthy about these releases is the fact that so many of the songs being released are coming to home video in live form for the very first time. The 2008 single "BURN -Fumetsu no Face-" will make its live debut on the ACTION release, along with album songs "Junjou ACTION" and "Perfect Life", plus prized B-side "New Message" (among many others). The 2008 tour was especially exciting for fans for—at the time—offering one of the best balanced setlists the band had put together and should be a fantastic watch when it hits DVD & Blu-ray on January 30th.
January 30, 2013 — B'z LIVE-GYM 2008 "ACTION" on DVD & Blu-ray
February 27, 2013 — B'z LIVE-GYM 2005 "CIRCLE OF ROCK" on DVD
March 27, 2013 — B'z LIVE-GYM 2001 "ELEVEN" on DVD
All releases will cost you 6,300 Yen. There is no additional content.
Set lists after the break! A ☆ denotes a song making its home video debut.
B'z LIVE-GYM 2008 "ACTION"
01. Junjou ACTION ☆
02. Kuroi Seishun ☆
03. Perfect Life ☆
04. ONE ON ONE ☆
05. Isshinfuran ☆
06. OH! GIRL
07. New Message ☆
08. TONIGHT(Is The Night) ☆
09. Wonderful Opportunity
10. Mangetsu yo Terase ☆
11. Eien no Tsubasa
12. HOMETOWN BOYS' MARCH ☆
13. Ai no Mama ni Wagamama ni Boku wa Kimi Dake wo Kizutsukenai
14. GIMME YOUR LOVE ~Fukutsu no LOVE DRIVER~
15. Liar! Liar!
16. Samayoeru Aoi Dangan
17. FRICTION -LAP 2- ☆
18. SUPER LOVE SONG
19. Koubou ☆
20. BURN -Fumetsu no Face- ☆
21. Mienai Chikara ~INVISIBLE ONE~
 B'z LIVE-GYM 2005 "CIRCLE OF ROCK"
01. X ☆
02. Parusu
03. Fever
04. Icarus ☆
05. Aqua Blue ☆
06. Suiren ☆
07. Mannequin Village ☆
08. Kanashiki dreamer ☆
09. BLACK AND WHITE ☆
10. ALONE
11. Konya Tsuki no Mieru Oka ni
12. Happy Birthday
13. love me, I love you
14. Negai
15. juice
16. IT'S SHOWTIME!!
17. Ai no Bakudan
18. OCEAN
19. BANZAI
20. ultra soul
B'z LIVE-GYM 2001 "ELEVEN"
01. Ai no prisoner ☆
02. Seventh Heaven ☆
03. Gin no Tsubasa de Tobe
04. Samayoeru Aoi Dangan
05. Sayonara Nanka wa Iwasenai
06. Kirameku Hito ☆
07. Kobushi wo Nigire ☆
08. Raging River ☆
09. HOME
10. Konya Tsuki no Mieru Oka ni
11. ultra soul
12. Swimmer yo 2001!!
13. TOKYO DEVIL ☆
14. SACRED FIELD~#1090 (Tak's Solo)
15. JAP THE RIPPER
16. girigiri chop
17. juice
18. Koi-Gokoro (KOI-GOKORO)
19. GOLD
20. Hadashi no Megami