Tak Matsumoto New Album enigma Coming April 6th
Posted on February 29, 2016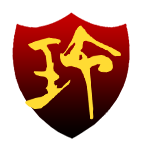 Tak Matsumoto News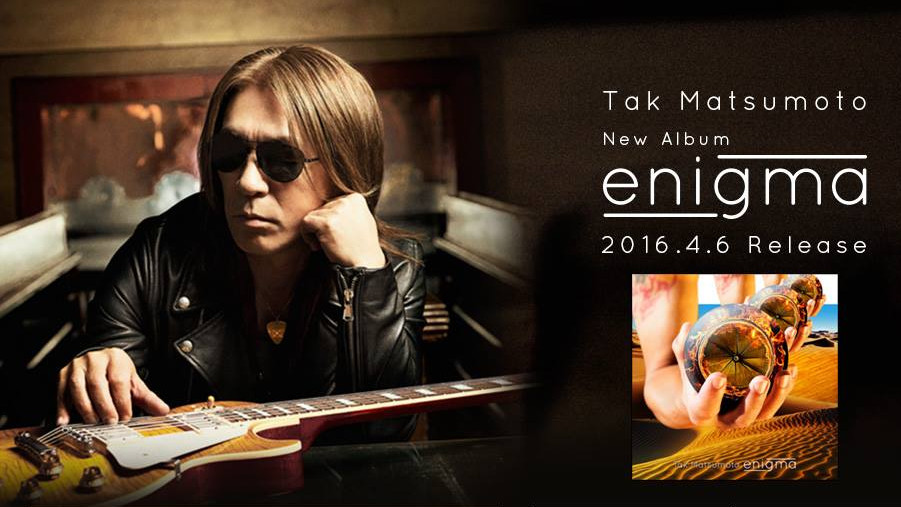 Tak Matsumoto has at long last revealed details regarding his forthcoming album 「enigma」. Following the reveal of its title and its rough release date on WOWOW's broadcast of this year's Grammy Awards, the full details have been released today. 「enigma」 is Tak Matsumoto's eleventh studio album and contains 14 original instrumental tracks. Additionally, a reworked version of the iconic 「#1090 ~Thousand Dreams~」 which served as the theme to TV Asahi's 「Music Station」 for years is included as a bonus track, making up for 15 tracks in total.
Among the 14 included original tracks are the previously untitled main theme to TBS' show「The WORLD Heritage」 titled 「Vermillion Palace」 as well as the previously untitled ending theme to the same show titled 「Mystic Journey」. Furthermore, the album includes the previously announced tie-in song 「Ups and Downs」 which serves as the theme to an upcoming Ukiyo-e exhibition in Tokyo.
The new album comes in two flavors: regular edition (CD only) or limited edition (CD+DVD or CD+Blu-ray). The limited edition includes the full live performance of the tour finale of Tak's 2014 solo tour 「Tak Matsumoto LIVE 2014 -New Horizon-」 at the BLUE NOTE Tokyo. The performance is available in standard definition (DVD) as well as high-definition (Blu-ray).
A special campaign to tie in with the release of Tak's new album is also planned and will be announced in the near future.
New Album 「enigma」 2016.04.06 release
Regular Edition: 2,800 yen / Limited Edition: 5,000 Yen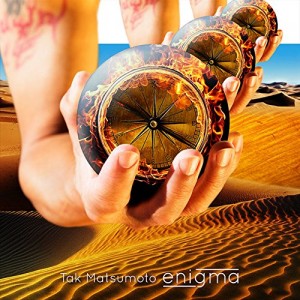 [Track list]
1. enigma
2. Vermillion Palace
3. Step to Heaven
4. Ups and Downs
5. Rock The Rock
6. Drifting
7. The Voyage
8. Hopes
9. Under The Sun
10. Dream Drive
11. The Rock Show
12. Roppongi Noise
13. Mystic Journey
14. enigma ~epilogue~
<Bonus Track>
15. #1090 ~Million Dreams~
CD & DVD / CD & Blu-ray Limited Edition:
Tak Matsumoto LIVE 2014 -New Horizon- at BLUE NOTE TOKYO
1. New Horizon
2. Take 5
3. BLUE
4. Hana
5. Tokyo Night
6. Shattered Glass
7. Gakuseigai no Kissaten
8. Island of peace
9. That's Cool
10. Tsuki no Akari
11. Reason to be…
12. GO FURTHER
13. #1090
14. The Moment
15. Rodeo Blues