B'z x Apple: When Steve Jobs Used B'z to Launch iTunes Japan
Posted on July 16, 2017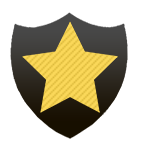 Feature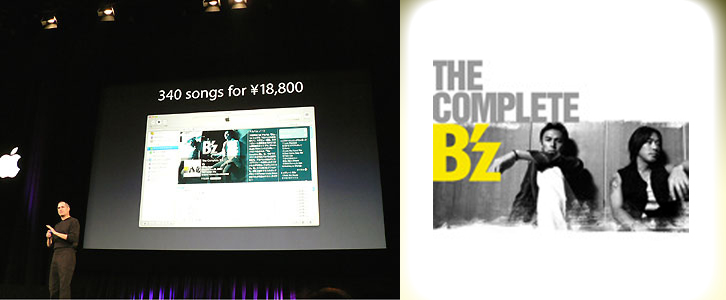 With the impending release of B'z COMPLETE SINGLE BOX and its massive 53-disc set on the horizon, it seemed only fitting that we take a look back at the very first time that B'z attempted such a collection, all the way back in 2005.
Apple's iTunes service has long been known as the for-bearer and industry leader in the digital marketplace for music, television, and movies. The innovation of the iPod brought with it a revolution in how we listen to music and was undoubtedly the catalyst for many abandoning physical media in favor of the convenience and capacity allowed by digital. At the time, iTunes had already captured 80% of the U.S. and UK digital markets with 1.8 million songs being purchased per day. As one of the world's most dependably successful music markets, rumors swirled as to when Japan would enter the fray—especially given the country had long solidified its reputation for being on the cutting edge of most types of technology. It seemed only natural they, too, would get a similar push as did the rest of the world. And on August 4, 2005, they did.
One of the hot topics leading into the event in Tokyo that August was song pricing. Convincing the Japanese record labels to adopt the standard pricing of roughly $1 USD per song had not been easy given the profit margins they enjoyed on physical sales. Indeed, Japan was and remains one of the few markets in which physical singles still move hundreds of thousands of copies every week. Jeopardizing that meant cutting into their marketing machines, so their trepidation was understandable. Despite its technologically-advanced reputation, most Japanese artists had not placed their back catalogues online in digital form just yet and there was no guarantee that many were exactly lining up to do so. After all, their physical albums and singles were still selling at a rate disproportionate with the rest of the world and changing that seemed unnecessarily risky. Thus, when Apple co-founder Steve Jobs took the stage that day, there was a great deal of curiosity in Japan about the long-term ramifications of such a prospect.
Ultimately, it would be the pricing that caused the most measurable stir. At a premium price of 250 yen per song on the high end (over $2 USD), that effectively doubled the price for potential customers in the country but it was the middle ground that was reached to bring aboard Japanese artists and record labels. During the conference, Jobs went out of his way to note that 90% of songs in the iTunes catalogue in Japan would be priced at 150 yen, but this did slow adoption somewhat. Still, the launch of the service was undoubtedly a success given a million songs would be sold within the first four days.
In order to assuage the pricing chasm, Steve Jobs announced during the press conference that they had a special treat just for Japanese music fans. Launching exclusively on iTunes would be The Complete B'z: a 340 song collection of every album, single, and compilation released by the band to that date at the price of 18,800 yen, or 50 yen per song (roughly $0.50 USD), for the entire collection. This came as no surprise given that Apple had previously courted other major artists to legitimize its services in other markets, such as its long-term association with Irish rock band U2.
The Complete B'z included every single from "Dakara Sono Te wo Hanashite" through the then-recent "OCEAN", all fourteen studio albums through that year's THE CIRCLE, and four compilations ending with 2002's The Ballads ~Love & B'z~. What's more, those that did buy the full collection would receive six exclusive tracks:
1. This Love (Japanese cover of Maroon 5 song)
2. RUN — B'z LIVE-GYM '93 "RUN" (Live)
3. LOVE IS DEAD — B'z LIVE-GYM '94 "The 9th Blues" -Part1- (Live)
4. F・E・A・R — B'z LIVE-GYM '99 "Brotherhood" -Extra- (Live)
5. ultra soul — B'z LIVE-GYM in Hong Kong 2001 (Live)
6. Brotherhood — B'z LIVE-GYM 2003 The Final Pleasure "IT'S SHOWTIME!!" (Live)
Prior to this, B'z had only ever released one other live audio recording on a single or album: "Gimme your love(Live at Tokyo Dome)" as a B-side to "Calling" in 1997.
The idea of covering a Western song was suggested by Apple staff as an interesting way to bridge the gap and offer a unique incentive. Thus, Koshi penned all-new Japanese lyrics for "This Love"—a cover of the worldwide hit by Maroon 5 that would blend some English from the original, while Tak re-arranged and added more guitar including an all-original solo not present in the Maroon 5 edition. In Be With! Volume 67, published in September 2005, Koshi was asked if it was difficult to convert the song to Japanese, to which he responded simply, "No, it was fun". As the recording progressed, Koshi joked, "Isn't this one of our songs!?" upon hearing the result and feeling it really was just like a B'z sort of song.
All of the collection's songs were delivered to purchasers in AAC format, with a bitrate of 128 kbps, and the package would be available for several years. On February 21, 2012, the Japanese iTunes service began a shift toward "iTunes Plus"—a new standard that doubled the bitrate to 256 kbps and removed DRM restrictions. Those that had purchased music previously at the old standard were then able to upgrade much of their library by deleting and redownloading their songs. However, it was at this time that The Complete B'z was made unavailable for further purchase. The B'z catalogue returned to the service at 256 kbps and with a price of ¥250 per song, with the singles, albums, and compilations available individually instead of as a set. At that time, the six exclusive tracks including "This Love" would be made forever unavailable for further purchase.
B'z would continue to utilize iTunes for future releases—indeed, every album and single since has been eventually published on the service, usually some weeks after its initial physical release. The release of B'z The Best "Pleasure II" shortly thereafter included iTunes download cards for select performances, solidifying the band's partnership with Apple at the time. In 2007, the band used it to launch the well-regarded and self-titled B'z international EP that was served up only in Western territories and never Japan. The "International EP" held five tracks, the most notable of which was an English version of "HOME" that had premiered live via a worldwide web stream just one year prior. It was rounded out by four reversions of "Ai no Bakudan", "Samayoeru Aoi Dangan", "ultra soul" and 2005 English song "Brighter Day" that would only be available on the release. Later, in 2012, the band published their debut English album, also self-titled, with five English reversions of classic songs on every iTunes storefront globally.
As an aside, if you've ever wondered why a certain pair of B'z songs seem to almost always make the cut at LIVE-GYMs, here are the top ten on the Japanese iTunes as of this writing:
1. Ichibu to Zenbu
2. Still Alive
3. ultra soul
4. LOVE PHANTOM
5. Sekai wa Anata no Iro ni Naru
6. Love Bomb (English Version)
7. Seimei
8. Ultra Soul (English Version)
9. Itsuka no Merry Christmas
10. Splash (English Version)