Prerequisites
Before you can buy anything off B'z the store first, you'll need the following:
Money (obvious?)
A credit card (if you're using Tenso) ‒ VISA is confirmed to work; MasterCard most likely, too; Otherwise you'll have to try it out. Let us know so we can update this guide!
A Japanese address ‒ We'll present you two options we've used ourselves in the past
Paypal Account (for Celga or Tenso)
Obtaining a Japanese Address
The Celga Method
They do most of the stuff for you (You tell them what you want)
Offer different shipping methods (Air Mail, EMS, …)
Actually, you won't obtain a Japanese Address here, but you'll be using the buying service offered. Head over to www.celga.com and create an account. Everything you need to know is in their FAQ.
The Tenso Method
You have to do the shopping yourself

Offers only EMS shipping (expensive)
The Tenso method is a little more complicated as you'll obtain a Japanese address here. Sign up for an account at https://www.tenso.com/en/ and you'll get your personal Japanese address you can use to shop with. You can then proceed to shopping at B'z The Store with that address and your credit card.
Shopping at B'z The Store
OK, so you finally want to do some shopping! Head over to https://www.bzthestore.com/ and get that hype going! Choose the items you'd like to buy as well as amount and size/color, etc. Then click "Add to shopping cart"(がこに入れる).
Here are some translations to help you get around on B'z The Store:
品切れ中 ‒ Sold Out
がこに入れる ‒ Add to shopping cart
ショッピングカート ‒ Shopping Cart (at the top right)
Once you've added all the items you'd like to buy to your shopping cart, it's time to proceed to checkout. Go to your shopping cart. You'll see something like this:(click on the image to view the large version)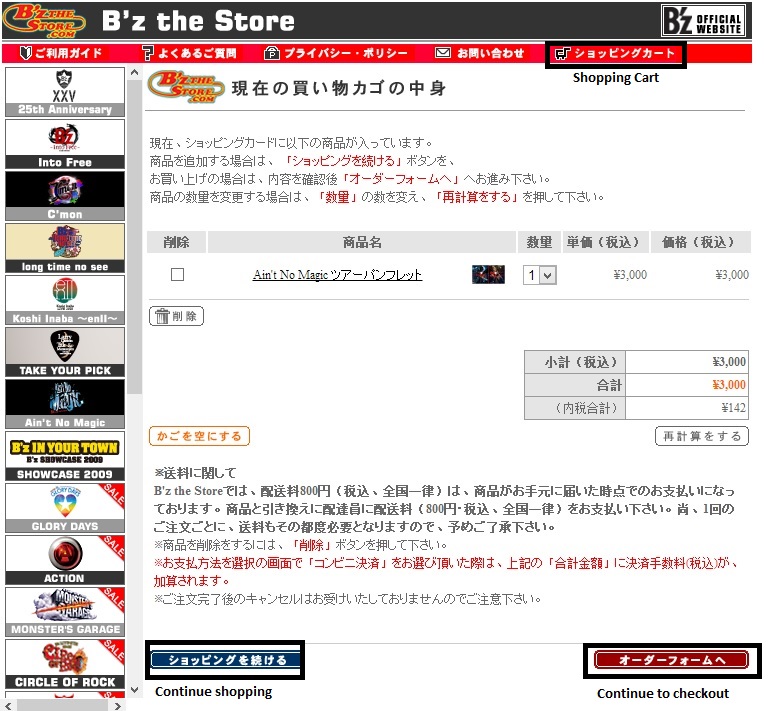 Once you click "proceed to checkout", you'll be presented with the usual legal blah blah. Scroll down the page until you see two buttons. Click 同意する ("I agree"). Then you'll see a form where you have to enter your information(click to enlarge):