B'z "Don't Wanna Lie" Theme Song For Conan Movie *Update*
Posted on March 4, 2011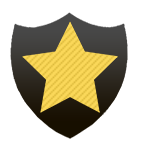 Feature
Some person on the Japanese bulletin board 2ch leaked the information that B'z will do the theme song to the latest Detective Conan movie "A Quarter of Silence" which will hit theatres on April 16th. The Detective Conan series is celebrating its 15th anniversary this year. Here's the picture that has been posted on 2ch: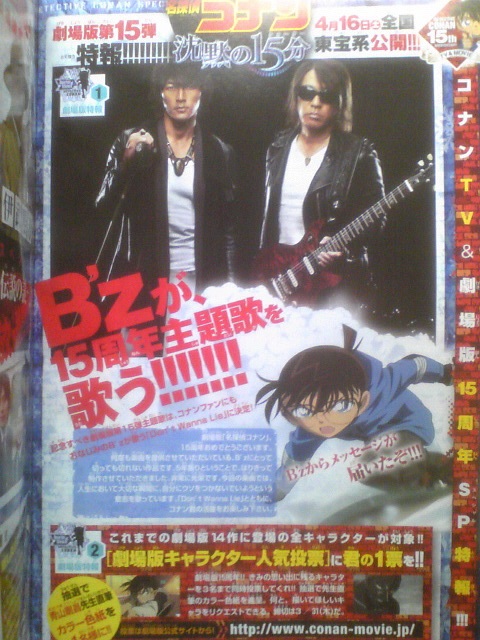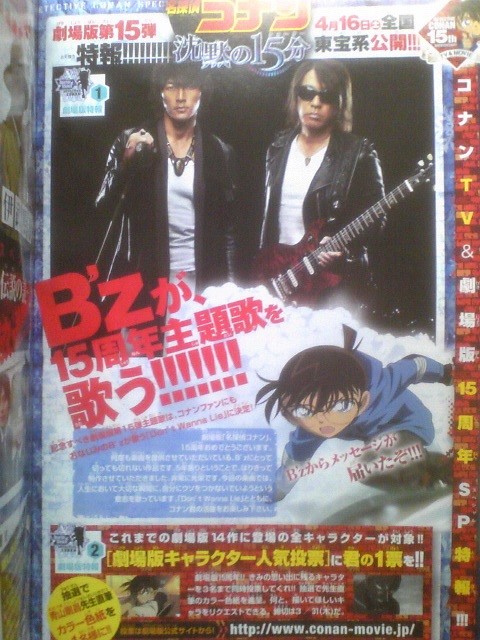 The song is called "Don't wanna lie". There's also a message from B'z in the blue box. Unfortunately the resolution of the picture is too low to make out what the text says but someone on 2ch was kind enough to type it up:
"Congratulations to Detective Conan celebrating its 15th anniversary.
We have been offered to produce a song a lot of times for Detective conan. The song is closely related to the movie.
It has been 5 years(*) since our last production for Detective Conan, we have put a lot of enthusiasm into it. It's a great honour for us.
The song is about the will to not lie to yourself in important situations in life.
Please enjoy "Don't wanna lie" along with the Detective Conan movie."
(*) They did "Shoudou" and "Yuruginai Mono Hitotsu" in 2006 for Detective Conan
More information is expected to surface soon. The song should appear in the theatrical version of the trailer which is expected to air in a few days. Also, the announcement, along with details, is expected to be in the next issue of the Shounen Sunday magazine, hitting stores next week on Wednesday.
*UPDATE*
Here's a picture of the article in the morning paper: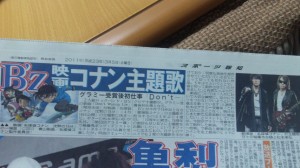 Stay tuned!
Source: 2ch (Japanese Bulletin Board)