LIVE-GYM 2011 -long time no see- Article in Weekly LALALA *UPDATE*
Posted on July 16, 2011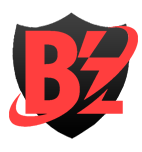 News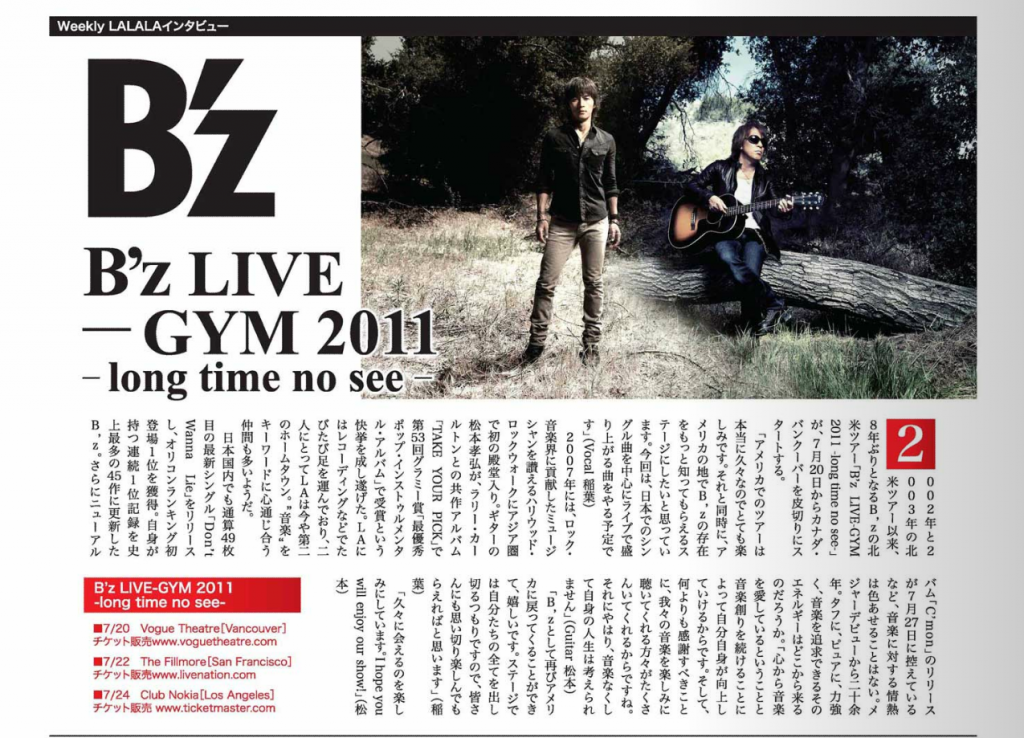 Issue no. 393 of the Weekly LALALA, a Japanese free magazine from Los Angeles, features a short article on B'z North American tour including a short interview with Tak and Koshi. It reads like this:
After their North American tours in 2002 and 2003, for the first time in 8 years, B'z is doing a North American tour called "B'z LIVE-GYM 2011 -long time no see-", which will kick off on July 20th in Vancouver. "It's been a long time since we toured in North America, I'm really looking forward to it. At the same time, I want to set the stage so that more people get to know B'z in North America. This time we're going to focus on our Japanese songs that have been released as a single and play songs that will be rocking the house.", says vocalist Koshi Inaba.
In 2007, B'z was the first asian artist to be inducted into the Hollywood Rockwalk. Guitarist Takahiro Matsumoto won the Grammy for "Best Pop Instrumental Album" with his album "TAKE YOUR PICK" which he recorded together with Larry Carlton. Since both of them are regularly in LA to do recording and other things, for them, Los Angeles has become their second hometown. It also looks like they have a lot of friends there who interpret the keyword "music" the same way.
With releasing their 49th single "Don't Wanna Lie", they've immediately topped the Oricon chart, raising the bar once again. B'z, who updated their record of series of no.1 singles to 45 and is going to release their new album "C'mon" on July 27th, doesn't show a sign that their passion for music is fading. It has already been more than 20 years since their major debut. Where does that energy come from, that enables them to continue producing music?
"It's because I love music from the bottom of my heart and when it comes to producing music, because I can always improve myself. More importantly, though, because there are so many people that enjoy our music. Also, I can't imagine a life without music.", answers guitarist Tak Matsumoto.
"I'm happy to be back in North America as B'z. We're going to give it all on stage and I hope everyone will enjoy it." says Koshi Inaba. Tak Matsumoto adds "I'm looking forward to meeting everyone again. I hope you will enjoy our show!"
So… is B'z looking to push into the (North) American market? What do you think?
*UPDATE*: This is an extract from the interview in the Nichi Bei [ http://www.nichibei.org/2011/07/taking-the-world-by-storm-b%E2%80%99z-ready-to-rock/ ] :
NBW: Mr. Matsumoto, you were awarded a Grammy and the band became the first Asian musicians to be inducted into Hollywood's Rockwalk of Fame. What's next?
TM: It's been 8 years since we last played in the U.S. We would like to keep on playing all over the world from now on.
KI: We would like to do more shows and introduce our music to the people in the U.S.
Source: http://lalalausa.com/digitalmagazine/weeklylalala393/index.html