B'z LIVE-GYM Pleasure 2018 -HINOTORI- Setlist (09.22.2018)
Posted on September 22, 2018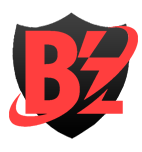 News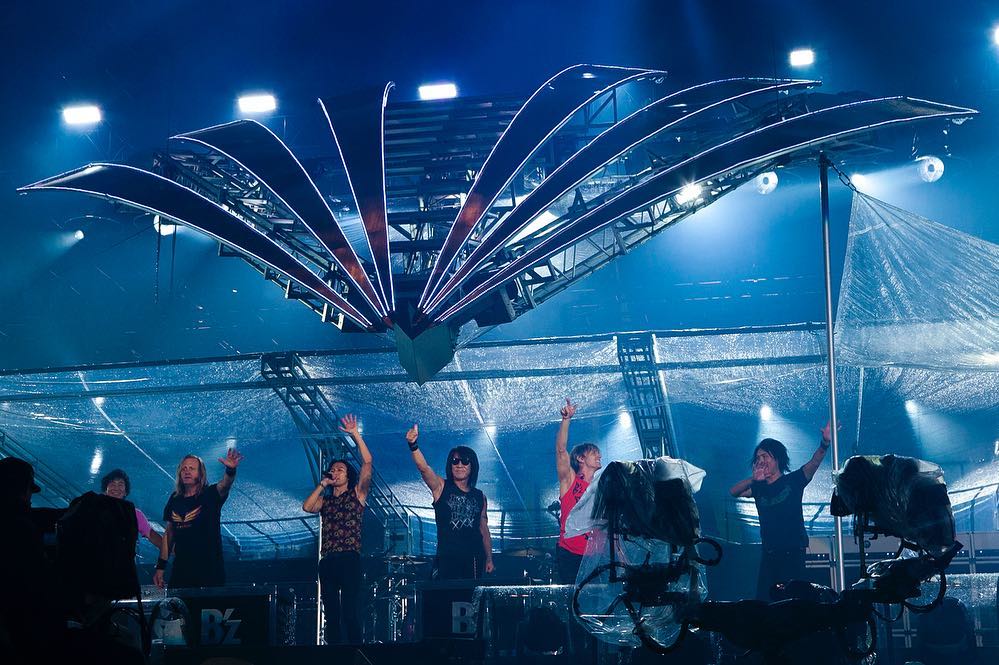 B'z wraps with B'z LIVE-GYM Pleasure 2018 -HINOTORI- with two dates in Tokyo's Ajinomoto Stadium.
The band talked about their experiences in the past 30 years, starting from their first live performance in 1989 and guitarist Tak Matsumoto mentioning how thankful they are to B'z fans throughout all these years.
Two more T-shirts were produced exclusively for each day of the finale. September 21 consists of a red T-shirt with the numbers 321 and the word Pleasure visible. While the September 22 "Final" black T-shirt contains a picture of B'z with "LET'S ROCK HARD" listed underneath: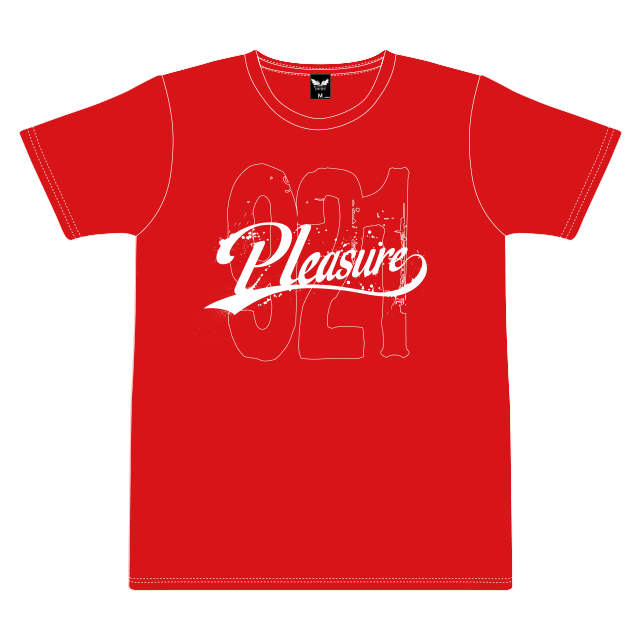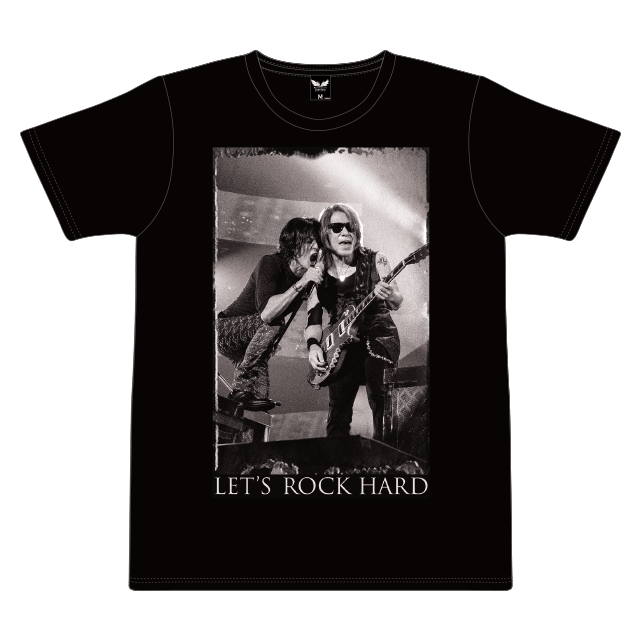 In addition, the band posted an image confirming that a new album is under production, with also a LIVE-GYM tour planned for 2019: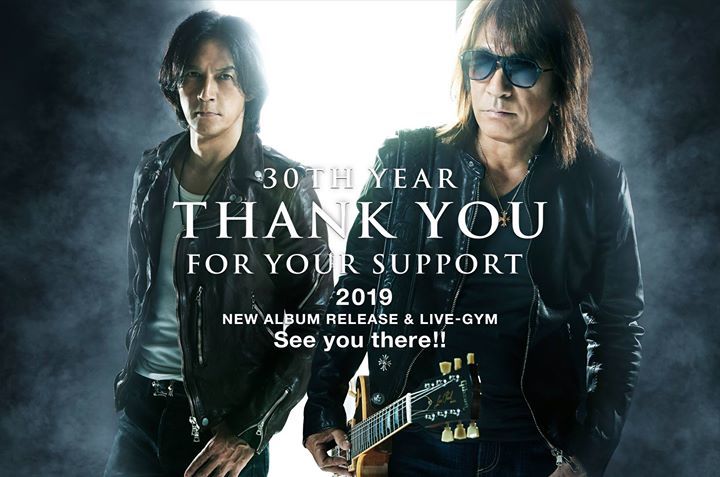 Finally, WOWOW has announced that the HINOTORI finale will be broadcast on WOWOW Prime on November 24, 2018.
The B'z Instagram page includes several images taken from the finale.
The full setlist for today's performance along with changes to the setlist is posted below, to avoid spoilers, along with tallies on when each song was last played live. In addition, notes are also included on changes to the setlists for the three performances this week.
September 21 (Friday) changes:
On both dates of the Ajinomoto Stadium concert, during the "LOVE PHANTOM" segment, Koshi re-enacts the legendary death-defying leap, known as the Phantom Dive, first introduced in 1995's "BUZZ!!" Pleasure tour and reappeared briefly again in the finale of 2003's The Final Pleasure.
Vocalist Koshi Inaba played piano for "ALONE", similar to that of "BUZZ!!" in 1995, preceded by Tak's solo of "When You Wish Upon a Star".
The rap portion of "ZERO" featured Takuya Kimura on vocals (a popular member of former group SMAP), dressed as a cameraman before revealing himself on screen.
There was some rain on this day which Koshi commented on during the MC session while mentioning it's their 30th anniversary.
Due to the intensity of the smoke effects used on stage, Koshi jokingly said that he could not see the audience after "RUN" ended.
September 22 (Saturday) changes:
The concert ending included fireworks.
During the encore session of "Brotherhood", Koshi's voice was noticeably not as good compared to yesterday's performance.
B'z LIVE-GYM Pleasure 2018 -HINOTORI- Setlist
[September 22, 2018 at Ajinomoto Stadium]
1. ultra soul
2. BLOWIN'
3. Mienai Chikara ~INVISIBLE ONE~ ★
4. Hadashi no Megami / TIME
5. Wonderful Opportunity ★ / love me, I love you
6. Koubou ★
7. Gekkou ★ / Mou Ichido Kiss Shitakatta ★
8. Koi-Gokoro (KOI-GOKORO)
9. OH! GIRL
10. Ichibu to Zenbu
11. Negai / ZERO
12. ALONE ★ / Calling ★ / OCEAN ★
13. LOVE PHANTOM ~ HINOTORI ~ LOVE PHANTOM
14. "Spirit LOOSE" Opening Movie ~ Real Thing Shakes ★ (One chorus only)
15. juice
16. BAD COMMUNICATION
17. Pleasure 2018 ~Jinsei no Kairaku~
—ENCORE—
18. Brotherhood ★
19. girigiri chop / Ai no Bakudan
20. RUN ★
Ending SE: Hitori Janai Kara -Theme Of LIVE-GYM- / Itsuka Mata Koko de
★ denotes a rare or otherwise notable inclusion
Tour Notes to Date
With last performance included where applicable
HINOTORI / Pleasure 2018 ~Jinsei no Kairaku~
— Performed for the first time
ultra soul / Ichibu to Zenbu [20 of 23 Shows]
— Performed earlier in B'z LIVE-GYM 2017-2018 "LIVE DINOSAUR"
Hadashi no Megami [12 of 23 Shows] / juice / girigiri chop [11 of 23 Shows]
— B'z SHOWCASE 2017 -B'z In Your Town- [1 Year]
ZERO [12 of 23 Shows] / Negai [11 of 23 Shows]
— TV Asahi Dream Festival 2015 [3 Years]
BLOWIN' / TIME [11 of 23 Shows] / love me, I love you [11 of 23 Shows] / Ai no Bakudan [10 of 23 Shows]
— B'z LIVE-GYM 2015 -EPIC NIGHT- [3 Years]
Mou Ichido Kiss Shitakatta [12 of 23 Shows] / Gekkou [11 of 23 Shows] / Koi-Gokoro (KOI-GOKORO) / OH! GIRL / OCEAN [5 of 23 Shows] / ALONE [12 of 23 Shows] / LOVE PHANTOM / BAD COMMUNICATION / RUN
— B'z LIVE-GYM Pleasure 2013 -ENDLESS SUMMER- [5 Years]
Mienai Chikara ~INVISIBLE ONE~
— B'z LIVE-GYM 2012 -Into Free- EXTRA [6 Years]
Calling [6 of 23 Shows] / Brotherhood
— B'z LIVE-GYM 2011 -C'mon- [7 Years]
Wonderful Opportunity [12 of 23 Shows] / Koubou [20 of 23 Shows]
— B'z LIVE-GYM 2008 "ACTION" [10 Years]
Real Thing Shakes
— B'z LIVE in Namba 2006 [12 Years]