"ULTRA Treasure" Member Messages
Posted on September 16, 2008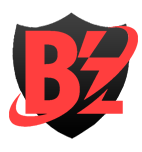 News
New messages from Tak and Koshi have been posted on the Official B'z Website. Of course we have them translated here for you. Thanks go to Mameshibaken who helped me out a bit.
Matsumoto Takahiro's message: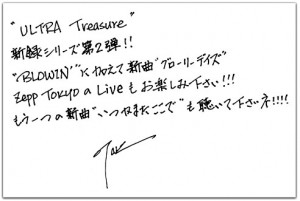 "ULTRA Treasure"
The second part of the rerecorded series!!
The new song"Glory Days" in addition to "BLOWIN'".
Also, please enjoy the live video in Zepp Tokyo!!!
And please listen to the other new song "Itsuka Mata Koko De" as well!!!
Tak
Inaba Koshi's message: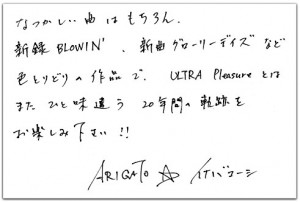 The good old songs, of course,
the new recording of BLOWIN' and the new song "Glory Days", etc.
present a great variety .
It is a little different from ULTRA Pleasure and also covers the traces of our past 20 years.
Please enjoy it!!
ARIGATO ☆ Inaba Koshi