Recent Videos
Posted on November 30, 2012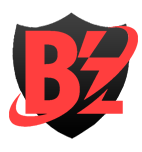 News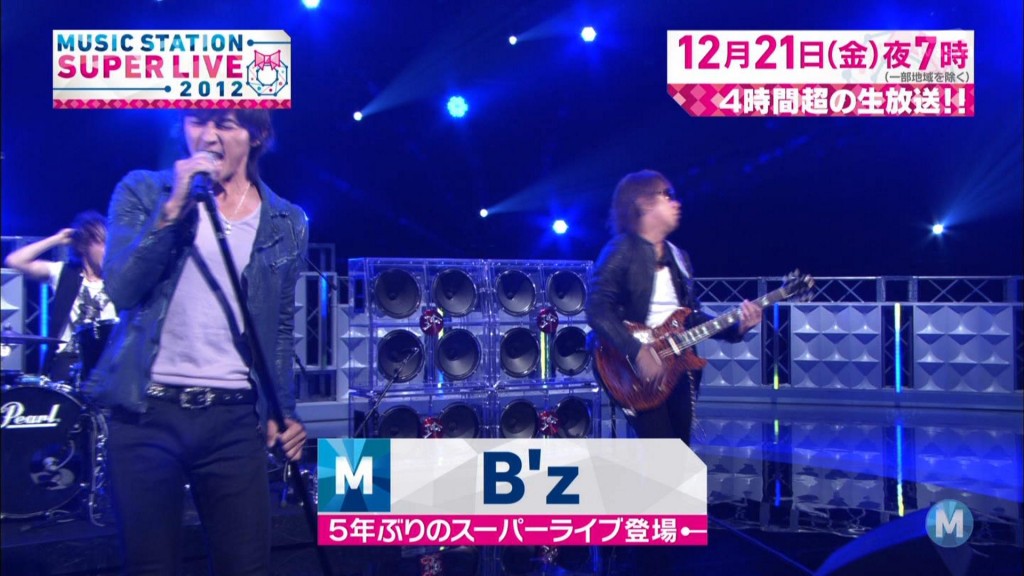 For the first time in 5 years, B'z is going to perform on a Music Station SUPER LIVE. The Music Station SUPER LIVE is set to be broadcasted on December 21st, 2012 from 7PM to 11:10PM. It is still unclear which song(s) the band is going to perform on television, but one might think that this is a perfect occasion for a rendition of  "Itsuka no Merry Christmas"?! Or perhaps B'z is going to perform an entirely new song? What do you think?
The last time B'z has appeared on a broadcast of a SUPER LIVE was in 2007, when they performed their then latest single SUPER LOVE SONG. But this isn't exactly the last time B'z has appeared on television. The band was performing on a Music Station special last year on April 1 to show their support for the earthquake victims. They performed Brotherhood and Sayonara Kizu Darake no Hibi yo.
Check out the full lineup for the 2012 SUPER LIVE here: http://www.tv-asahi.co.jp/music/contents/m_lineup/cur/
Posted on November 19, 2012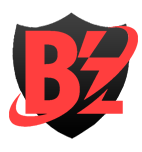 News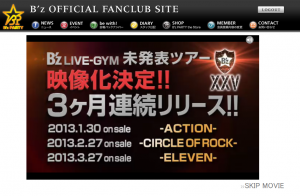 The first news of the B'z 25th anniversary year is here, and… it's BIG! In typical B'z fashion, the celebration is being kicked off in a huge way! Beginning January 30th, the band will be releasing not one, not two, but THREE previously unreleased LIVE-GYMs on home video in the span of only three months!
The news came down on B'z PARTY (the official B'z fanclub in Japan) this morning and you won't have to wait long! For the first time ever,B'z LIVE-GYM 2008 "ACTION" will be seeing its home video debut, while—finally—we will be able to see the full shows of LIVE-GYM 2005 "CIRCLE OF ROCK" and LIVE-GYM 2001 "ELEVEN" (previously highlighted on compilation discs released over the years). ACTION will be coming in January, with the other two to follow in February and March respectively.
What is perhaps most noteworthy about these releases is the fact that so many of the songs being released are coming to home video in live form for the very first time. The 2008 single "BURN -Fumetsu no Face-" will make its live debut on the ACTION release, along with album songs "Junjou ACTION" and "Perfect Life", plus prized B-side "New Message" (among many others). The 2008 tour was especially exciting for fans for—at the time—offering one of the best balanced setlists the band had put together and should be a fantastic watch when it hits DVD & Blu-ray on January 30th.
January 30, 2013 — B'z LIVE-GYM 2008 "ACTION" on DVD & Blu-ray
February 27, 2013 — B'z LIVE-GYM 2005 "CIRCLE OF ROCK" on DVD
March 27, 2013 — B'z LIVE-GYM 2001 "ELEVEN" on DVD
All releases will cost you 6,300 Yen. There is no additional content.
Set lists after the break! A ☆ denotes a song making its home video debut.