Posted on June 20, 2009 by Tobias in
Other
The band "doa" from Osaka is well-known among B'z fans, considering Akihito Tokunaga (Bass) and Ohta Shinichiro (Vocal & Guitar) have been supporting B'z for many years. Now, they are going to release their 5th studio album called "FRONTIER" on August 12. Also with the new release, they announced a live tour with the same name. They are going to play their latest tunes in various venues across Japan such as Osaka, Nagoya and Tokyo.
Check out the tracklisting below.
"FRONTIER"
Release: August 12, 2009
Price: 3059 Yen (tax incl.)
1. TAKE IT EASY
2. I'll be there
3. DESIRE
4. DANCE WITH LIFE ~ Tsuyogari no ganbariiman ~
(DANCE WITH LIFE ~ 強がりのがんばりーマン ~)
5. FRONTIER
6. Wave Your Hands
7. Warau ga Kachi ya (笑うが勝ちや)
8. Oh FRIEND
9. Just like that?
10. Shitsudo -100% no kyuujitsu (湿度 -100%の休日)
11. Nan Nen Buri Kani (ナンネンブリカニ)
12. Poison (ポイズン)
13. 365 no Diamond (365のダイヤモンド)
Pre-order here:
Posted on June 20, 2009 by Tobias in
Other
It's about time the tracklisting for "SET IT ON BLAST" gets revealed as the album is going to be released in Japan on July 15th.
Before I reveal the tracklisting to you, though, I got news for our fellow europeans: Stevie Salas is coming back to Europe in September to rock the stage! Furthermore, his album "Be What It Is" is going to be released in Europe at the end of June. People from Germany can already pre-order it here at Amazon Germany. The release date seems to be June 26.
Now, on to the good stuff! Here's the tracklisting:
"SET IT ON BLAST"
Release: July 15, 2009
01. GET YOUR HANDS IN THE AIR
02. NISHI GIRL
03. BLOCK ROCKIN (FEATURING TAK MATSUMOTO)
04. OMG
05. FORGIVE AND REMEMBER
06. THE UPRISE (FEATURING GANDHI)
07. WARMTH OF THE SUN
08. ROCK THE HOUSE
09. I'M NOT LOOKING BACK
10. OLDER THAN AMERICA
11. TWO SOULS WAR'N IN A BAG OF SKIN (LIVE FROM ARBOR LIVE CANADA)
Price: 2500 Yen
Pre-order here:
YesAsia (US)
YesAsia(Global)
CDJapan.co.jp
Posted on June 17, 2009 by Tobias in
News
The other single to be featured on the double A-side, along with the previously announced "DIVE," is a new song titled "Ichibu to Zenbu" (イチブトゼンブ).  The song will serve as the theme to Yamashita Tomohisa's new drama, Buzzer Beat, set to begin airing on the 13th of July.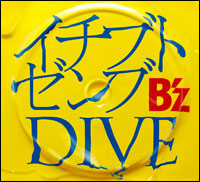 「Ichibu to Zenbu (イチブトゼンブ)/DIVE」
01.  Ichibu to Zenbu (イチブトゼンブ)
02.  DIVE
03.  National Holiday
ON SALE:  2009.8.5
Catalog Number:  BMCV-4009 (1,260 yen)
As was announced earlier,"DIVE" is currently being used as the theme for the Suzuki SWIFT adverts in Japan.  As something of a treat for fans, the third beat--"National Holiday"--is the song previously heard at the closing of the ACTION tour shows as the band left the stage.
Lastly, as can be seen in the preview video for "Ichibu to Zenbu" on the official website, world-acclaimed drummer Chad Smith (known for his many years with the Red Hot Chili Peppers) will be featured in some capacity on at least one of the tracks. UPDATE: Juan Alderete, most recognized as bassist from The Mars Volta, provides the bass on the song. This isn't the first time Alderete has worked with the band, however--he had contributed on the 2007 album, ACTION, as well.
All around, the single definitely seems to be full of rock tunes and should be well worth the money when it comes out in just under two months.
Pre-Order at YesAsia (Global) [$14.49 U.S. with Free International Shipping]
Pre-Order at YesAsia (United States) [$14.49 U.S. with Free International Shipping]
Pre-Order at CDJapan [$12.28 U.S.]
NOTE: YesAsia--as of this writing--currently lists the double single for a release on August 15th, but we expect this to be corrected soon.
Posted on June 5, 2009 by Tobias in
News
Found this on YouTube. Seems to have been posted on the official Being channel on YouTube.
Update: Looks like Being changed the policy so that nobody outside of Japan can view it. Uploaded it to OTL server.
Posted on June 5, 2009 by Tobias in
News
Quite frankly, I knew this was gonna happen. When I checked out the lineup on the Official Summer Sonic 09 Website a week ago, there was a mysterious "SPECIAL GUEST from JAPAN" in the lineup. So yeah, I was thinking "This could only be B'z...". I speculated a lot, and I wasn't the only one considering various japanese blogs were speculating as well.
Now we have the confirmation that it is in fact B'z who will rock the stage at Summer Sonic 09, as an update has been posted on the Official B'z Website stating that B'z will perform at Summer Sonic 09.
The Schedule is as follows:
Tokyo: August 8th, Marine Stage
Osaka: August 9th, Ocean Stage
For the complete Sommer Sonic 09 Lineup, please check out these sites: Lineup (Tokyo) and Lineup (Osaka)