Posted on August 21, 2010 by Tobias in
News
Koshi Inaba's solo tour titled ~en II~ kicked off in Shizuoka today, and as usual, we have the setlist right here for you:
Note: The setlist will be the same if there are no updates on setlists from other venues.
Date: August 21, 2010
Venue: Ecopa Arena (Shizuoka)
01 Tamayura
02 My Mirai
03 The Morning Call
04 Okay
05 Eden
06 AKATSUKI
07 Nami
08 LOVE LETTER
09 Toumei Ningen
10 Akai Ito
11 Lone Pine
12 Kono Te wo Totte Hashiridashite
13 LOST
14 Wonderland
15 Tooku Made
16 CAGE FIGHT
17 Koyoi Kimi to
18 Zettai(teki)
19 Shoumen Shoutotsu
-ENCORE-
20 Hazumu Sekai
21 Itaike na Taiyou
Song while people were leaving: Hadou's secret track "Te wo Furou~" (Keep listening to "Itaike na Taiyou" until the very end)
Ending SE: Unannounced Song (Acoustic guitar ballad)
Posted on August 17, 2010 by Lum in
News
Tomorrow, Inaba's solo album Hadou will finally be released, and as usual he left a message on B'z official site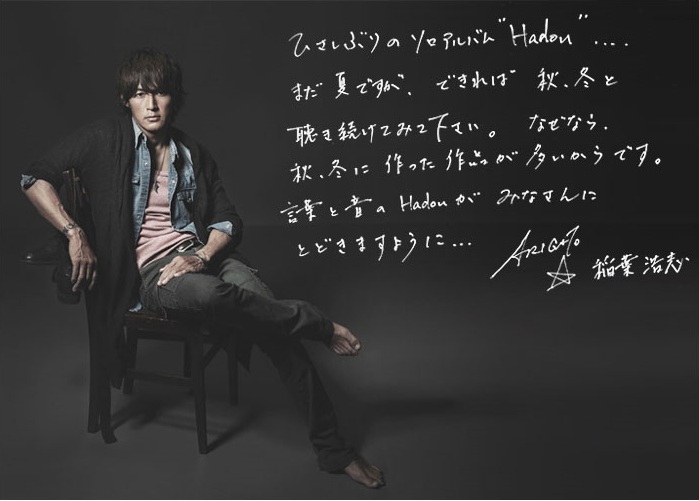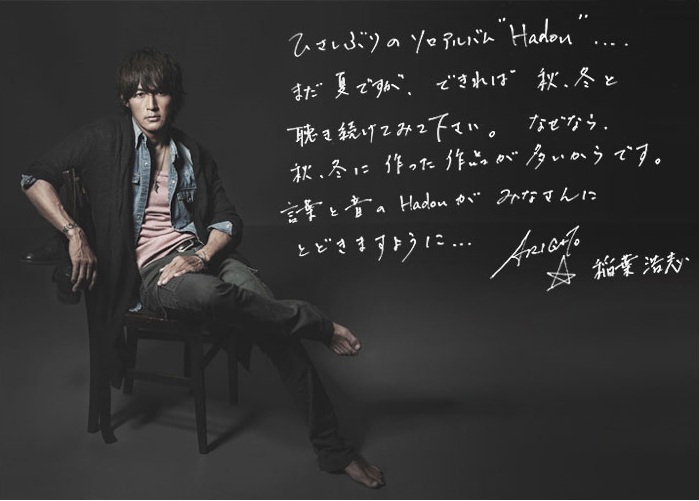 After a long time, I'm releasing a solo album, "Hadou"....
Even if it's still Summer, please keep listening to it in Autumn and Winter.
That's because most of this work was made during Autumn and Winter.
I hope Hadou's sounds and words will reach you all...
ARIGATO☆Inaba Koshi
Posted on August 9, 2010 by Tobias in
News
The samples for Koshi Inaba's latest solo album "Hadou" have been uploaded to B'z Official website. I recorded them all and put them into a video, however, as bitchy as YouTube is, it won't let me upload the video. So I uploaded it here instead. Check it out!
More information on Koshi Inaba's new album: Koshi Solo Album "Hadou" 08/18 Out!!
Posted on August 5, 2010 by Tobias in
News
Having released TAKE YOUR PICK and toured throughout Japan, Larry Carlton and Tak Matsumoto are delighted to announce that they will be performing at the Tokyo Jazz Festival 2010. While it is the 3rd time for Larry Carlton(2006, 2008 and 2010) to perform at the Tokyo Jazz Festival, it's the first time ever that Tak Matsumoto gets the chance to perform on stage.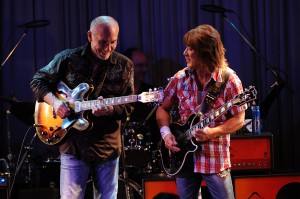 As a lot of fans weren't able to see Tak playing on stage due to the fact that Larry and Tak performed in small clubs and the amount of tickets was limited. Therefore, as we previously reported, additional live performances have been scheduled so that fans, who weren't able to enjoy the show, still get a chance to see Larry and Tak grooving the stage. In addition to that, fans get one more chance - at the Tokyo Jazz Festival 2010.
Larry Carlton says: "I'm delighted to be able to perform the songs that I've written and recorded with Tak one more time in Japan. In my past career I've had the chance to play at the Tokyo Jazz Festival numerous times. But this time, I'm going to be on stage with my friend Tak, performing our songs, and while watching the smiles in your faces, I hope you'll be able to enjoy the show as much as we do. It's going to be something very special, so please come see our show!"
Tak adds "I am happy that I can play again because sadly our "TAKE YOUR PICK" tour ended so abruptly. On top of that, getting the opportunity to play at the Tokyo Jazz Festival in my musical career is a great honor for me. I'm grateful from the bottom of my heart for this chance to experience and learn a lot of new things. Please enjoy our show!"
The Tokyo Jazz Festival was first held in 2002 and this year will be the 9th time it is held in Tokyo. The Tokyo Jazz Festival will be held from September 3rd, 2010 to September 5th, 2010 in the Tokyo Kokusai Forum Hall A. Larry Carlton and Tak Matsumoto will perform on September 4th, 2010.
Sources: Barks.jp, Tokyo Jazz Festival 2010