Posted on May 22, 2016 by Tobias in
News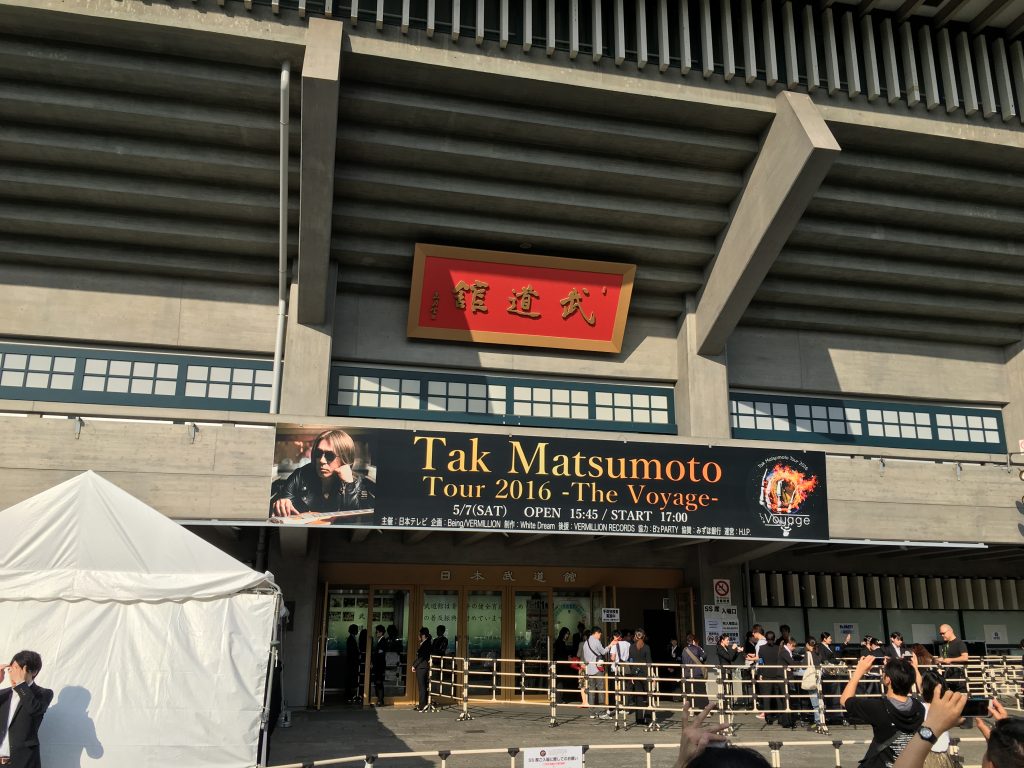 Tak Matsumoto's latest solo endeavour takes a different turn compared to his last solo album 「New Horizon」 which was inspired by his previous work with Larry Carlton. His new album 「enigma」 is the product of Tak's self-reflection regarding his career and his musicianship. Even now, it remains a mystery to him if he has become the musician he is supposed to be. An enigma. On this tour, titled 「The Voyage」, Tak Matsumoto takes the audience on a journey through his career, supported by lighting effects and videos.
This is the first time for me to go to one of Tak's solo shows, and I was very excited to see what kind of performance Tak has got in store for a big venue such as Nippon Budokan! I am used to instrumental guitar performances by the likes of Steve Vai and Joe Satriani. However, not in such a huge venue.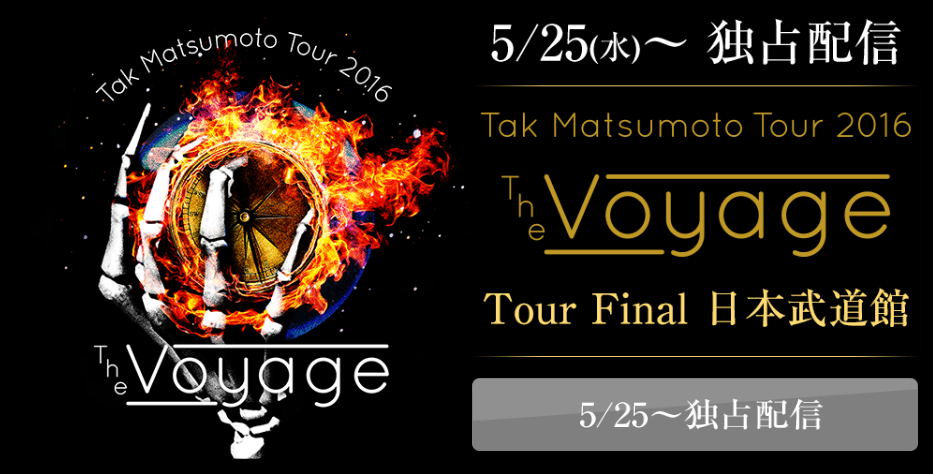 Tak Matsumoto's tour 「Tak Matsumoto Tour 2016 -The Voyage-」 in support of his latest solo album 「enigma」 wrapped up this month with its tour finale at the Nippon Budokan. The tour finale was broadcasted live on the internet through the NTT DoCoMo owned streaming service dTV. While it wasn't clear when exactly the show will be available in on-demand format, the service has announced yesterday that the show will be available for on-demand viewing from May 25th to August 24th.
Although the Japanese streaming service offers a 30-day trial, it does not accept foreign credit cards. Therefore, unlike Hulu Japan, it is not possible to sign up for an account.
Source: B'z Official Website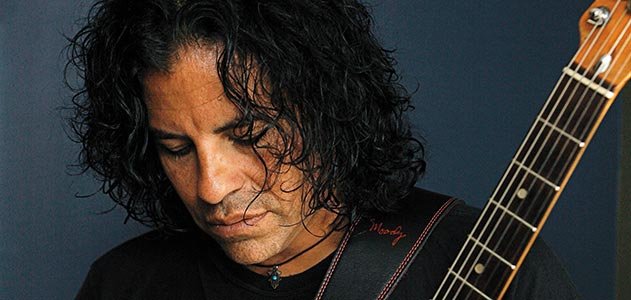 In a series of tweets responding to fans, American guitarist and frequent Koshi Inaba collaborator Stevie Salas has revealed he is currently in Japan contributing to the B'z singer's latest solo output. Koshi's recent commercial tie-in "YELLOW" will likely be part of this upcoming release, but no other details are available at this time.
In addition to being the guitarist for Rod Stewart, Mick Jagger, and Justin Timberlake at various points in his career, Salas has also made his name as a solo artist. His first recordings with Koshi Inaba came in the year 2004, culminating in him appearing on most of the tracks from Peace Of Mind as guitarist. One such song, "Shoumen Shoutotsu", was co-written with Koshi and would later become the subject of an English rendition re-titled "Head On Collision" in 2006, which featured both artists on vocals. Salas's association with B'z began long before after he became acquainted with the duo in in the early 90s, during which time Tak Matsumoto attributes Salas with assigning his longtime moniker "Tak".
UPDATE: The original tweet has been removed but has been screen-capped and preserved below: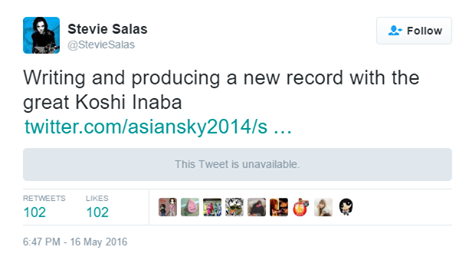 Posted on May 12, 2016 by Tobias in
Rumors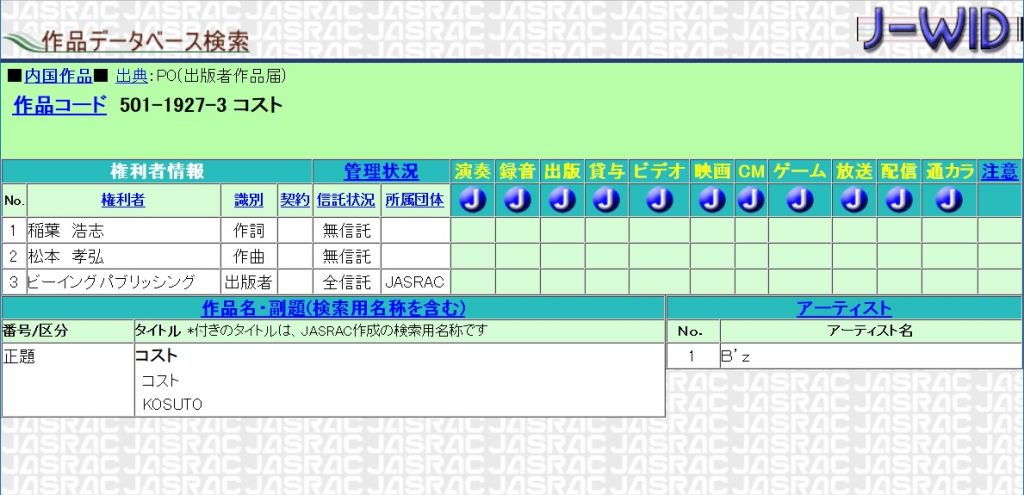 A new entry registered on JASRAC—the Japanese Society for Rights of Authors, Composers and Publishers—may provide our first glimpse at the next release from B'z. First registered in March, the entry is for an individual song entitled "Kosuto" (コスト, or "Cost"). The entry lists Being Publishing as the registrant, which aligns with other recent publications by the parent company behind the band (including an entry for "Overture" from B'z LIVE-GYM Pleasure 2013 -ENDLESS SUMMER-). Koshi Inaba is listed as lyricist and Tak Matsumoto as composer as with all other applicable B'z registrations.
Whether "Kosuto" is a new single, a B-side, or an album song is yet to be confirmed. It is possible this is the as-yet untitled ending theme to B'z LIVE-GYM 2015 -EPIC NIGHT-, though it bears noting that the lyrics do not offer any significant hint that this is the case.
This initial registration suggests that "Kosuto" won't be used as a tie-in to a TV series or film due to the registration belonging to Being and not a preceding media entity. The recently-revealed "Sekai wa Anata no Iro ni Naru" was first registered by Yomiuri TV Enterprises given that it was a theme to Detective Conan; all other television and drama themes such as "Ichibu to Zenbu" and "Uchouten" follow this precedent. Barring a revision pre-release, this song will more likely be a different type of tie-in and would instead be released in tandem with a commercial or event should it be a single. If not a single, no tie-in is entirely plausible.
Meanwhile, "Sekai wa Anata no Iro ni Naru" will begin airing as the theme to the Detective Conan anime series this weekend. It has long been believed the song would not be a single, but could serve as a B-side to the next release, which may very well be "Kosuto". We will bring your more information when it becomes available.
Source: Entry in the JASRAC database