Posted on July 29, 2010 by Lum in
News
As you may know, Japanese love rankings and polls, and this time goo music site made a survey asking "Which B'z single do you want to hear during summer?".
This survey was held within a group of 1137 men and women who are between 10 and 60 years old. Here are the results!
1. Taiyou no Komachi Angel
2. ultra soul
3. Hadashi no Megami
4. Ai no Mama ni Wagamama ni Boku wa Kimi Dake wo Kizutsukenai
5. LADY NAVIGATION
Posted on July 28, 2010 by Lum in
News
B'z latest release "B'z LIVE-GYM 2010 "Ain't No Magic" at TOKYO DOME" on DVD and Blu-Ray has already topped the Oricon chart, and a massive advertising campaign has been launched.
This morning, two coloured pages featured B'z ads in the Asahi Shinbun (one of Japan's most renown newspapers), promoting this new release. Also, busses with ads on it could be seen on the streets.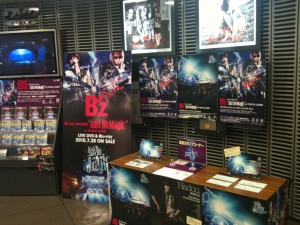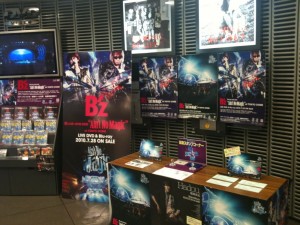 Until August 1st, Tower Records music shops are hosting a corner called "B'z SHOP-GYM". Both DVD and Blu-Ray are offered with a 15% discount, and you can get a special commemorating seal (in 2 different colours, red and blue) and mini-uchiwas with tour's logo on it.
In some shops you can also see a scale model of the "flying stage" used during dome tour dates.
photo credit: Q-DICE
Posted on July 26, 2010 by Tobias in
News
As I haven't posted the Setlist for the "TAKE YOUR PICK" tour yet, here it is.
01. Nite Crawler 2010
02. Islands Of Japan
03. THE WAY WE WERE
04. Tokyo Night
05. East West Stroll
06. Easy Mystery
07. hotalu
08. ao
09. Take Your Pick
10. Neon Blue
11. A girl from China
12. JAZZY BULLETS
-ENCORE-
13. Room 335
14. #1090[千夢一夜](#1090 [sen mu ichiya])
The Band
Guitar : Larry Carlton
Guitar : Tak Matsumoto
Bass : Michael Rhodes
Drums : John Ferraro
Key : Billy Steinway
Posted on July 24, 2010 by Tobias in
News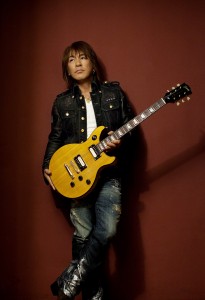 Tak Matsumoto is at it again, releasing a new Gibson Signature Model, the "Tak Matsumoto DC Korina". Fans are very delighted to see the new lineup of the Double-Cutaway model, one of Tak's favorite guitars. The body is made out of korina wood, giving it that yellow'ish color.
The guitar will come in two flavors:
TAK MATSUMOTO DC KORINA ANTIQUE NATURAL (Price: 534,000 Yen / Approx. $5340)
TAK MATSUMOTO DC KORINA GOLDTOP DARK BACK (Price: 499,000 Yen / Approx. $4990)
These two models will go on sale on July 30th, 2010.
Here are the specs of this guitar:
TAK MATSUMOTO DC KORINA
Body & hardware
Korina back with Korina top, ABR-1 bridge & Stopbar tailpiece
Neck & Headstock
1 piece Korina neck, 22 fret rosewood fingerboard, Abalone inlays, TAK MATSUMOTO DC neck profile, Vintage
tulip tuners
Electronics
Burstbucker TAK MATSUMOTO Special Zebra (Exposed coil), 2 volumes, 1 tone, 3-way selector switch
Finish option
Antique Natural (V.O.S. finish and Aged gold hardware)
Gold top dark back (Gloss finish, Nickel hardware)
Posted on July 24, 2010 by Tobias in
News
Additional live performances have just been announced for Larry Carlton's & Tak Matsumoto's "TAKE YOUR PICK" tour in Japan.
September 1st - Zepp SAPPORO
September 2nd - Zepp SENDAI
September 6th - BLUE NOTE TOKYO
September 7th - BLUE NOTE TOKYO
And here's a little video of Larry and Tak performing together in Blue Note Tokyo:

Posted on July 20, 2010 by Tobias in
News
Koshi Inaba has given an interview on his latest solo album "Hadou", which will be out on August 18th. We don't know if it's going to be the same interview in every magazine.
An interview with Koshi Inaba will be in these magazines:
smart - July 24
DIME - August 9
FRaU - August 12
WHAT's IN? - August 12
ori star(オリ☆スタ) - August 20
GQ JAPAN - August 24
If we get ahold of this interview, we'll translate it for you!
Posted on July 19, 2010 by Lum in
Other
The Alfee's member Takamizawa Toshihiko will release his new solo album, Fantasia,  on August 25th, and Tak is credited as guest musician.
Tracklist or other credits details aren't available yet, so stay tuned for further news
Posted on July 5, 2010 by Lum in
News
And finally, we have a release date for Koshi's new solo album! "Hadou" will be out on 08/18, and it'll have a regular and a limited edition. The limited edition will feature a DVD with all of Koshi's promotional videos (PVs), except for  "Okay" which is on the limited edition DVD of the single. (see below for a complete listing)
The album itself will have 15 tracks, including "Okay", and News 23X ending song "Sono Te wo Totte Hashiridashite". Also, the previously unreleased song "Akai Ito" will be included as well.
We have no covers yet, but the prices will be 3,059yen (tax incl.) for regular edition and 3,990yen (tax incl.) for limited edition.
Tracklist
01. LOST
02. Zettai (teki) [absolute (ly)]
03. The Morning Call
04. Okay
05. Lone Pine
06. Eden
07. CAGE FIGHT
08. Koyoi Kimi to [tonight with you]
09. Kono Te wo Totte Hashiridashite [take this hand and start running]
10. Sariyuku Hito e [leaving people]
11. Fushichou [phoenix]
12. Shujinkou [protagonist]
13. Little boy
14. Akai Ito [red thread]
15. Itaikena Taiyou [innocent sun]

DVD Tracklist
01. Nami - from album Magma
02. Tooku Made - from single Tooku made
03. O.NO.RE - from album Shian
04. Touch - from album Shian
05. Famiresu Gozen Sanji - from album Shian
06. AKATSUKI - from single KI
07. Shizukana Ame - from single KI
08. I'm on fire - from single KI
09. Wonderland - from single Wonderland
10. Shoumenshoutotsu - from album Peace of mind
11. Hazumu Sekai - from album Peace of mind