Posted on November 30, 2013 by Tobias in
News
The November 30th, 2013 special live that served as the grand opening for the TV Asahi-sponsored venue of the EX Theater Roppongi has come to an end, and B'z definitely did not pull any punches on this one. Living up to the title of "special live", the band brought to the table songs no one expected to hear, including ones that had not seen the live stage in nearly twenty years!
The show opened very unexpectedly with ACTION album song "Kuroi Seishun", which had not been played in the five years since 2008's album tour prior to the show. It was followed by a very rare performance of the 15th anniversary single "Yasei no ENERGY", itself not having been played live in the ten years since 2003. "ONE ON ONE" and "Perfect Life", two other ACTION album tracks, also saw performances, with the latter having been included during the hall dates for B'z LIVE-GYM Pleasure 2013 -ENDLESS SUMMER-.
Other album songs performed included 1994's "Yami no Ame" that had not been played since the first part of that year's "The 9th Blues" tour and 1999's "SKIN" and "Nagai Ai" from Brotherhood. Singles "ultra soul" and "Ichibu to Zenbu" were also carried over from the recent Pleasure tour, as well as classic 1989 fan-favorite "OH! GIRL" that had been previously performed during select hall tour dates along with 2002 album track "STAY GREEN ~Mijuku na Tabi wa Tomaranai~". The singles of "Konya Tsuki no Mieru Oka ni" and "Shoudou" were also revived for the occasion, followed by encore returns of "BANZAI" and "IT'S SHOWTIME!!".
"Q&A" from B'z The Best XXV 1999-2012 was likewise performed, along with the live debut of a brand new song of an unknown title that had earlier been heard as the ending music to the ENDLESS SUMMER tour. Afterward followed a memorial cover of Japanese metal band LOUDNESS's 1985 song "Crazy Nights". The performance taking place on November 30, 2013 came five years to the day of the band's founding drummer Munetaka Higuchi passing away on November 30, 2008.
Check out the setlist after the break.
Posted on November 26, 2013 by Tobias in
News
The official B'z fanclub has unveiled design samples of the upcoming B'z 2014 calendar. The calendar is exlcusive for B'z PARTY members and costs 2200 Yen.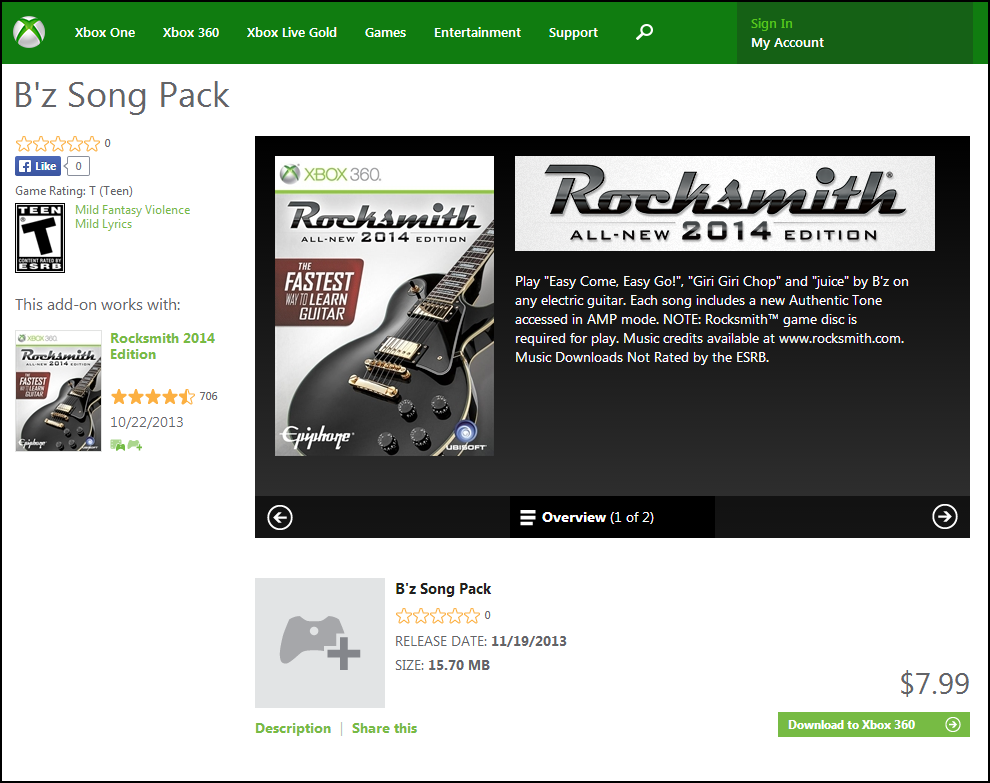 It's been a long time coming, but as we previously reported, B'z classic singles "girigiri chop", "Easy Come, Easy Go!" and "juice" are all now available on the Xbox marketplace as downloadable content for guitar-learning video game Rocksmith 2014! The songs will also be downloadable shortly in the PlayStation Store and on Steam, so you won't have to wait long. Hang in there!
Update: The DLC is now available on Steam and in the Playstation Store.
Ubisoft Japan has also posted a gameplay video for girigiri chop which you can check out below.

Epiphone has released a new Tak Matsumoto signature model in Japan: The Tak Matsumoto DC Standard Plus Top Aqua Blue. This guitar is basically an Epiphone version of the previously talked about Gibson Tak Matsumoto DC Prototype 2011 #1 which Tak Matsumoto has been using during the Pleasure 2013 tour as well as B'z LIVE-GYM 2011 -C'mon-. In fact, the Gibson model can also be seen in Utopia's music video.
It will go on sale throughout November and cost about 79,800 Yen (about $800). The guitar is only available in Japan, but it looks like that the IKEBE music shop is also willing to ship it overseas. Go to the product page (http://www.ikebe-gakki.com/ec/pro/disp/1/328756) and click on "Product Inquiry" where it says "For Overseas Customers" on the right. I haven't tried it, but if you are going to buy one, let us know how it works out!
For all the guitar freaky details such as pickups, fret board, etc. check out Epiphone's post regarding the guitar: Tak Matsumoto DC Standard Plus Top Aqua Blue Outfit
Hey folks, it's been a busy couple of weeks after getting back from my trip to Japan, but today is the time for some B'z updates! Rocksmith 2014 Edition was released in Japan on November 7th, 2013 and with it, a special message from Tak Matsumoto concerning the game was released.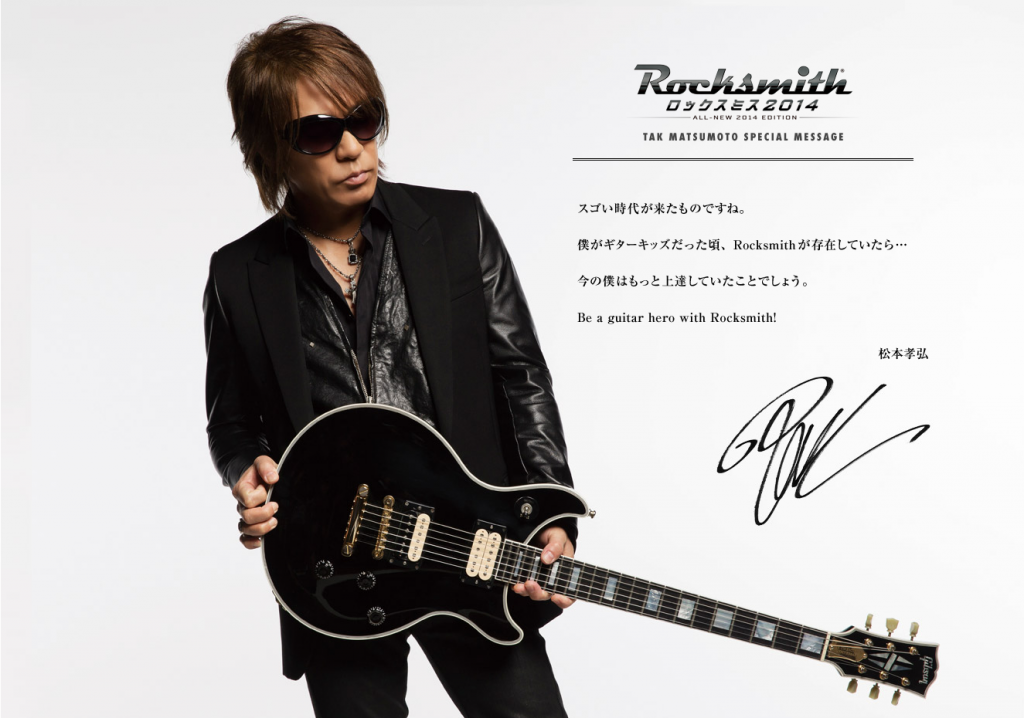 What great times we live in! If Rocksmith had existed when I was just a young aspiring guitar player...I probably would have become an even better guitarist now. Be a guitar hero with Rocksmith!
Takahiro Matsumoto
To celebrate the release of the Japanese version of Rocksmith 2014, Ubisoft Japan is also conducting a special giveaway for Japanese players. They are giving away an Epiphone Tak Matsumoto Double Cutaway Standard Cherry which has been signed by Tak Matsumoto himself! The campaign runs until November 30th, 2013.