Posted on January 28, 2014 by Tobias in
News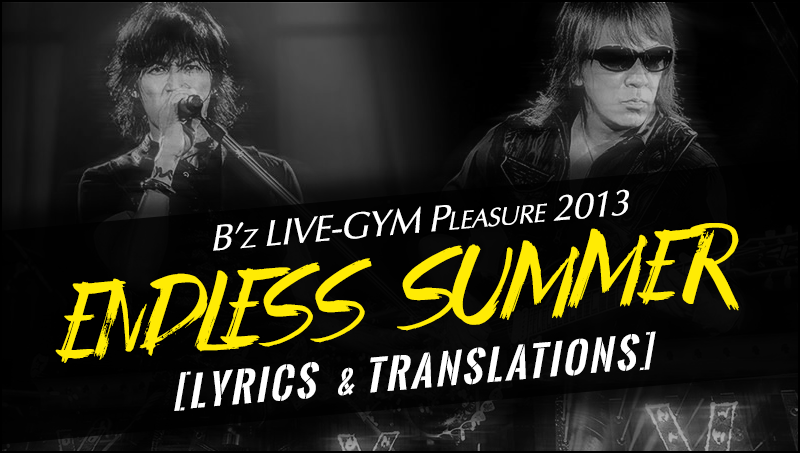 It's that time of year again, when B'z have released their latest home video package to the great anticipation of every fan. This time around, the band have offered up B'z LIVE-GYM Pleasure 2013 ENDLESS SUMMER -XXV BEST-, a DVD and Blu-ray release that showcases their recent 25th anniversary tour B'z LIVE-GYM Pleasure 2013 -ENDLESS SUMMER- in full, along with a full documentary chronicling every step of the way.
The dome portion of the tour also marked the live debut of a new song entitled "Endless Summer". The hard-rocking titular tune was written specifically for the occasion to exhibit the theme of the tour, and of course, we've translated it in full for all international fans to enjoy. Additionally, we have rounded up the lyrics and translations to each and every song performed on the tour below so that you won't miss a beat!
LYRICS INDEX
B'z LIVE-GYM Pleasure 2013 -ENDLESS SUMMER- 25th Anniversary Finale at Nissan Stadium
1. Endless Summer
2. ZERO
3. Pleasure 2013 ~Jinsei no Kairaku~
4. LADY NAVIGATION
5. Taiyou no Komachi Angel
6. Negai
7. Sayonara Nanka wa Iwasenai
8. GOLD
9. C'mon
10. Rain (Tak's Solo)
11. Kakushin
12. Aikawarazu na Bokura
13. Ai no Bakudan
14. Ichibu to Zenbu
15. LOVE PHANTOM
16. Q&A
17. NATIVE DANCE
18. Samayoeru Aoi Dangan
19. girigiri chop
20. RUN
21. juice
22. ultra soul
B'z LIVE-GYM Pleasure 2013 -ENDLESS SUMMER- Hall Tour Finale at Aizu Fugado
1. Q&A
2. F・E・A・R
3. LADY NAVIGATION
4. STAY GREEN ~Mijuku na Tabi wa Tomaranai~
5. Yumemi ga Oka
6. Utopia
7. Koi-Gokoro (KOI-GOKORO)
8. Happiness
9. Survive
10. GOLD
11. Rain (Tak's Solo)
12. The Wild Wind
13. Dead End
14. Perfect Life
15. NATIVE DANCE
16. OH! GIRL
17. girigiri chop
18. Ichibu to Zenbu
19. ALONE
20. BAD COMMUNICATION
Posted on January 28, 2014 by Tobias in
News
Tomorrow, B'z will officially release their homevideo package of their 25th anniversary tour B'z LIVE-GYM Pleasure 2013 ENDLESS SUMMER. Just like with every other release, the band has released a message for their fans commemorating the release.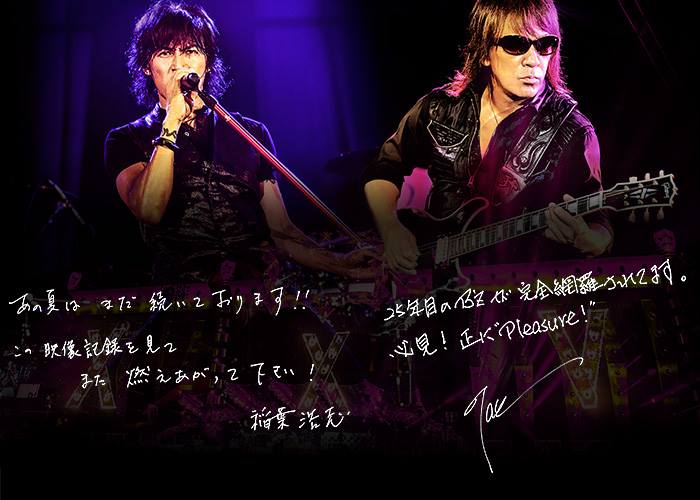 That summer is still ongoing!!
Please get excited again while watching the video!
Koshi Inaba
B'z 25th year is completely collected in this release.
A must-see! A real "Pleasure"!
Tak
Posted on January 17, 2014 by Tobias in
News
Today, Oricon has announced the sales for the year 2013 per music label. AVEX Group Holdings is now holding first place for two years in a row. Followed by Sony Music Entertainment on 2nd place and Universal Music on 3rd place. What's interesting is that the BEING Group, to which Vermillion Records belongs, has more than doubled their sales due to releasing B'z live DVDs and Blu-rays as well as the XXV best-of releases, putting them in 10th place compared to last year's 17th place.
B'z began their careers with BMG Japan and operated under several of their labels. Later, B'z would leave BMG to form their own label, Vermillion Records, as part of Being GIZA. Publication rights to the band's original four releases (the self-titled debut album, OFF THE LOCK, BAD COMMUNICATION, and BREAK THROUGH) remained under BMG control with the label switch, leading to recordings from that era ineligible to be included on compilations until an agreement was finally reached in time for the band's 25th anniversary single collections, B'z The Best XXV 1988-1998 and B'z The Best XXV 1999-2012.
Source: Oricon
Posted on January 7, 2014 by Tobias in
News
American rock drummer Carmine Appice was recently interviewed by the Examiner and when asked a question about Japan, he mentioned one very particular band...
Ray Shasho: There are so many legendary rock bands from the 70's that are having more success overseas these days … especially in Japan.

Carmine Appice: "Japan has their own domestic artists that are huge. It used to be that Japan didn't have any domestic artists until the mid 90's. All of a sudden they started getting their own artists. So all the American and UK artists who used to go there and play the Budokan are now playing smaller venues. But their artists are playing stadiums. There's a group over there called B'z and they can play three stadium nights in every major city in Japan. We're talking 150,000 people. It's a singer and a guitar player. I went to see them in Japan as a guest, they're friends of mine, and I think it was the night before or night after I saw Kiss over there. Kiss was playing at the stadium too. The B'z production was bigger than the Kiss production. It was ridiculous…it was so big. Over there they don't travel around in big semis, they travel around in these sixteen to twenty foot trucks … so they must have had about a hundred trucks going from city to city … it was crazy. But there just huge over there."
Posted on January 4, 2014 by Tobias in
News
The first TV commercial for the upcoming release of "B'z LIVE-GYM Pleasure 2013 ENDLESS SUMMER -XXV BEST-" was aired during Detective Conan today. Check it out below!