Posted on September 18, 2010 by Lum in
News
The next iteration of the Billboard JAPAN MUSIC Awards will be held in Tokyo Midtown Hall on January 6th, 2011. Additionally the nominations for each category have been revealed.
Koshi Inaba is one of the nominees in the category "Top Pop Artist 2010". You can check out the complete list of nominees at Billboard JAPAN MUSIC Award 2010's official website, here.
Posted on September 14, 2010 by Tobias in
News
As of today, the details about Larry Carlton's and Tak Matsumoto's DVD release of their "TAKE YOUR PICK" tour in Blue Note Tokyo have been released. The DVD contains all the songs performed live, so if you have the setlist memorized, you're going to know what's coming at you. Just to be sure, here's the setlist again:
*Update* Cover for the DVD release has been released.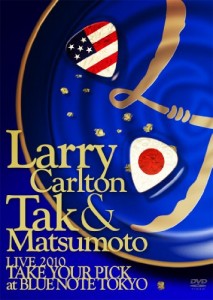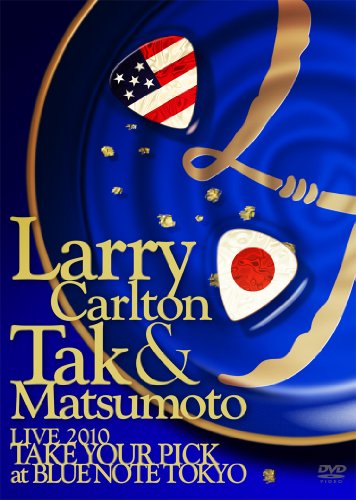 01. Nite Crawler 2010
02. Islands of Japan
03. THE WAY WE WERE
04. Tokyo Night
05. East West Stroll
06. Easy Mystery
07. hotalu
08. ao
09. Take Your Pick
10. Neon Blue
11. A girl from China
12. JAZZY BULLETS
13. Room 335
14. #1090
Total runtime of the DVD is about 86 minutes, and it will be priced at 5250 Yen (1050 Yen less compared to B'z "Ain't no Magic" release). Unfortunately there will be no extras such as backstage videos, interviews, etc. on the disc. So all you get is the raw performance, which is amazing as it is.
On an other related note, in addition to the live performance in Taipei on October 17th, another live performance has been scheduled. But this time, it's in Hong Kong. Larry and Tak are going to perform in the Hong Kong Cultural Center on October 19th. If you're in Hong Kong and want to check out the show, you can get more information here: http://www.lcsd.gov.hk/CE/CulturalService/Programme/en/music/000001f5.html
Rock virtuoso Stevie Salas is currently recording his new cover album "Jam Power". His last cover album "Electronic Pow wow" was released in 1993, in which he covers songs that influenced him as a musician featuring celebrity guest artists, to much critical acclaim. Now, in 2010, he's teaming up with artists such as Koshi Inaba, Slash, The Crystal Method, Juan Alderete (Mars Volta), Zakk Wylde and many, many more to record his latest cover album "Jam Power".
In August this year, before heading to the Fuji Rock Festival, Stevie met with Koshi Inaba to record a new track for his album. As always, it was a great experience for him to record with Koshi. They get along very well!
The album is going to be released in Japan on October 20th, 2010 and will be priced at 2500 Yen. A tracklist has not been unveiled yet.
Source(s): Tower Records Online (JP), Stevie Salas' Myspace
Posted on September 4, 2010 by Tobias in
News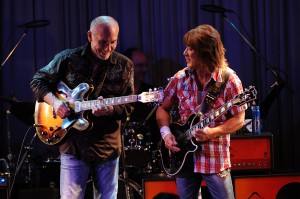 Now that's a big surprise here. After scheduling additional live performances as well as performing at the Tokyo Jazz Festival 2010, Larry Carlton and Tak Matsumoto are going to perform in Taipei (Taiwan) on October 17th. So that means, there may still be hope that shows in the US and Europe are planned. The show in Taipei might just be the beginning of an international tour. We'll keep you updated!
Additionally, on September 1st, the DVD release of Larry Carlton's and Tak Matsumoto's "TAKE YOUR PICK" tour in Japan was announced. It is going to be released on October 27th and will feature the live performance in Blue Note Tokyo. Further details will be released soon!
Also, to promote their show in Taipei, a video was put up in which Larry and Tak tell their fans that they're going to perform in Taipei on October 17th.
If you're in Taiwan and want to go to the show, you can grab the tickets here: http://tickets.books.com.tw/progshow/03010101463130