As you may have noticed, on the right side, there is now the official B'z calendar for everyone. I will take a picture of mine every month and update it accordingly. You can click on the image to view it in full size. I apologize for the bad quality, but I'm sure you still like it since you can finally see it right? 🙂
If you have any advice on properly photographing the calendar... be sure to post them in the comments! I'd love to know how to take better pictures of this. I especially struggle with lighting conditions as I don't want to use the flash because it will reflect on the calendar, showing a bright spot.
Cheers,
Arthuro
Posted on January 30, 2011 by Tobias in
News
So... I wanted to see Tak Matsumoto playing with Mari Hamada again. So I looked for the old video of his performance of BLUE REVOLUTION which dates back to before B'z debuted. What did I find? Well... apparently Tak Matsumoto came up as a special guest in Mari Hamada's 2010 "Aestetica" tour 25th Anniversary tour "On the wing" which was released on DVD on April 15th, 2009. Good to see the old duo together again for a song. Enjoy!
And here's the video I was originally looking for... from 1987. You can see Tak doing his solo at around 2:30.
Posted on January 29, 2011 by Tobias in
News
In the February 2011 issue of "WHAT's IN?", Tak and Koshi present their favorite music selection for 2010. Here's what they selected:
Tak Matsumoto's Selection:
SLASH by Slash
SCREAM by Ozzy Osbourne
ROKSTARR by Taio Cruz
GENIE, Gee by Shoujo Jidai (SNSD / Girls' Generation)
Ikimono bakari ~member's BEST selection~ by Ikimonogakari
Koshi Inaba's Selection:
TAKE YOUR PICK by Larry Carlton & Tak Matsumoto
Emotion & Commotion by Jeff Beck
Rera by Onozuka Akira
Paper Tongues by Paper Tongues
Utada Hikaru Single Collection Vol. 2 by Utada Hikaru
What do you think about their selection? What albums would you choose?
Posted on January 8, 2011 by Tobias in
News
I just now discovered that you can win a poster autographed by Larry and Tak by subscribing to Larry Carlton's mailing list! If you want to be part of the drawing, don't hesitate and sign up!!
NEW BONUS! Sign up for Larry's mailing list between now and January 31st, 2011 and you could win a poster autographed by both Larry Carlton and Tak Matsumoto (seen on the right)! If you are already on the list you are eligible to win. Winner will be announced February 1st.
Via: Larry Carlton - Official Website of Mr. 335
Source(s): B'zaholic Blog (Japanese)
Posted on January 5, 2011 by Tobias in
News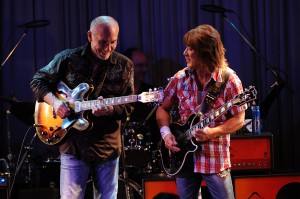 Larry Carlton's and Tak Matsumoto's jazz album "TAKE YOUR PICK" has received the Japanese Golden Disc Award for "Jazz Album of the Year" at the 25th Annual Golden Disc Awards in Japan. This again shows the great reception for Larry's and Tak's work, which, compared to Koshi Inaba's solo work, didn't receive much credit from B'z fans. Despite the fact that the TAKE YOUR PICK tour was completely sold out, the album itself didn't sell too well in Japan, but received great reviews from jazz critics from all over the world.
Another great achievement for Larry and Tak would be, if they were awarded with a Grammy for their solo work. We shall see how it goes, when the winners are announced on February 13 at the annual Grammy Awards.
Source(s): THE GOLD DISC
Posted on January 4, 2011 by Tobias in
News
Just as last year, the latest issue of the Japanese music magazine PLAYER(http://www.player.jp/index.html) features a retrospect on the year 2010, and what readers of the magazine liked the most.
Here's how B'z, Shane Gaalaas and Masuda Takanobu were ranked.
Category "Best Artist": B'z ranked 5th (3rd in 2009)

Category "Best Live Performance in Japan": B'z ranked 5th (4th in 2009) - Larry Carlton and Tak Matsumoto ranked 9th

Catagory "Best Vocalist": Koshi Inaba ranked 1st (same as 2009)

Category "Best Guitarist": Tak Matsumoto ranked 1st (3rd in 2009)

Category "This year's biggest news": Collaboration between Larry Carlton and Tak Matsumoto ranked 4th

Category "Best Drummer": Shane Gaalaas ranked 8th (9th in 2009)

Category "Miscellaneous Player": Masuda Takanobu ranked 4th (6th in 2009)
Source(s): B'zaholic Blog (Japanese)