Posted on February 24, 2012 by Tobias in
News
As promised, here is the subtitled version of the interview. Enjoy!
Posted on February 23, 2012 by Tobias in
News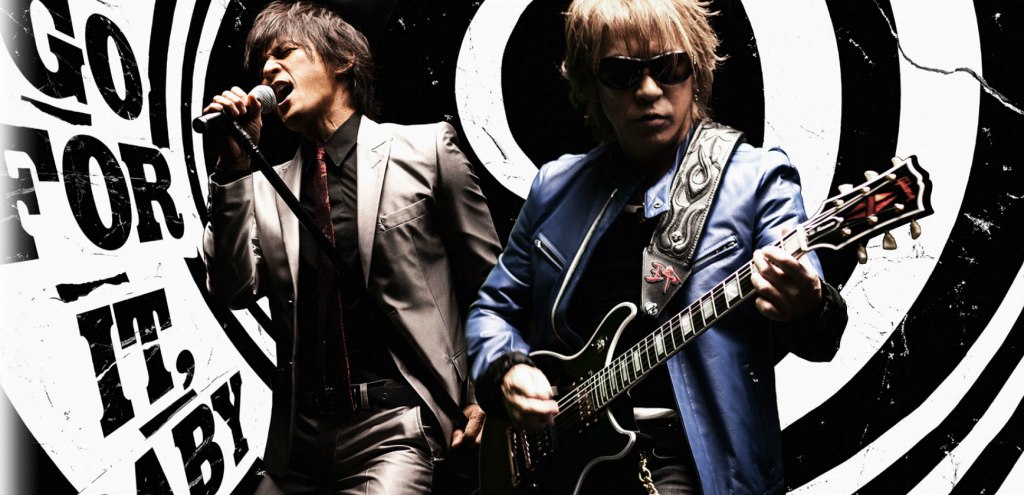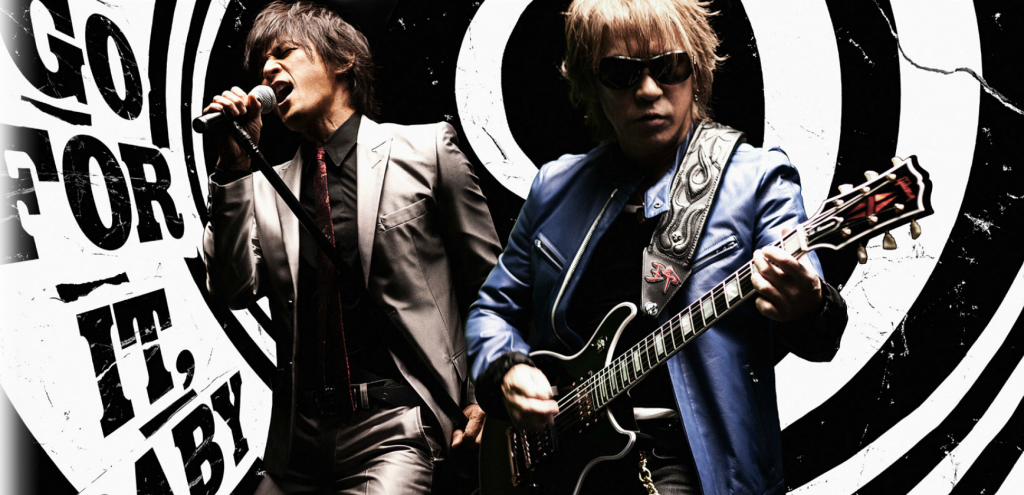 GO FOR IT, BABY!
That's the motto for B'z 50th single! It will come out on April 4th, 2012! This year, B'z will also be involved in Pepsi commercials. "GO FOR IT, BABY -Kioku no Sanmyaku-" will be the title song for the new Pepsi Nex ad campaign. The first commercial with the title "Tshirts live" will go on air February 28th.
The limited edition of the single will feature the "GO FOR IT, BABY -Kioku no Sanmyaku-" music video as well as three performances from the PEPSI NEX presents B'z 1 DAY LIVE at Shibuya AX:
Sayonara Kizu Darake no Hibi yo
Ichibu to Zenbu
Liar! Liar!
"GO FOR IT, BABY -Kioku no Sanmyaku-" will be available for download as "Chaku-Uta"(Ringtone) as of February 24th, 9:00 AM.
The commercial as well as making of and interview can be seen on B'z Official YouTube channel: http://www.youtube.com/Bz
We will post a translation of the interview later this day! Stay tuned!
Special campaign: Send in your postcards that came with the single to win one of 2000 B'z x PEPSI NEX special t-shirts! You'll have to send it in by April 30th.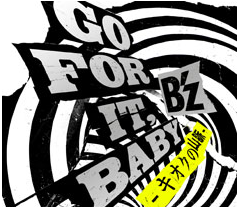 B'z - GO FOR IT, BABY -Kioku no Sanmyaku-
1. GO FOR IT, BABY -Kioku no Sanmyaku- (PEPSI NEX commercial theme song)
English: GO FOR IT, BABY -Mountains of Memories-
2. Honoka naru Hi (仄かなる火)
English: Vague Fire
3. Ryuusei Mask (流星マスク)
English: Shooting Star Mask
Price(limited edition w/ DVD): 1,785 yen
Price(regular edition): 1,260 yen
Release date: 2012.04.04
Posted on February 22, 2012 by Tobias in
News
I didn't deem this news worthy, but apparently some people get it wrong. Therefore, this post is to clear up all the misinterpretations.
What you've probably seen is this: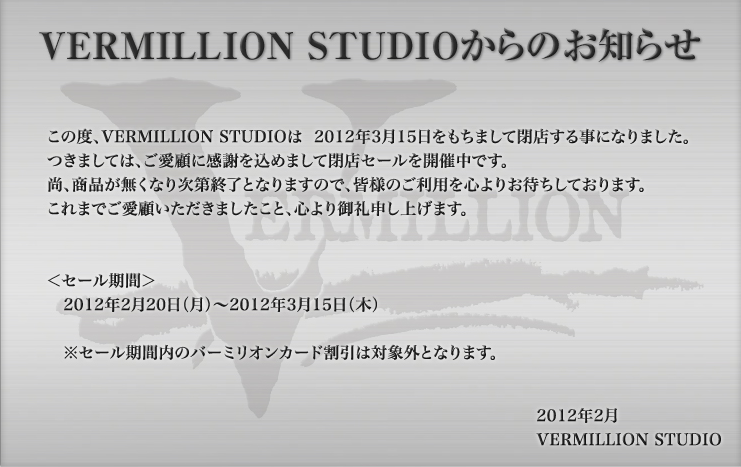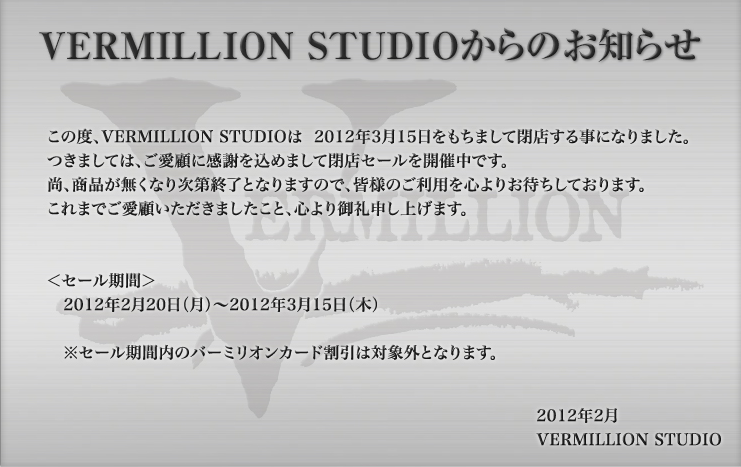 This notice is about Vermillion Studio closing down by March 15. It's an online store where you can buy (expensive) Vermillion merchandise such as parkers and necklaces. This does not mean that Vermillion Records is shutting down! Why the hell would they do that anyway?
Oh... and if you're thinking about buying a thing or two there, please note that all items are on sale since they're trying to clear out their shelves!
So yeah... just a few more days and we should get some real B'z news 😉
So long!
Tobias
Posted on February 5, 2012 by Tobias in
Other
Just to give everyone a preview of B'z latest song Into Free -Dangan- which is a re-recorded, English version of Samayoeru Aoi Dangan released in 1998, I have put up the video of the LA performance from last year for everyone to enjoy. As previously reported, the song is the theme song to Capcom's upcoming game Dragon's Dogma.
You can check out the preliminary lyrics here: http://bzwiki.offthelock.com/Into_Free_-Dangan-_(Lyrics)
Tour: B'z LIVE-GYM 2011 -long time no see-
Venue: Club Nokia, Los Angeles
Date: July 24th, 2011
Posted on February 4, 2012 by Tobias in
News
As every year, the January issue of the Japanese music magazine PLAYER(http://www.player.jp/index.html) features a retrospect on last year, and what readers of the magazine liked the most.
Here's a relevant extract of the voting results:
Category "Best Artist": B'z ranked 5th (5th in 2010, 3rd in 2009)
Category "Best Album": C'mon ranked 2nd
Catagory "Best Vocalist": Koshi Inaba ranked 1st (same as 2009, 2010)
Category "Best Guitarist": Tak Matsumoto ranked 2nd (1st in 2010, 3rd in 2009)
Category "This year's biggest news": Matsumoto winning the Grammy ranked 4th
Category "Best Drummer": Shane Gaalaas ranked 16th (8th in 2010, 9th in 2009)
Category "Best Bassist": Barry Sparks ranked 6th