Posted on August 29, 2013 by Tobias in
News
[UPDATE 8/29]: CNET Japan is now reporting that three more B'z songs will be available as downloadable content. They are juice, Easy Come, Easy Go!, and girigiri chop.
[UPDATE 7/4]: Famitsu now also reports that Tak Matsumoto's solo work "GO FURTHER" has also been announced to be part of Rocksmith 2014 Edition.
At their press conference yesterday for the E3 video game event, game publisher Ubisoft unveiled the next iteration in their Rocksmith franchise, which allows both prospective and experienced guitarists to learn and hone their skills on the instrument with the guitar of their choice. Among the announcements and demonstrations for the game, Ubisoft announced their first teaser of the tracklisting, and one addition particularly stands out: B'z — Ultra Soul. We presume this will be the English version released on the band's debut English album last summer and performed as one of the staples during their ensuing North American tour. The English version can be purchased on iTunes along with the other four new English tracks here.
B'z are in good company, being joined by other rock heavy-hitters such as Aerosmith, Bob Dylan, and Oasis, with many, many more to come. The original Rocksmith game, available now, was released in 2011 for the Xbox 360 and Playstation 3. The original game allowed users to expand their virtual library via downloadable content, so the opportunity for further B'z action to be featured in the game isn't out of the question just yet.
Rocksmith 2014 Edition ships in October of this year and will be available for PC, Xbox 360, and Playstation 3.
Posted on August 29, 2013 by Tobias in
News
After a two year hiatus, the World Music Awards make a comeback and will be held at Marlins Park in Miami, Florida on December 20th. B'z has been nominated for World's Best Live Act and World's Best Group, and you have a chance to help B'z win the award. All you have to do is go to the respective pages, namely Nomation for World's Best Live Act and Nomination for World's Best Group and vote for B'z.
The band has been nominated for the World Music Awards in the past and won the award for "World's Best Selling Japanese Artist of the Year" in 1999. Unfortunately, they were not able to attend the show to receive the award in person. Instead, they recorded a video message to be shown on the show. You can check it out below.
Posted on August 10, 2013 by Tobias in
News
B'z and Aerosmith have heated up about 34,000 rock fans at the QVC Marine Field last night at the two band's special event called AEROSONIC. B'z kicked off the event by rocking the stage first. The band performed 16 songs with fan favorites such as ultra soul, ZERO and Ichibu to Zenbu among them. After a while, the "main act"—this show was part of their Japan tour—went on stage: Aerosmith! Aerosmith performed 17 songs in total, one of which, Mama Kin, was performed with B'z as guest on stage!
It seems that security was not so tight at the event. Therefore a few people were able to film some performances, such as the one where Aerosmith and B'z perform together. Below you will find the video to said performance. You will notice how Steven Tyler confuses Tak's and Koshi's names, calling Koshi "Tak" and the other way around. Other than that, the performance is very hype, indeed. I highly recommend you watch it yourself, though!
Posted on August 7, 2013 by Tobias in
News
The massive gig with B'z and Aerosmith is just around the corner and so the official merchandise has been posted on B'z official website. The merchandise posted there is just the B'z side of the available merchandise. You will be able to buy merchandise although you do not have a ticket. Unfortunately the only type of credit card they accept is B'z Party's Vermillion Card, so you will have to resort to paying in cash if you are looking to buy one of the items shown below.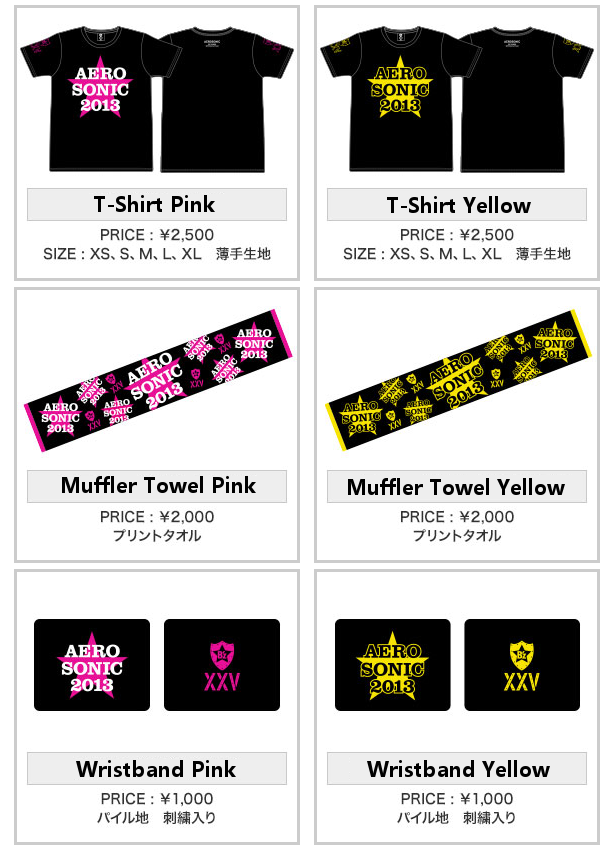 Posted on August 7, 2013 by Tobias in
News
On August 1, it has been announced that Dunlop is going to release their first Tak Matsumoto signature wah pedal. The wah pedal called the "Tak Cry Baby" is the first signature wah pedal issued for a Japanese artist. Other notable Dunlop signature artists include Slash, Kirk Hammett and Eddie Van Halen.
The Cry Baby is a very popular among guitarists and is rumored to be the best selling wah pedal of all time. The "Tak Cry Baby" is going to be on sale in September this year at a limited quantity.
You can check out more pictures of the Tak Cry Baby on Moridaira's website.
Posted on August 1, 2013 by Tobias in
News
Last night, B'z has wrapped up their hall tour with their last show at the Aizu Fugado Hall. The band's hall tour involved 19 stops all over Japan—all of which sold out in no time. The lucky few who were able to get tickets got the chance to see the band up close in a very intimate setting.
The band will now go on a one week break before teaming up with American rock band Aerosmith for a once-in-a-lifetime event called AEROSONIC at the Chiba Marine Stadium. Aerosmith is very excited to be given the chance to perform with B'z on stage again. The last time B'z and Aerosmith were on stage together, was during the 2002 FIFA World Cup concert.
Following the AEROSONIC gig, B'z will kick off their Pleasure 2013 stadium tour at Sapporo Dome on August 24th, leading up to the grand tour finale in Nissan Stadium on September 21st and 22nd. Look forward to our full coverage of the Nagoya Dome, Kyocera Dome Osaka and Nissan Stadium concerts!