Posted on October 26, 2010 by Tobias in
News
Larry Carlton's and Tak Matsumoto's record "TAKE YOUR PICK" has been taken into consideration for Grammy nomination in nine categories. These categories are: Record of the Year, Album of the Year, Best Pop Instrumental Album, Best Pop Instrumental Performance, Best Rock Instrumental Performance, Best Instrumental Composition, Best Instrumental Arrangement, Best Engineered Album, Producer of the Year and Non-Classical.
Larry Carlton has been nominated for the Grammys before, but for Tak Matsumoto, this is huge! We shall see how it goes when the Grammy nominations are announced on December 1st, 2010!
Source(s): Multi Grammy Nominations for Larry Carlton and Tak Matsumoto (Gibson.com)
Posted on October 23, 2010 by Tobias in
News
Now this is news, right? Apparently Tak Matsumoto is already busy shooting a new PV, but the question is: with or without Koshi Inaba?  The source states that Tak Matsumoto - who is a passionate golfer by all means - was supposed to attend a party hosted by PGA Japan's Tatsuya Miura. However, he was not able to make it and instead sent a greeting card in which he wrote that he's sorry he couldn't attend the party and some kind of (golf) contest. Matsumoto further writes that he couldn't attend because the shooting of his PV has not been finished yet, but he sends his best wishes.
As for Koshi Inaba, it could be possible that he was on the set as well since the blog posting dates to October 10th, but the actual event was the day before. So Koshi Inaba should have been able to sqeeze it into his calendar despite his tight schedule due to his ongoing tour ~en II~. I guess we will know more once Koshi's tour is over.
Stay tuned, fans!
Thanks to Mameshibaken who told me about it!
Source(s):  たむさん。おめでとう!@ゲスト紹介~ | でぶやG&B (metabogolferの日記) (Ameblo.jp)
Posted on October 22, 2010 by Tobias in
News
Epiphone Japan is going to release a refurbished model of the 'Epiphone Tak Matsumoto DC Custom' (see our report) which was released in December, 2009 and is going to call it the 'Epiphone Tak Matsumoto DC Standard Goldtop'.

The model will be available exclusively in Japan early November at a suggested retail price of 122,800 Yen(same as the original model), which is about 1508 US Dollars or 1083 Euros.
Here are the technical details of this beast of a guitar:
【SPECIFICATIONS】
●Body:Carved Mahogany Double Cutaway Body
●Top Binding:Black
●Neck:Mahogany
●Neck Binding:Black
●Neck Joint:Long Neck Tenon (Deep Set)
●Headstock Binding:None
●Scale:24.75"
●Fretboard:Rosewood with "Abalone" inlays
●Headstock Sign:"Tak Matsumoto" MODEL
●Machine Heads:Kluson-type with green "tulip" buttons
●Trussrod Cover:Black / White
●Pickups:Gibson Burstbucker 2&3 (Double Black)
●Bridge:Epiphone LockTone™ Tune-o-matic
●Controls:Neck Volume, Bridge Volume, Master Tone, 3-Way Toggle
●Knobs:Gold "Top Hat" Knobs
●Tailpiece:Epiphone LockTone™ Stopbar
●Hardware:Nickel
●Color (Gloss):Metallic Gold
Source(s): Rittor Music port (Japanese)
Posted on October 10, 2010 by Tobias in
News
As previously reported, Tak Matsumoto and Larry Carlton were given the honour to perform at the Tokyo Jazz Festival 2010. In fact, it was the first time for Tak Matsumoto to perform at Tokyo Jazz Festival. Several weeks after the festival ended, the whole festival was aired on TV including selected performances by Larry and Tak. I promised I would post the videos here once I found them. Kudos go to Youtube user ktp178tak who uploaded them.
Since they're rips from BShi, they're in HD. Download links for HD + embedded youtube videos after the break!
Removed the videos, but you can still check them out in the media section of BNP.
Posted on October 3, 2010 by Tobias in
News
A few days ago pictures from the Tokyo Jazz Festival 2010 were posted on the festival's site. I have them here for your enjoyment. Also, the Tokyo Jazz Festival 2010 will be aired on NHK BShi(HD) on October 6,7 and 8 from 11:30 PM to 12:59 AM respectively as well as on NHK BS2 on October 16 from 1:30 PM to 6PM (whoa, really?).
It is unclear to what extend the performance of Tak and Larry will be broadcasted on TV, or if they will be shown on TV at all.
*Update*: The following songs will be shown on TV: Tokyo Night, Take Your Pick and Jazzy Bullets! This particular program is airing October 6.
Source: http://cgi4.nhk.or.jp/hensei/program/p.cgi?area=001&date=2010-10-06&ch=10&eid=24250
If I get ahold of that, of course I'll post it here 🙂
Click "read more" to see the pictures!
Hello fellow B'z fans!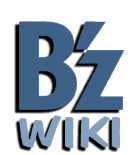 On this wonderful autumn day (in Germany, anyway), I want to introduce you to something very special: The B'z Encyclopedia!
Or just call it the "B'z Wiki" since that's what it is.
In the sidebar you will notice that there is a section "Recent wiki updates" now. That way, you can see if something new has been added or if something has been modified on the wiki. It is simply a convenient way for you to check for project updates.
The goal is to get every single bit of information about B'z into this wiki including song translations, interview translations, trivia, pictures, live reports, fanclub events, et cetera
It is going to be the first ever complete information database on B'z.
However, since there is a LOT of information on B'z, we are going to need your help! So if you want to help us, just post in the comments and we will see what work we can give you! Also state some of the skills you have, such as "Good writing skills in English", and so on. That way, we will know what kind of work we can assign you to.
Also, if there is something you would like to work on specifically, you can also post this. There's a bunch of pages that still have not been set up. You can see an overall status of the project by going to the B'z wiki's main page. Just click the link in the header.
We are especially looking for people who speak Japanese so we can work on song and interview translations!
Posted on October 1, 2010 by Tobias in
News
The official announcement for Stevie Salas' new cover album "Jam Power" has been posted on B'z Official Website. As we previously reported, it's going to be released on October 20th, 2010 priced at 2500 Yen in Japan. It looks like it is going to be available internationally as well, since the Japanese edition contains a bonus track which is exclusive to Japan. Koshi Inaba is going to be the lead vocalist on the track "Police on my back" which was originally recorded by the band The Clash.
Also, as posted on HMV.co.jp in the song credits, there's a story associated with it:
After I had dinner with Koshi Inaba in Beverly Hills, we went back to his place in my car. When I switched on the radio a song by The Clash was playing and Koshi really had to turn up the volume as he enjoyed the song. One year later, while we were in the car again, a song by The Clash was playing on the radio. Seeing how Koshi was singing along to the song hitting all the notes and getting the lyrics right, he told me he's a great fan of them! So when we went to record for "JAM POWER", I asked him if he could sing a song from The Clash. "In English?" he asked. "Yeah" I replied. Then I checked out a bunch of my favorite Clash tunes to find the one I liked best. As you all know I'm a big fan of funk, so I gave "This Is Radio Clash" a try, but Koshi's voice was not suited for such a song.

When I met Koshi in Hawaii again, we were barbecuing steaks and once we listened to "Police On My Back", we said "This is it!!" When I was in high school in San Diego, the band I was in performed that song numerous times, so I knew the song quite well. After Jara Slapbak added the funky style to the rhythm track, I flew over to Tokyo to record the vocals with Koshi. When I came back to LA, King's X singer Doug Pinnick sang the chorus for the song and, with that, polished it.

(Translated from Japanese)
And here's the tracklist as well as cover:

01. Tell Me Something Good (Chaka Khan)
02. Girls Got Rhythm (AC/DC)
03. Police On My Back (The Clash)
04. Disco Lady (Johnnie Taylor)
05. Everybody's Got Something To Hide Except Me And My Monkey (The Beatles)
06. This Is Radio Clash (The Clash)
07. No Air (Jordin Sparks)
08. Getaway (Earth, Wind & Fire)
09. Only Happy When It Rains (GARBAGE)
10. Moonage Daydream ~Live in New York version~ (David Bowie)
11. Ondularte ~Fading Out~ (Gandhi) * Japanese Bonus Track