Posted on December 31, 2010 by Tobias in
News
Happy new year to everyone who's in the far east!
To celebrate the new year, B'z Official Website has been updated with a teaser video showing Koshi and Tak in the studio, recording new songs.
The video finishes with a message: "This Spring... Brand new B'z Single Don't miss it!!"
For those of you who have yet to DIVE into the new year, have a good time!!
See you in 2011.
Arthuro
Source(s): B'z Official Website
Posted on December 25, 2010 by Tobias in
News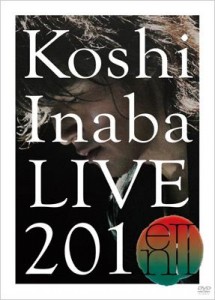 What a great Christmas present for Koshi Inaba fans! On B'z Official Website, the video release of Koshi Inaba's ~en II~ was announced, and it is going to be out on February 16th, 2011. The release will come in two flavors: DVD and Blu-ray. I think it's about time they started releasing live videos in HD...
Anyway, the DVD version will be 2 disks and the Blu-ray version will be just one disk. There are no extras included, just the live performance itself. I find that a little disappointing, but I guess that every true Koshi fan will buy it anyway! Both releases will be priced at 6300 Yen, which is pretty pricey. The total runtime is 129 minutes, so you've got over 2 hours to watch. If you're wondering what performance was recorded... it is the one at Nippon Budokan. If you would like to catch a glimpse at the live performance, you can visit B'z Official Website as they have updated their intro video.
Setlist:
・ Tamayura
・ My Mirai
・ The Morning Call
・ Okay
・ Eden
・ AKATSUKI
・ Nami
・ LOVE LETTER
・ Toumei Ningen
・ Akai Ito
・ Lone Pine
・ Kono Te wo Totte Hashiridashite
・ LOST~Wonderland
・ Tooku Made
・ ~jam~
・ CAGE FIGHT
・ Koyoi Kimi to
・ Zettai (teki)
・ Shoumen Shoutotsu
・ Hazumu Sekai
・ Itaike na Taiyou
Source(s): B'z Official Website
Posted on December 21, 2010 by Lum in
News
The end of the year is drawing near, so it's the right time for some charts 🙂
The only B'z release this year, B'z LIVE-GYM 2010 'Ain't No Magic' at TOKYO DOME, with 127.000 copies is at #25 of  Oricon's dvd ranking (I'd be curious to see the Blu Ray ranking).
Inaba gets #38 in album's ranking with Hadou (177.984 copies) and #45 in single's ranking with Okay (134.381).
Unfortunately, Take your pick didn't make it to the top 50.
Posted on December 2, 2010 by Tobias in
News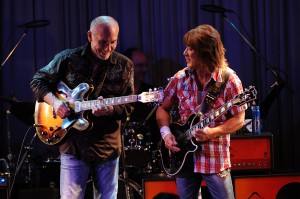 Yesterday, the nominations for the Grammy Awards 2010 have been announced by the committee. Larry Carlton's and Tak Matsumoto's "TAKE YOUR PICK" has been nominated in the category "Best Pop Instrumental Album". Also nominated in the same category are Gerald Albright, Kenny G, Robby Krieger and Kirk Whalum.
The results will be announced at the 53rd Annual Grammy Awards on February 13, 2011. If Larry Carlton and Tak Matsumoto received the award, Tak Matsumoto would get his first Grammy Award for one of his solo works.
Source: Nominees | GRAMMY.com