Posted on July 25, 2012 by Jd- in
News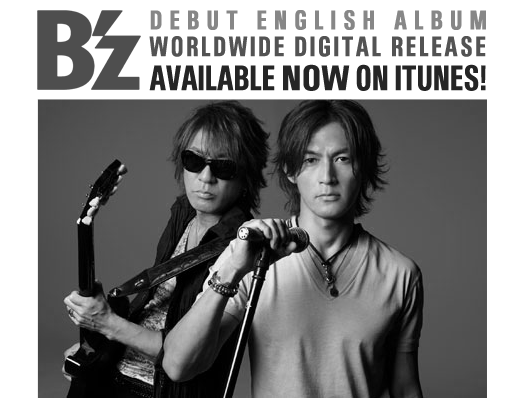 B'z has unleashed their debut English album, and have done so on the world! The album that contains Love Bomb, Splash, Juice, Ultra Soul, and Into Free -Dangan- all in English is now available worldwide on iTunes, in over sixty countries! Click your country below to get it!
Koshi:

Good afternoon to everyone who tuned into

J-WAVE HOLIDAY SPECIAL: PEPSI NEX presents ALL TOGETHER NOW

. I'm Koshi Inaba.

Tak:

And I'm Tak Matsumoto.

Koshi:

So, today's topic is what you could enjoy with somebody, what could get you excited. In other words: "Together!". What we've been producing as B'z together with everyone else's effort is the latest installment in our series of Pepsi NEX commercials.

Tak:

Right. I'm sure you've seen it. It conveys a summer feeling and is really bright!

Koshi:

Yeah. There was a concert scene in a country to the south and everybody was standing around.

Tak:

The main point of the commercial was our live performance and a lot of people would just stream into the audience.

Koshi:

It looked just like a normal live performance. Everyone was getting excited about it. We all created a "Together", indeed.

Tak:

That's right.

Koshi:

If you haven't seen it yet, feel free to switch on the TV. You should see it if you zap through the channels a bit.

Tak:

Yes. (laughs)

Koshi:

Feel free to watch it. The song that's playing in the commercial is one we've produced by the title of "Love Bomb". It's a song you've all probably heard already, because it's the English version of a hit song we released in 2005, "Ai no Bakudan". The song didn't just receive an English version but has also been re-recorded.

Tak:

Yeah.

Koshi:

In other words, we've used a re-recorded song for this commercial.

Tak:

Yeah, but I have to say I enjoyed re-recording an old song from years ago and seeing how it turned out.

Koshi:

That's true. Right when we were working on it, Pepsi approached us with their summer version of a commercial and I think they were a perfect match. Now, please have a listen to "Love Bomb".

「Love Bomb」 Full version on air
Posted on July 13, 2012 by Tobias in
News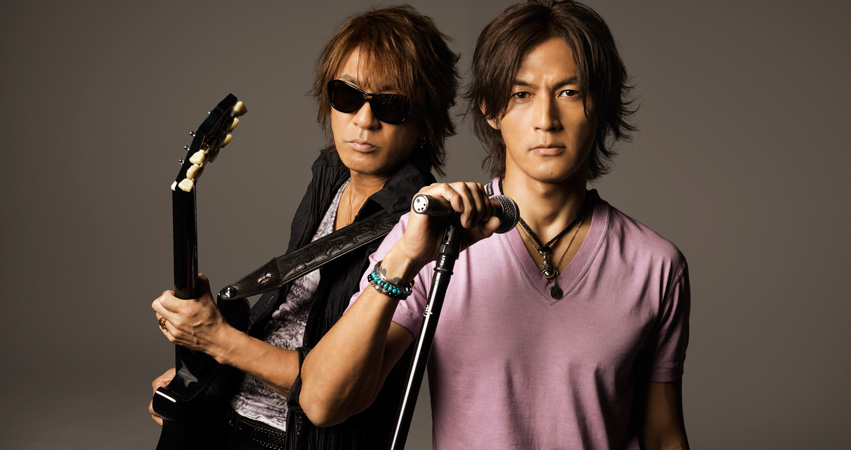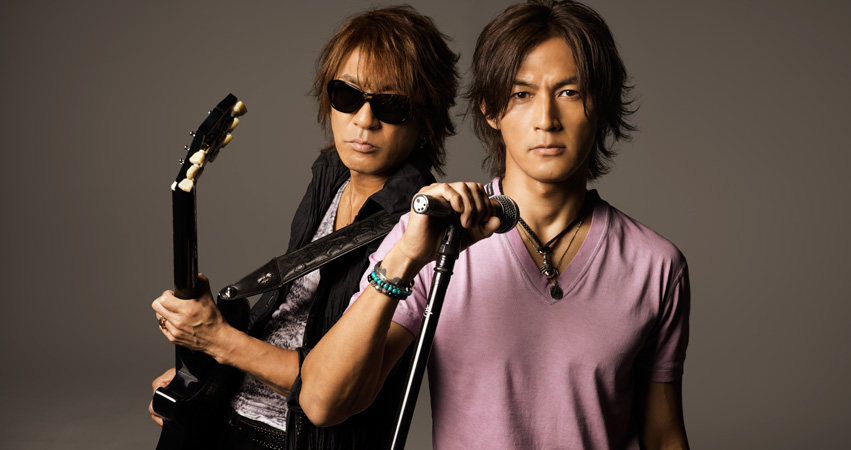 B'z is releasing their self-titled English debut album B'z on July 25th. The album will be available worldwide for purchase on iTunes. It will feature 5 tracks among which are the latest single Into Free -Dangan- as well as the new Pepsi NEX commercial song Love Bomb. Love Bomb is the English version of Ai no Bakudan, a B'z hit song released in 2005. All the songs have been re-recorded and rewritten in English to coincide with the upcoming North American tour, B'z LIVE-GYM 2012 -Into Free-.
「B'z」Track Listing:1. Love Bomb (PEPSI NEX commercial theme song)
Original Title: Ai no Bakudan(2005)

2. Splash
Original Title: SPLASH! (2006)

3. Juice
Original Title: Juice (2000)

4. Ultra Soul
Original Title: Ultra Soul (2001)

5. Into Free -Dangan-
Original Title: Samayoeru Aoi Dangan (1998)

Release date: 2012.07.25
New Pepsi NEX Summer Commercial 7/14 On Air
[flashvideo file=/videos/lovebomb.mp4 /]
B'z making guest appearance on J-WAVE on July 14th
It has been announced that B'z will make an appearance on the radio show J-WAVE HOLIDAY SPECIAL PEPSI NEX presents ALL TOGETHER NOW!on the radio station J-WAVE on July 14th. Their appearance is scheduled for 2PM Japan Standard Time.
Be up-to-date with B'z Google Calendar!
You can now stay up-to-date with the official B'z Google calendar. You can import the calendar into your own and never forget a deadline, a release, or a concert!
The calendar can be accessed here: http://www.bz-vermillion.com/schedule/index.html
Posted on July 11, 2012 by Tobias in
News
The interview with B'z in the latest issue of the B'z official fanclub magazine Be With! reveals that "Love Bomb" will be the next Pepsi Nex title song. While it is not known that this is in fact an English version of Ai no Bakudan(=Love Bomb), it should be safe to assume that it is.
Koshi also mentions that "Love Bomb" came up while working on songs. It looks like B'z is indeed working on an English album.
There's no word on a release date for "Love Bomb" so far... stay tuned!