It's been a long time coming, but the band's 25th anniversary campaign is officially underway! Their latest compilations, B'z The Best XXV 1988-1998 and B'z The Best XXV 1999-2012, are finally on store shelves and offer unprecedented value!
Here we have, for the first time, all 50 singles the band has released, along with four new tracks split across the two releases. The biggest draw, of course, is that the limited editions include all of the music videos for the included singles--all remastered, all in superb high quality, and almost all coming to home video for the very first time! In addition, the two collections come with two new music videos for two of the new songs. And, best of all, being the generous duo they are, you can sample all of the music videos, including those for the new songs, on their official YouTube channel! (Be sure not to miss the short videos for new songs "Kakushin" and "Utopia", which are exclusive to the YouTube channel!)
Of course, given that most fans will be especially curious about the new songs, we've wasted no time in having them all translated for you:
And, as always, you can check out translations for all other 50 songs included on the Lyrics & Translations page on the B'z Wiki!
B'z have a very busy summer ahead with stops all over Japan for B'z LIVE-GYM Pleasure 2013 -ENDLESS SUMMER-, but you can be part of the hype right now by checking out the collections below! Both are available worldwide on CDJapan and YesAsia!
「B'z The Best XXV 1988-1998」

Track Listing:
01. Dakara Sono Te wo Hanashite
02. Kimi no Naka de Odoritai
03. LADY-GO-ROUND
04. BE THERE
05. Taiyou no Komachi Angel
06. Easy Come, Easy Go!
07. Itoshii Hito yo Good Night...
08. LADY NAVIGATION
09. ALONE
10. BLOWIN'
11. ZERO
12. Ai no Mama ni Wagamama ni Boku wa Kimi Dake wo Kizutsukenai
13. Hadashi no Megami
14. Don't Leave Me
15. MOTEL
16. Negai
17. love me, I love you
18. LOVE PHANTOM
19. Mienai Chikara ~INVISIBLE ONE~
20. MOVE
21. Real Thing Shakes
22. FIREBALL
23. Calling
24. Liar! Liar!
25. Samayoeru Aoi Dangan
26. HOME
-Brand New Tracks-
27. HEAT
28. Kakushin
Release date: 2013.06.12

「B'z The Best XXV 1999-2012」

Track Listing:
01. girigiri chop
02. Konya Tsuki no Mieru Oka ni
03. May
04. juice
05. RING
06. ultra soul
07. GOLD
08. Atsuki Kodou no Hate
09. IT'S SHOWTIME!!
10. Yasei no ENERGY
11. BANZAI
12. ARIGATO
13. Ai no Bakudan
14. OCEAN
15. Shoudou
16. Yuruginai Mono Hitotsu
17. SPLASH!
18. Eien no Tsubasa
19. SUPER LOVE SONG
20. BURN -Fumetsu no Face-
21. Ichibu to Zenbu
22. DIVE
23. MY LONELY TOWN
24. Sayonara Kizu Darake no Hibi yo
25. Don't Wanna Lie
26. GO FOR IT, BABY -Kioku no Sanmyaku-
-Brand New Tracks-
27. Q&A
28. Utopia
Release date: 2013.06.12
Posted on June 15, 2013 by Tobias in
News

Japanese gaming magazine Famitsu has interviewed Rocksmith 2014 Edition's creative director, Paul Cross, to find out more about the reasons why B'z made it onto Rocksmith 2014. Their first question was why B'z was chosen to be included in the game. Paul Cross replied "That's of course because they're one of the greatest bands on the planet!", which leads Famitsu to ask the next question: Have you known about B'z before? Paul had to admit that he had not known about B'z before. He says that one of Rocksmith's Japanese producers introduced him to the band.
With Rocksmith's 2014 edition, Ubisoft aims to have everyone around the world enjoy the game. Therefore, they decided to include songs from all over the world. Moving on, Famitsu wanted to know why "ultra soul" was specifically chosen for the game. Paul explained that he was discussing with Ubisoft's team in Japan which B'z song they would choose for the game. "Of course a popular song is fine, too", Paul says, "but we wanted to find a song that is on par with the songs we have released on the previous Rocksmith."
Finally, the magazine wanted to know if there's a possibility that Japan will get exclusive downloadable content with the latest B'z songs, which Paul denied by stating that if there's going to be downloadable content, it's going to be available world wide. Furthermore, Paul says it's possible that more Japanese artists might be included in the game in the future.
Source: 『Rocksmith 2014 Edition』に堂々B'z参戦。いったいなんで!? 開発者に独占直撃インタビュー!【E3 2013】
Posted on June 15, 2013 by Tobias in
News
Today's broadcast of Music Station was a very special occasion. To commemorate the B'z 25th anniversary, the program decided to conduct a B'z special where the band would perform 4 songs—three of which were drawn from fan requests. After the other two show guests—Kyary Pamyu Pamyu and Kanjani 8—were introduced, B'z kicked off the show with their first ever televised performance of 「Q&A」. Following the performance, a segment called "BIRTH YEAR SONGS" was shown. This time, they introduced hit songs that were released in 1993. And of course, B'z also made an appearance in this segment with "Hadashi no Megami" coming in first place of the ranking.
Read on to check out our full write-up of the one hour special featuring several interview segments with the band, as well as to see which songs they decided to perform from the fan requests!
Posted on June 13, 2013 by Tobias in
News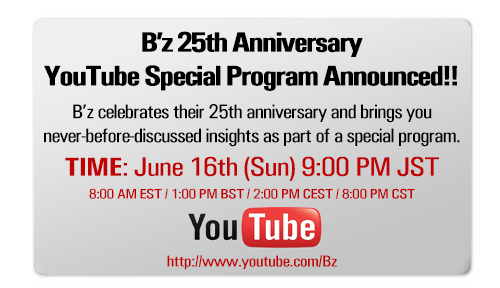 UPDATE! The special program has been scheduled for this Sunday, June 16th, at 9:00 PM JST (8:00 AM EST, 1:00 PM BST, 2:00 PM CEST, and 8:00 PM CST). You can watch on the band's YouTube channel and expect full coverage from us here at OFF THE LOCK once the program is over!
The band has just announced that they will conduct a special program which will be broadcast live on YouTube sometime in June. The program will be moderated by Masanori Ito who is well-known in Japan for his outstanding work as a music critic. On the show, Masanori Ito will talk with B'z about their 25 years as a band and this will present a unique opportunity to hear things that have never been talked about before. Additionally, a part of the program is dedicated to answering questions sent in by fans via Google+, Facebook and Twitter. The deadline for sending in your questions is this Friday, May 24th. [UPDATE: Questions are no longer being accepted.]

How to send in your questions:
Google+
Post your question in this community: https://plus.google.com/communities/104189337228227134374
Facebook
Comment on this post to submit your question: https://www.facebook.com/bz.official/posts/450880008337301
Twitter
Post a tweet with your question using the hashtag #Bzに質問
Posted on June 12, 2013 by Tobias in
News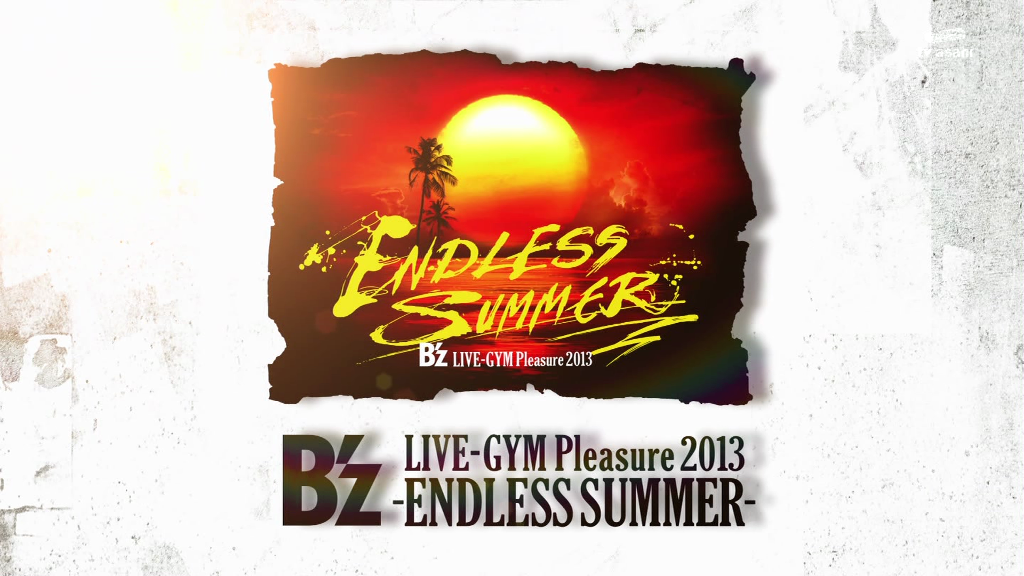 The band has finally posted the official tour merchandise available for purchase at the upcoming LIVE-GYM shows. The main tour merchandise will be available for purchase at B'z The Store at a later date. As usual, we have translated them such that you can take a good look at them.
Since there are a lot of items, you will find them all after the break!
Posted on June 10, 2013 by Tobias in
News
B'z has officially started their summer tour schedule with a SHOWCASE show in Nago (Okinawa)! This show, B'z SHOWCASE 2013 -Pleasure75-, is serving as a warm-up for the upcoming summer tour B'z LIVE-GYM Pleasure 2013 -ENDLESS SUMMER- that will be commemorating their 25th anniversary. For the curious: The "75" in the title represents the local, with "NA" representing "7" and "GO" representing "5".
In addition, we've gotten our first look at this season's tour goods. The goods, shown below, were on sale at the venue and will soon be available on B'z The Store.com. Expect a LOT more items to be unveiled when those for the LIVE-GYM tour are announced!
Please note: As we are going to attend B'z LIVE-GYM Pleasure 2013 -ENDLESS SUMMER- shows in Japan, we are not going to take a look at the setlists for the SHOWCASE show as well as upcoming shows. Therefore the setlists will not be published on the site or the wiki until the tour has come to an end. Please do look forward to detailed show reports from us!
Check out the tour goods after the break!
Posted on June 8, 2013 by Tobias in
News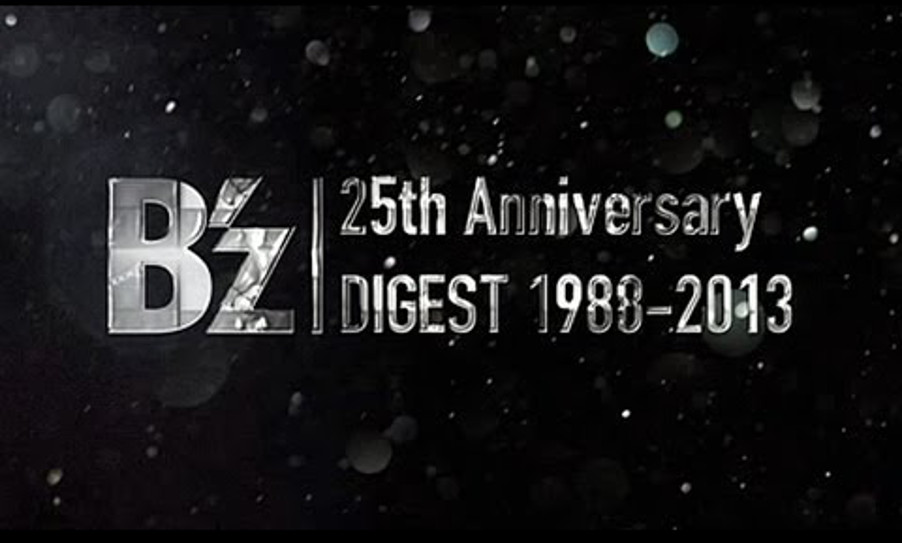 Following the live broadcast of the 43 minute long 25th Anniversary Special Digest 1988~2013 on NicoNico Video, the video has also been posted on B'z Official YouTube channel. You can watch the video right here: www.youtube.com/watch?v=G-z9m6V9-Wc.
The video presents a look back on the past 25 years of B'z career, highlighting various milestones:
1988 — B'z debut
1995 —「B'z LIVE-GYM Pleasure'95 "BUZZ!!"」First Stadium Tour
1997 —「B'z LIVE-GYM Pleasure'97 "FIREBALL"」First Dome Tour
1999 — Tak Matsumoto became the 5th Gibson signature artist and has received his own Gibson signature guitar
2001 — B'z embarks on their first Asia Tour
2002 — B'z embarks on their first North American Tour
2007 — B'z is inducted into the Hollywood Rockwalk as Asia's first artist
Posted on June 6, 2013 by Tobias in
News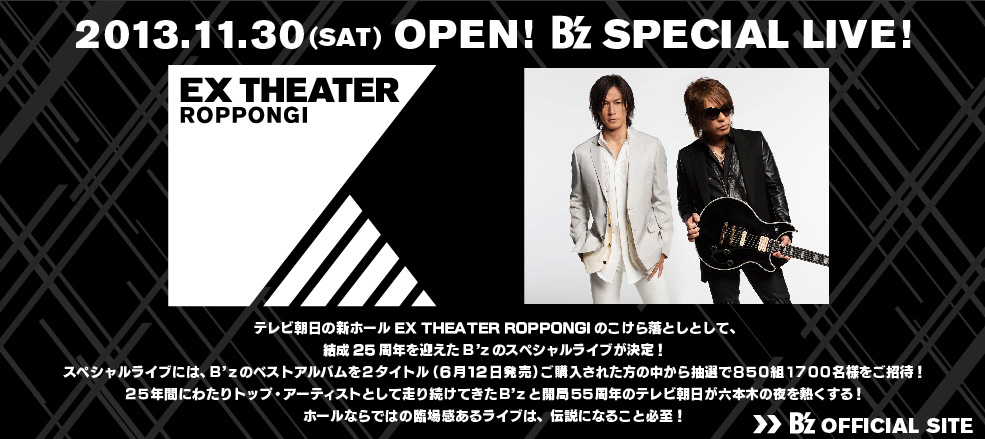 Japan's TV channel TV Asahi is celebrating their 55th Anniversary this year and will open a new venue this winter called the EX THEATER ROPPONGI. To commemorate the opening of this venue, a special B'z concert is going to be conducted at the EX THEATER ROPPONGI on November 30th. Tickets can be obtained through a giveaway that starts with the release of the two 25th Anniversary compilations 「B'z The Best XXV 1988-1998」 and 「B'z The Best XXV 1999-2012」.
To participate in the giveaway, you will have to buy both compilations (normal or limited edition). Each of the releases will have a card in it that will allow you to take part in the giveaway. You will need both to enter. Just one of them is not sufficient. How the giveaway works exactly, is described on the cards shipping with the CD releases. We will let you know once we have them!
850 lucky people will get the chance to get two tickets to the show on November 30th. The deadline for taking part in the giveaway is October 31st, 2013.