Koshi Inaba LIVE 2014 ~en-ball~ has premiered at the top of the Blu-ray music charts. This is the third consecutive solo home video of Koshi's to debut at the top of the home video charts, after Koshi Inaba LIVE 2004 ~en~ did so on DVD a decade ago and Koshi Inaba LIVE 2010 ~enII~ more recently. The DVD version of the most recent tour came in at the number 2 spot for both general and music, while the Blu-ray ranked in third in terms of overall Blu-rays.
Koshi's latest release features the full finale to the eponymous tour that took place at the Shinagawa Stellar Ball over the course of ten days. The ~en-ball~ shows employed a special 3D projection technique (seen right) that impressed attendees at each show and is equally impressive on home video.
This week, it was announced that the DVD and Blu-ray editions of Koshi's upcoming single 「Hane」will feature six performances not found on the initial home video release, as the songs performed took place on dates prior to the finale.
The announcement yesterday of Koshi's upcoming single「Hane」has generated numerous reports in the Japanese news media, one of which was this brief segment on News ZERO that we have subtitled and made available here. 「Hane」is a four track single and will be released on January 13th, 2016.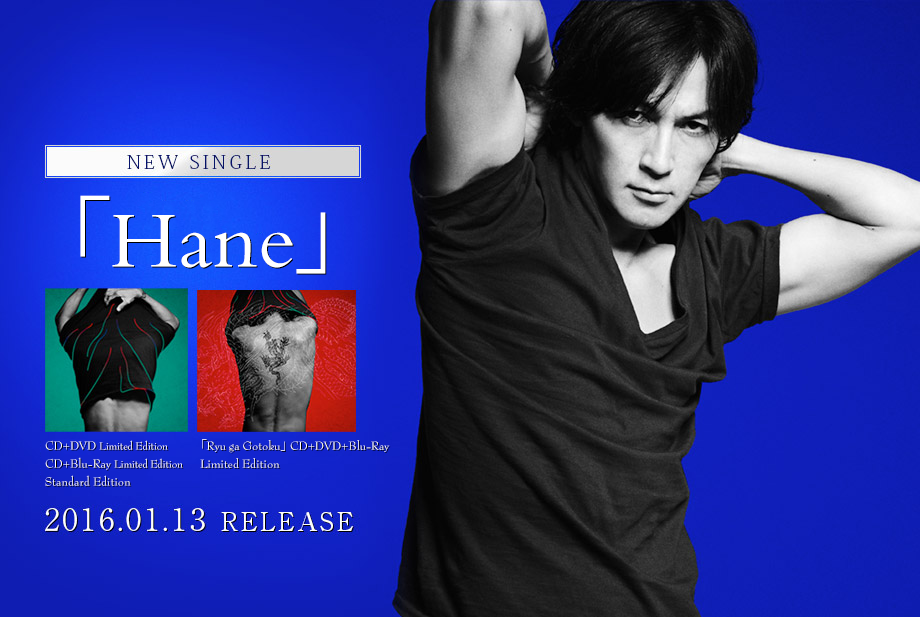 Five and a half years following the release of his last solo single on CD, Koshi has announced the release of his long-awaited ninth single 「Hane」(Feather). The title track of the single will serve as the opening theme to the anime series Detective Conan from January 9th. The song made its world-premiere during the InterFM radio show Happy Hour! held at the HMV & BOOKS TOKYO opening event with Koshi Inaba as guest.
The single will be out on January 13th, 2016 with Koshi's solo tour 「Koshi Inaba Live 2016 ~en III~」 kicking off just three days later. Several packages are available for purchase: CD, CD+DVD, CD+Blu-ray, CD+DVD+Bluray. The limited edition package comes in CD+DVD and CD+Blu-ray flavors and contains the songs that were rotated on a daily basis during the en-ball tour and were not included on the Blu-ray release of 「Koshi Inaba LIVE 2014 ~en-ball~」.
The "Ryu ga Gotoku" ("Yakuza") special edition includes a special music video featuring 「Receive You [Reborn]」 as well as a special talk with "Ryu ga Gotoku" creator Toshihiro Nagoshi. Furthermore, the "Ryu ga Gotoku" edition includes a special download code for "Ryu ga Gotoku Kiwami" which unlocks a special opening sequence in the game. The content contained on the DVD as well as the Blu-ray that comes with the "Ryu ga Gotoku" edition is the same—to suit both DVD and Blu-ray viewers.



Koshi Inaba New Single 「Hane」

Release: 2016.01.13
Price (Regular Edition): 1,500 Yen (tax included)
Price (CD+DVD/CD+Blu-ray Edition): 2,400 Yen (tax included)
Price (Ryu ga Gotoku Special Edition): 3,200 Yen (tax included)

[Track listing]

1. Hane (Feather, 羽)
Opening theme to anime series 「Detective Conan」 from January 9th. The song conveys the message to aim for a new world—a better life situation. The intro starts with strings and a four beat Eurobeat-style tune until the song later transitions into a rock tune with strong guitar sound provided by LOUDNESS' guitarist Akira Takasaki.

2. Symphony #9
A medium tempo song that opens with a very emotional voice.

3. BLEED
Main theme song to the PS3/PS4 video game 「Ryu ga Gotoku Kiwami」due for release on January 26th.

4. Suiro (Waterway, 水路)
A ballad song serving as the theme to the WOWOW drama 「Godan」.

[DVD / Blu-ray Limited Edition]

Previously unreleased live footage of 「Koshi Inaba LIVE 2014 ~en-ball~」 not collected on the recent home video release.

1. CAGE FIGHT
2. AKATSUKI
3. Sono Switch wo Ose
4. Nani mo Nai Machi
5. Zettai(teki)
6. Salvation

[Ryu ga Gotoku Special Edition]

The DVD+Blu-ray in this package have the same content, differing only in visual quality:

1. Receive You [Reborn] "Ryu ga Gotoku Kiwami" version MUSIC VIDEO
2. Koshi Inaba x Toshihiro Nagoshi Special Talk

Furthermore, this edition includes a download code that unlocks a special opening sequence in the game itself.
Footage from last night's SHOWCASE 2015 -Shinagawa Uchouten NIGHT- has been circulated to the media and has been appearing on various news programs in Japan this morning. The clip, sourced from Mezamashi TV on Fuji TV, features footage of 「Ichibu to Zenbu」 and 「ZERO」 as performed during the show. Additionally, an excerpt from Koshi's MC section can be seen, in which he greets the crowd and mentions that it's the first fanclub-only show to date. He continues, noting that the tickets were only available "through a lottery" and quickly followed up with "And you got them!".
Posted on November 19, 2015 by Tobias in
B'z News
The second SHOWCASE performance this year has come to an end, with the band ready to rock and roll at the upcoming TV Asahi Dream Festival this weekend. The show ran for a truncated setlist of only 14 tunes compared to the usual 20. As previously reported, the show was limited to B'z PARTY fanclub members and is confirmed to have been filmed in full. It is possible the SHOWCASE will be included on a future home video—possibly as a bonus paired with B'z LIVE-GYM 2015 -EPIC NIGHT-.
Recent singles「RED」and「Uchouten」opened the show, followed by the 2009 single「Ichibu to Zenbu」and 1992's perennial classic「ZERO」next. B'z then returned with undoubtedly one of their most popular ballads in「Konya Tsuki no Mieru Oka ni」and continued with「Negai」— both of which had not been played since 2013.
The two most surprising inclusions came next:「Naite Naite Nakiyandara」— a ballad from 1997's SURVIVE that has not been played live since 2007, and「hole in my heart」— a B-side to the 1994 single「MOTEL」 that received its very first live performance tonight. This reduces the amount of B'z songs left unperformed to just over sixty.
The band then closed the show with several well-known songs:「Hadashi no Megami」from 1993,「ultra soul」from 2001,「girigiri chop」from 1999, followed by EPIC DAY opener「Las Vegas」and ending with fan-favorite「Ai no Bakudan」as they did during the EPIC NIGHT tour proper.
B'z SHOWCASE 2015 -Shinagawa Uchouten NIGHT- Setlist
★ Denotes a song was also played during EPIC NIGHT
01. RED ★
02. Uchouten ★
03. Ichibu to Zenbu ★
04. ZERO ★
05. Konya Tsuki no Mieru Oka ni
06. Negai
07. Calling
08. Naite Naite Nakiyandara
09. hole in my heart
10. Hadashi no Megami
11. ultra soul ★
12. girigiri chop ★
13. Las Vegas ★
14. Ai no Bakudan ★
Posted on November 5, 2015 by Tobias in
B'z News
B'z has today announced their first fanclub-only concert, possibly in preparation for their performance at the TV Asahi Dream Festival 2015 later this month. The show will be held at the Shinagawa Stellar Ball, where Koshi also performed during his solo tour in 2014. Tickets for this show are available only through the official B'z fanclub and only fanclub members are allowed to attend. Furthermore, face picture and ID are required for ID verification in order to enter the venue.
B'z SHOWCASE 2015 -Shinagawa Uchouten NIGHT-
November 19th, 2015 — Shinagawa Stellar Ball
Tickets:
Standing — 7000 Yen
Reserved Seat — 8000 Yen
Koshi Inaba will provide the theme song to the WOWOW drama "Godan" which is set to start airing every Sunday 10PM from November 22nd. The song is called "Suiro" (waterway).
Koshi commented as follows: "I painted the main character of the song as a person who believes in tomorrow and tries to do something with his life, although he regrets his past and is in fear of loss amidst the two views on passing time: flowing time and accumulating time. I'm looking forward to hearing it in the drama."
A 60 second promotion video has been posted on the show's official website, in which the song is audible for about 15 seconds.