Posted on April 25, 2013 by Tobias in
News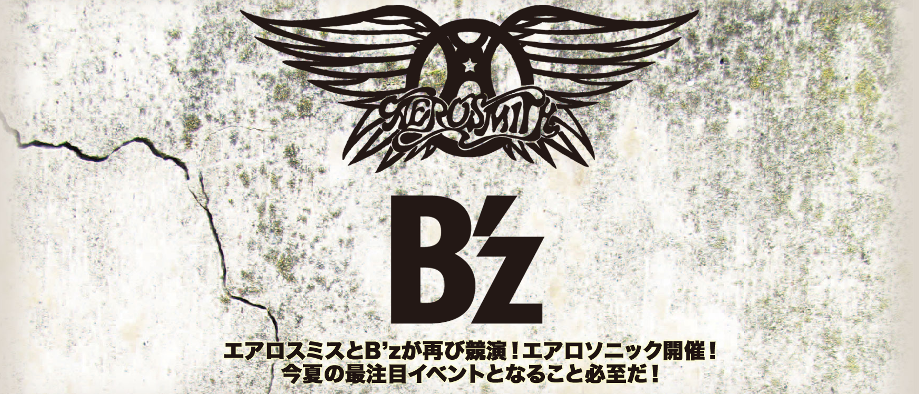 B'z have announced that they are going to perform live on stage with Aerosmith on August 8th, 2013 in Tokyo. The event is called Aerosonic and will be held at the famous QVC Marine Field, which is located within the Stadium of the Chiba Lotte Marines, a Japanese baseball team. Tickets are going to be on sale June 9th. Fanclub tickets are also said to be available through B'z PARTY.
This is not the first time for B'z to team up with Aerosmith. 11 years ago, during the 2002 FIFA World Cup, Aerosmith was joined by B'z on stage to jam out to Train Kept A Rollin'. Check it out here if you missed it!
B'z & Aerosmith live! 「Aerosonic」
Date: August 8th, 2013
Doors: 16:00
Start: 17:30
Ticket price: 15,000 Yen (Arena standing & S seat); 12,000 Yen (A seat)
Posted on April 25, 2013 by Tobias in
News

Shane is well-known as being practically the exclusive drummer for B'z since 2002, but what you may not know is that he is also a skilled guitarist and capable vocalist in his own right. Shane has released two previous solo albums (as well as working on a number of other projects as a drummer, including with Cosmosquad), one of which featured a Japanese cover of the B'z song "Hadashi no Megami". You should definitely check that out here, which is available on his earlier album Primer!
Shane's new solo album, Ascend, will be released on June 12th, which is also when the two XXV collections are launching. What immediately catches the eye here, though, is that the album features a cover of the English version of "Brotherhood". The English version, which was initially unveiled during B'z LIVE-GYM 2011 -long time no see- in North America, was co-written by Shane with Koshi and has not yet been released in studio form by B'z.
Shane Gaalaas 「Ascend」
Release: 2013.06.12
Price: 1,500 Yen
Track listing:
1. Ascend
2. Wish You Well
3. Wonderful Midori
4. Rat Stew
5. Alive
6. Brotherhood (English B'z cover)
Pre-order at CDJapan!
Posted on April 14, 2013 by Tobias in
News
In 2011, we reported about a music school for teenagers called Livejam. B'z guitarist and Grammy winner Tak Matsumoto attended one of the sessions to share his experiences as a musician with young aspiring teenage musicians, who want to be rock stars someday. On April 7th, 2013, Tak paid that school another visit to talk about the times when he started playing guitar to his success with B'z. Students gathered in the school's lobby to listen to what Tak had to say. It was a very unique opportunity to see a star up close. Tak is usually seen in large venues such as Tokyo Dome, with over 70,000 people watching him on stage from afar.
Tak also received a range of questions from the students, such as "How do I become a professional?" or "How do I polish my feeling for rhythm?". When he was asked "When you wanted to form a band, where would you look for band members?", he replied "A long time ago, you would look for band members in music magazines and such. But today, when you look for band members on the internet, you won't know what kind of person you are going to meet. And that might be dangerous for middle- and high-school students...". Where should they look for band members, then? He added "I think Livejam is a great opportunity to meet musicians of the same age and form bands in a safe environment".
He also elaborated on that a bit further, saying "Somebody who just started out to play an instrument is able to join a band and start performing. When I first heard about that, I thought 'There's no way that somebody could do that', but when I saw what is done here at Livejam, I was really surprised. It doesn't matter how good you are. It's a system you don't see anywhere else."
Everybody thanked him for the wonderful time they had. They hope that Tak Matsumoto will attend one of their sessions again!
Source: http://livejam.jugem.jp/?eid=200
Posted on April 8, 2013 by Tobias in
News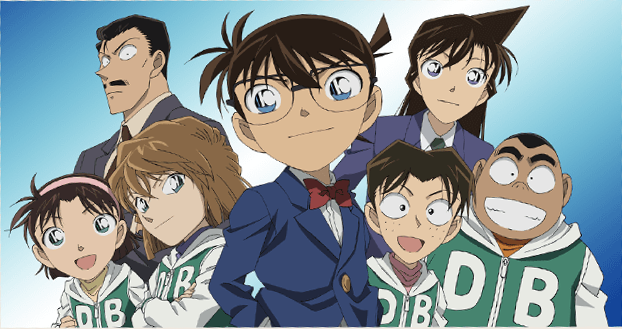 And the tie-in madness continues! B'z has just announced that their new song "Q&A"—which is set to be released as part of the B'z The Best XXV 1999-2012 compilation—will be the new opening theme to the anime series "Detective Conan" starting May 4th. The band has supplied opening and ending themes as well as movie themes for Detective Conan in the past. The last opening theme B'z has supplied was "Don't Wanna Lie" in 2011, which was also featured as the theme song for the Detective Conan movie that was released that year.
Posted on April 4, 2013 by Tobias in
News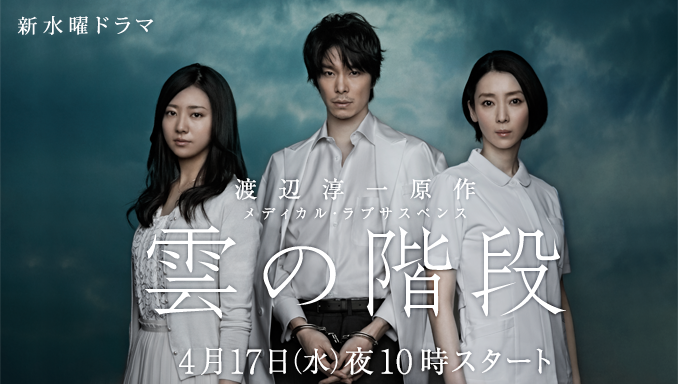 There have been rumors about a possible tie-in for one of the new songs on the B'z The Best XXV releases, but now it is official: Kakushin has been selected to be the theme song for the upcoming Nippon Television drama "Kumo no Kaidan". The series is set to air on April 17th, which will also be the first chance to hear a portion of Kakushin. Tak and Koshi have shared their thoughts on the song as well.
Tak Matsumoto
I had a look at the script before starting work on the song and had a lot of fun working on it from the melody to the arrangement. I really can't wait for it to be aired. I will be glad if you enjoy this song along with the drama.
Koshi Inaba
I have read Jun'ichi Watanabe's original novels and have also taken into account the drama's theme and script when I wrote the lyrics and melody for the song. We really like the song we have produced. Please enjoy it along with the drama.
The interview contained in the latest issue of the B'z fanclub magazine Be With! has finally been translated and is now ready for your viewing pleasure. The interview was conducted in November 2012. Tak and Koshi talk about their experiences during the 2012 North American tour. Additionally, they talk about their experiences during the filming for the WOWOW special and the release of the three home videos "ACTION", "CIRCLE OF ROCK" and "ELEVEN".
Check it out!
http://bzwiki.offthelock.com/Be_With!_Vol._96_(December_2012)
The next issue has already been mailed out to fanclub members and we will begin translating it once we receive it.