Posted on September 30, 2009 by Tobias in
News
Bayfm is celebrating its 20th anniversary with a special broadcast in Japan today. The first two hours, Koshi and Tak talked with the moderator about music and other things. It was a so-called "B'z Special". Here comes the surprising part: "Kirei na Namida" from the MY LONELY TOWN single has been aired as well as the tracks "Introduction", "DIVE", "TINY DROPS" and "MAGIC" from their upcoming album "MAGIC".
Posted on September 29, 2009 by Tobias in
News
Slash, former guitarist of the famous band Guns N' Roses, has announced that he has been working with Koshi Inaba on a collaboration track, which will be featured on his new solo album slated for a February 2010 release. The track is called "SAHARA".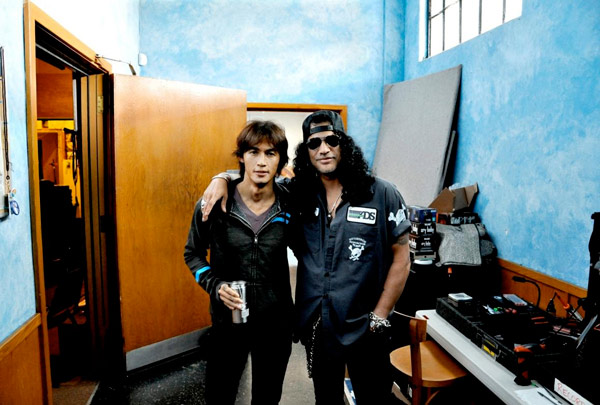 Prior to the release of the album, a single will be released exclusively in Japan on November 11th. It will feature the track "SAHARA" featuring Koshi Inaba and a second track called "Paradise City" which features Fergie from Black Eyed Peas as well as the hip hop group Cypress Hill.
As I have no idea how famous Slash is in Japan, I think that the single is released to make him known in Japan, especially now that Koshi Inaba is featured on one track, a lot of die-hard fans of B'z will order that single.
CD Details


Name: SAHARA~Feat. Koshi Inaba / Paradise City~Feat. Fergie & Cypress Hill
Type: Single
Number of Tracks: 2
Release: November 11th, 2009
Price: 1200 Yen (tax excl./$10/8€)
Posted on September 27, 2009 by Tobias in
News
Way to go there, guys! This has not been announced on the official website at the time of this posting.(Update: Now on official site as well) I just read it on a japanese blog, who read it in a newspaper this morning.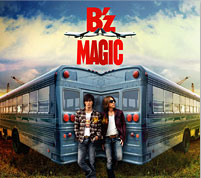 So yeah, 17th album "MAGIC". It's going to be out November 18th, 2009 (I told you so! November!). The Limited Edition comes with bonus documentary footage as well as live footage from SHOWCASE 2009 and SUMMER SONIC 2009. The bonus DVD is entitled "Magical Backstage Tour 2009".
Limited Edition Price: 3780 Yen (tax incl.)
Regular Edition Price: 2940 Yen (tax incl.)
Tracklisting:
01. Introduction
02. DIVE
03. Time Flies
04. MY LONELY TOWN
05. long time no see
06. Ichibu to Zenbu
07. PRAY
08. MAGIC
09. Mayday!
10. TINY DROPS
11. Dare ni mo ienee
12. Yume no Naka de Aimashou
13. Freedom Train
B'z LIVE-GYM 2010 "Ain't no magic"
Schedule

January 14, 2010 -- Aomori Civic Cultural Hall
January 15, 2010 -- Odate Shimin Bunkakaikan
January 17, 2010 -- Sendai Sunplaza Hall
January 19, 2010 -- Fukushima-ken Bunka Center
January 22, 2010 -- Asahikawa Shimin Bunkakaikan
January 24, 2010 -- Hokkaido Kousei Nenkin Kaikan
January 26, 2010 -- Hakodate Shimin Kaikan

February 12th, 2010 -- Fukuoka Yahoo Japan! Dome
February 13th, 2010 -- Fukuoka Yahoo Japan! Dome
February 17th, 2010 -- Nagoya Dome
February 19th, 2010 -- Nagoya Dome
February 20th, 2010 -- Nagoya Dome
February 24th, 2010 -- Kyocera Dome Osaka
February 26th, 2010 -- Kyocera Dome Osaka
February 27th, 2010 -- Kyocera Dome Osaka
March 3rd, 2010 -- Tokyo Dome
March 4th, 2010 -- Tokyo Dome
March 6th, 2010 -- Tokyo Dome
March 7th, 2010 -- Tokyo Dome
Posted on September 21, 2009 by Tobias in
News
Happy birthday B'z!
B'z debuted on September 21, 1988 and this is now their 21st year since their debut. Keep going B'z!!
I was hoping for a major announcement being made today, but unfortunately Japan is celebrating the Respect-for-the-Aged Day (敬老の日; keirou no hi) today, and on September 23rd, Japan will celebrate Autumnal Equinox (秋分の日; shuubun no hi), so there won't be any updates until holidays are over on September 24th. September 22 is also a holiday because it's in between two holidays.
Anyway, let's hope for some big news this week, and don't forget Koshi Inaba's birthday on September 23rd!!
Cheers,
Tobias aka "Arthuro"
OFF THE LOCK Webmaster
Posted on September 12, 2009 by Tobias in
News
Hey guys,  a special SUMMER SONIC 2009 show was aired in Japan today, and as you know, B'z performed MY LONELY TOWN there.  Fortunately now I don't have to put up the live-recording from SHOWCASE 2009 on here, hehe.
Without further ado, MY LONELY TOWN and Ichibu to Zenbu. Enjoy.
MY LONELY TOWN (Watch in HD: http://www.youtube.com/watch?v=nFGXUPUuyiU)

Ichibu to Zenbu (Watch in HD: http://www.youtube.com/watch?v=Kzve-WZo6sk)

Yep, this is an interview, from the March 2009 issue of the official B'z fanclub magazine. You only get it if you're a member of B'z PARTY. This is just a rather small part of the interview, but I'll continue to translate parts of it until I have the whole interview translated. I'll keep you updated. For now, just enjoy.
Posted on September 1, 2009 by Tobias in
News
Hey folks!
Looks like "MY LONELY TOWN" is finally out of the bag! But, of course, that doesn't mean the new album is not gonna hit the end of the year. I'm still confident, that it is going to be released in November. If I'm wrong, feel free to stop by, the cold beer's on my tab.
By the way, is it just me, or does the new single's release sound a bit rushed? It's like they're shelling out new singles just to be on schedule for something else (a new album?). I mean, did you ever see a B'z single come with a music video of the very same? To me, it appears that B'z just doesn't have the time for promotion, which would explain the announcement made roughly one month after the Ichibu to Zenbu/DIVE release, as well as the upcoming release in only one month's time.
Now for the Single itself. As you've all read the news and checked out B'z Net Party, there's not much to say about the single, except that there's going to be a normal version and a limited version(which comes with a DVD that includes the music video). Retail prices are as listed on my page to the right.
Tracklisting:
1. MY LONELY TOWN
2. Kirei na Namida (Beautiful Tears)
3. Ichibu to Zenbu -Ballad Version-
However, there's one interesting aspect to note about the single: the cover!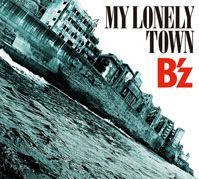 The photo taken there, have you ever wondered what it is, or where it was taken? It is actually a real location in Japan. This place is called Hashima Island, also nicknamed "Battleship Island"(軍艦島; "gunkan jima") due to it's unique shape that resembles a battleship. It is a small island off the coast of Nagasaki, and was once used for coal mining out in the sea. By the time petroleum replaced coal in Japan in the 1960s, coal mines were shut down one after another, and now it's just an unmanned island. It is often called a "ghost island" by the Japanese. Here's another picture of it:

Taken from wikipedia.org
For more information, you might want to check out:
Hashima Island - Wikipedia, the free encyclopedia
Gunkanjima (Warship Island) | Places of Interest | Nagasaki City Tourism Guide
Nagasaki's Battleship Island | Japan Probe