Posted on July 27, 2011 by Tobias in
News
B'z new album "C'mon" is in stores today, and 111,549 units have already been sold on the previous day. Unsurprisingly, B'z has done it again: They've earned the pole position on the Oricon Daily Album Chart. To celebrate the release of the new album, B'z has launched a special campaign:
Every copy of C'mon - be it the regular or the limited edition - comes with a small card that has an ID on the back. If you go to http://www.bz-vermillion.com/928live/, you can enter your ID by clicking on the button at the bottom.
Once you've entered your ID, you are automatically participating in a giveaway where you can win one of the few tickets they're giving out for the PEPSI NEX special performance in Shibuya AX on September 28th. Until now, you were only able to get a ticket by buying Pepsi Nex and collecting points until you've got enough points to redeem them and earn your ticket. The deadline to redeem your code is September 6th, 2011 11:59PM.
That is not all, however. Once you redeem your code, you'll also get special download contents. As I've found out, it's actually just a wallpaper available for Android/iPhone/PC/etc which you can download in whatever format you prefer. I haven't received my copy yet, so I don't know what kind of wallpaper it is, but I'm sure it must be something good 😉
Oricon Daily Album Charts: http://www.oricon.co.jp/rank/ja/d/2011-07-26/
Posted on July 21, 2011 by Tobias in
News
B'z no... B'z no... B'z no LIVE-GYM ni youkoso!
B'z LIVE-GYM 2011 -long time no see- kicked off in Vancouver yesterday. Most of the people in the crowd seem to have been Japanese, but the overall concert was great, it seems. According to various voices on the internet, B'z also played some songs in English... and I don't mean the songs we know that are in English, but songs that are originally in Japanese, sung in English. I'm going to keep the set list a secret, since everyone who's not going will probably watch the livestream of the gig in Los Angeles.
Here's also a video taken by a Japanese who films the queue in front of the Vogue Theatre. You can hear him say "mostly Japanese" as he walks along the queue.
And here are some impressions that have also been posted on the Official facebook page: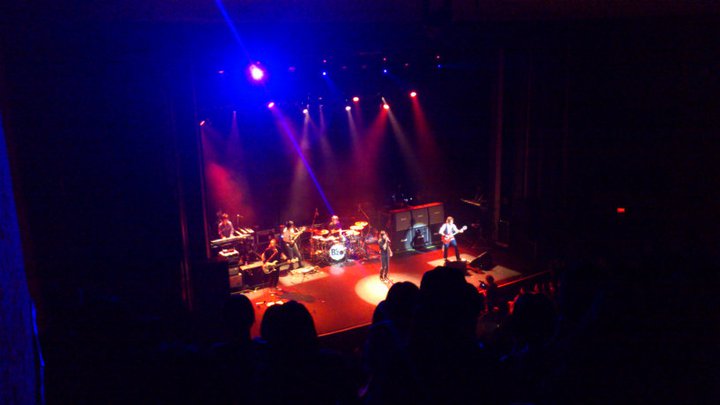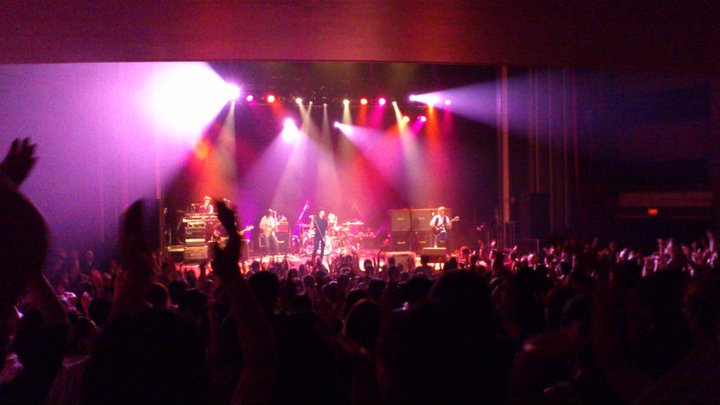 Posted on July 19, 2011 by Tobias in
Other
Hey people!
I got up at 5AM, just to listen to the interview with B'z on J-Wave... how crazy is that, huh? Anyway, as promised, I'm going to give you an overview of what they talked about in the interview as well as what Tak and Koshi revealed about it. Here we go!

Album recording
- They already started recording for the new album in May 2010, but that doesn't mean it took them 1 year to record the album. They paused their recording, so they could focus on their solo projects.
- After their solo projects, they decided to take a break and then meet again to start collecting ideas for the album
- They didn't decide on a theme at all, unlike they usually do
- After a while, they came to see what theme it's going to be and started work with their staff
- When the big earthquake happened on March 11th 2011, they were already in the final stages of recording.
- The earthquake affected Koshi's creative skills, so he wasn't able to come up with any new ideas as the disaster concerned them.
- As for Tak Matsumoto, he was able to do the rhythm track for the last two tracks after the earthquake.
- They created two whole new tracks after the earthquake. New lyrics were written for only one of those two after the earthquake. One of them is on the album.
- The production process can be broken up into "pre-earthquake" and "post-earthquake" as it affected their work.
- It was hard for them to put the songs from these two stages together into one album
- After the earthquake, Shane and Barry quickly came back to Japan to resume recording (of the two songs)
- C'mon is the only track where Koshi changed the lyrics after the earthquake happened. The song would give off a different character that way.
- When Koshi thought about a fitting theme for the new album. The word "C'mon" came to his mind. As putting the songs on that album wouldn't work, they also created a title song with the same name.
Tak's and Koshi's solo projects
- Nothing new to report here. They talked about how Tak won the Grammy and how they coordinated their solo activities.
Production of songs
- Tak didn't have a stock of arranged songs, he created the album from scratch.
- Since Tak didn't have any idea what the theme/concept for the overall album is going to be, he did the songs one at a time, independently
- Koshi started getting ideas for the lyrics during arrangement
- Koshi tries to get the image of the song first, and then writes the lyrics for it; It also happens that he draws from previous ideas he came up with, but remained unused until now
- Sometimes they talk about the album while having lunch; but otherwise rarely talk about the album outside of the studio
- As the riff is very important, Tak starts out with the riff and then does the melody.
- Koshi also saves ideas for lyrics on his mobile phone (sends himself E-mails)
- Tak talks to Koshi about what image he had in mind when composing the song. Koshi then goes on to write the lyrics for it
About the song "Pilgrim"
- "Pilgrim" is the first song that was produced for the album in 2010
- Tak says the song was originally one of his acoustic guitar demos
- Koshi says he was thinking about the 4 seasons as they come and pass and got his first idea for the song when he saw the cherry blossoms
About LIVE-GYM 2011 -C'mon-
- They're having frequent meetings concerning the planning for LIVE-GYM 2011 -C'mon-
- Tak reveals that the performance in Tokyo Dome will have its surprises
- A writer called their first live performance a "LIVE-GYM", and they went with it. "GYM" has a physical meaning, of course. Since Koshi is always running around... 😛
- Tak is heading to the gym to get ready for the tour
About LIVE-GYM 2011 -long time no see-
- This tour is different from the Japanese tour
- Tak says they'll play known songs 🙁 (so like LOVE PHANTOM, BAD COMMUNICATION, etc.)
- Koshi is looking forward to the tour as also the audience is different from the one in Japan
- The livestream of the performance in LA is Pepsi's doing. Koshi says "Sasuga Pepsi" XD
- Tak says there will be a lot of people to watch B'z for the first time
Songs that were played on the show (in order)
1) C'mon
2) Don't Wanna Lie
3) Sayonara Kizu Darake no Hibi yo
4) Pilgrim
5) ultra soul 2011
Posted on July 16, 2011 by Tobias in
Other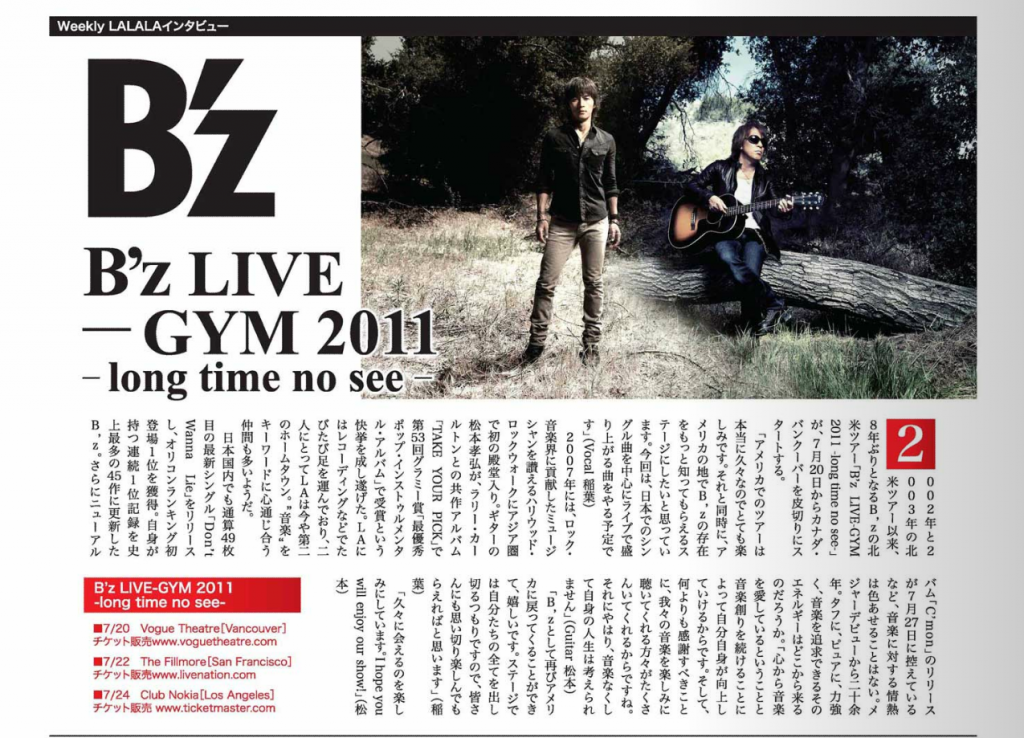 Issue no. 393 of the Weekly LALALA, a Japanese free magazine from Los Angeles, features a short article on B'z North American tour including a short interview with Tak and Koshi. It reads like this:
After their North American tours in 2002 and 2003, for the first time in 8 years, B'z is doing a North American tour called "B'z LIVE-GYM 2011 -long time no see-", which will kick off on July 20th in Vancouver. "It's been a long time since we toured in North America, I'm really looking forward to it. At the same time, I want to set the stage so that more people get to know B'z in North America. This time we're going to focus on our Japanese songs that have been released as a single and play songs that will be rocking the house.", says vocalist Koshi Inaba.
In 2007, B'z was the first asian artist to be inducted into the Hollywood Rockwalk. Guitarist Takahiro Matsumoto won the Grammy for "Best Pop Instrumental Album" with his album "TAKE YOUR PICK" which he recorded together with Larry Carlton. Since both of them are regularly in LA to do recording and other things, for them, Los Angeles has become their second hometown. It also looks like they have a lot of friends there who interpret the keyword "music" the same way.
With releasing their 49th single "Don't Wanna Lie", they've immediately topped the Oricon chart, raising the bar once again. B'z, who updated their record of series of no.1 singles to 45 and is going to release their new album "C'mon" on July 27th, doesn't show a sign that their passion for music is fading. It has already been more than 20 years since their major debut. Where does that energy come from, that enables them to continue producing music?
"It's because I love music from the bottom of my heart and when it comes to producing music, because I can always improve myself. More importantly, though, because there are so many people that enjoy our music. Also, I can't imagine a life without music.", answers guitarist Tak Matsumoto.
"I'm happy to be back in North America as B'z. We're going to give it all on stage and I hope everyone will enjoy it." says Koshi Inaba. Tak Matsumoto adds "I'm looking forward to meeting everyone again. I hope you will enjoy our show!"
So... is B'z looking to push into the (North) American market? What do you think?
*UPDATE*: This is an extract from the interview in the Nichi Bei [ http://www.nichibei.org/2011/07/taking-the-world-by-storm-b%E2%80%99z-ready-to-rock/ ] :
NBW: Mr. Matsumoto, you were awarded a Grammy and the band became the first Asian musicians to be inducted into Hollywood's Rockwalk of Fame. What's next?
TM: It's been 8 years since we last played in the U.S. We would like to keep on playing all over the world from now on.
KI: We would like to do more shows and introduce our music to the people in the U.S.
Source: http://lalalausa.com/digitalmagazine/weeklylalala393/index.html
Posted on July 13, 2011 by Tobias in
Other
The Vancouver Shinpo, a Japanese newspaper located in Vancouver(Canada), features an interview with Shane Gaalaas in its issue dated June 23rd. It looks like B'z management are really focusing on Japanese fans in general, seeing how the interview was published in a Japanese newspaper... in Japanese. Odon of B'z no bise as well as myself have requested Shane Gaalaas for an interview, but he never got back to us with an answer from B'z management.
In the interview, he's talking about the upcoming North American tour as well as his connection to Canada and Japan. I apologize for any translation mistakes I might have made.
The interview
Please tell us about Tak Matsumoto and Koshi Inaba
I haven't met such humble people before. I think their CD sales, ingenuity and skills show pretty much how much work they're putting into their music. But still, they're keeping the balance between being humble and being proud. And it deeply impressed me that they're not egocentric at all, they're working as a team. Matsumoto-san and Inaba-san are like the Sedin brothers (Star players for the Vancouver Canucks).  They're supporting each other to become better at what they do.
Please tell us something about the performance in Vancouver
The set list is a secret, but I think everybody who's coming to see the show will enjoy it. There are a lot of great songs, so it's difficult for me to choose my favorite one, but I'll enjoy performing every single song. As a drummer, I'm challenged with playing a lot of different styles. From funky to jazzy.
What's your current goal?
To create good B'z CDs. As a drummer, I want to continually improve my skills. If I have some free time, I'd like to compose some solo songs, too. And I'd like to get better at surfing and ice hockey as well.
What do you think are the charm points of Japan and Canada?
I love spending time in Japan. I especially like Japan's culture, food and people. There's a lot of wonderful places in Japan, and every time I'm there, there's always a new place for me to discover.
I also like Canada's culture. It's pure. The people are relaxed and I think they enjoy their life without being too materialistic. You can really feel it when you're there.
And it's especially a great place in summer.
You're originally from Innisfail, Alberta. What kind of place is it?
I was born in Edison, Alberta and raised in Innisfail. Innisfail is a small, traditional and idyllic community. It's about an hour drive from Calgary. The place has grown a lot. When I was a kid, about 2500 people were living there, but now, about 7000 people live in the city. It was a great place for me to grow up in. The winters have always been hard and long, but we made the best of it and had fun at playing ice hockey and skiing. And when I was 10 years old, making music became my dream. Since there aren't that many opportunities in such a small place compared to big cities, I had to jam with my band members in my personal time. Most of my family still lives in Innisfail, so I'm trying to see them about twice a year.
Are you looking forward to the North American tour?
Yeah, I'm really looking forward to it. My friends and family plan to come to the performance in Vancouver.
Before I started living in Los Angeles, I used to live in Vancouver for two and a half years.
I remember I was very surprised how open Vancouver's society is. There are a lot of delicious restaurants and I got to meet a lot of wonderful people. I think Canadians are the most friendly people in the world. If I have some time during the tour, I'd love to show my friends the great places in Vancouver.
Do you watch NHL?
Of course!! I'm Canadian, after all!! I probably started playing ice hockey at the same time. Even now, I sometimes go to the skating rink near my house and play hockey.
I support the Calgary Flames as well as the Vancouver Canucks.
When you showed me your CV, I admired all the things you've achieved in your life.  Your skills and passion are a given, but what makes you different from other people?
Thank you. I'm thankful that I can lead my life as a musician. I'm not exactly sure how that makes me different from other people, but I think I've always had the strength to set new goals and pursue them until I've achieved what I wanted. I wanted to do music. I think when people manage to put their energy and passion into something, they'll be able to achieve what they desire. This might be a common way of saying it, but whatever difficulties you might experience, you should always pursue the things you like doing. There might be a lot of difficulties, but you should turn these hurdles into good experiences. And you should have fun at doing that.
The original article: http://www.v-shinpo.com/index.php?option=com_content&view=article&id=274:2011623-26&catid=7:ryugaku&Itemid=8
Posted on July 11, 2011 by Tobias in
News
There's a lot of good news today, folks! For everyone who's following me on Twitter, I bet you already know all this 😛
So... first of all, a C'mon themed site has opened and on it, various awesome things are revealed:
1) The Los Angeles performance will be streamed live on UStream! The channel is right here: http://www.ustream.tv/channel/pnx-tv
As you guys know, the show's on at:
July 24th, 7 PM - L.A.
July 24th, 10 PM - NYC
July 24th, 11 PM -  Buenos Aires
July 25th, 3 AM -  London
July 25th, 4 AM -  Paris
July 25th, 6 AM -  Moscow
July 25th, 11 AM - Tokyo
2) B'z now has their own Official YouTube Channel! You can check it out here: http://www.youtube.com/user/Bz There, you can check out the music video for C'mon and also the new Pepsi commercials as well as the making-of!
3) Also, there's now an official B'z Facebook page as well as Twitter account(but I doubt B'z themselves will be tweeting)! Like B'z Official Page here: http://www.facebook.com/pages/Bz-LIVE-GYM/140529986025592 And follow B'z LIVE-GYM on twitter here: https://twitter.com/#!/Bz_LIVEGYM
4) Check out the new B'z LIVE-GYM 2011 page! Tour logos have been revealed, and I have to say, they're brilliant! You can also check out the tour goods for the North American tour on the page! Right here: http://www.bz-livegym.com/
Before I forget it, you can get to the C'mon themed website here: http://www.bz-vermillion.com/cmon/
Rock on, people!!
Posted on July 6, 2011 by Tobias in
News
Hello folks.
I'm sorry that I wasn't able to update OFF THE LOCK for a few days as I was sick and luckily recovered just in time to go to Berlin and see X JAPAN live on stage. It was pretty good 😀
Before the concert, they distributed a survey and among the questions, there was one "What was the first band you listened to that got you into J-Rock?" and I replied with "B'z".
Let's hope that B'z makes it to Europe one day as well...
On to the news!
There have been quite a lot of good news the past days.
UStream Account indicates LA Performance will be streamed
An Account called PEPSINEX_LIVE has been spotted on UStream and it looks like they're testing the equipment for streaming the show right now. On the channel page it says " PEPSINEX_LIVE started broadcasting: B'z LIVE in L.A.(300Mbps) 1 days ago". And since the account is called Pepsi NEX... they might also stream the PEPSI NEX special performance on September 28th. Who knows? We expect official news in the next days. Stay tuned!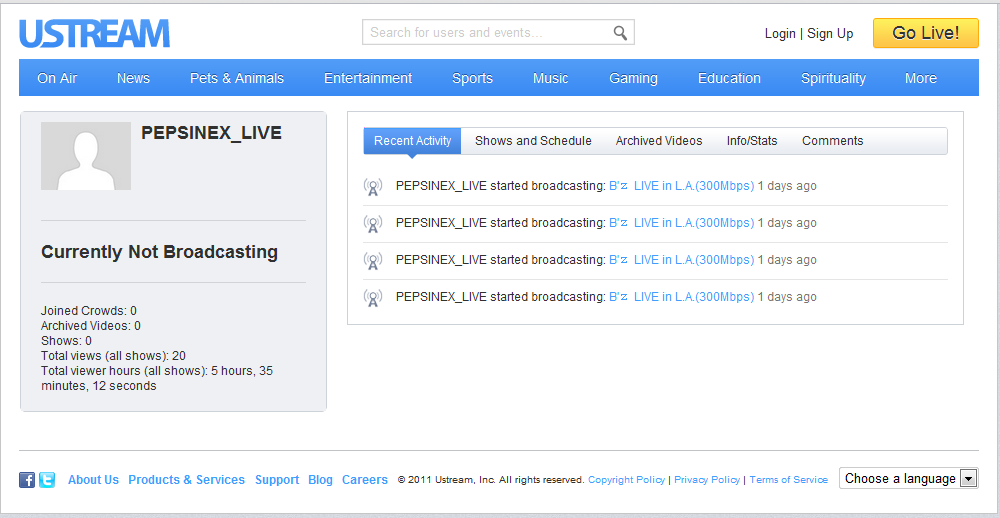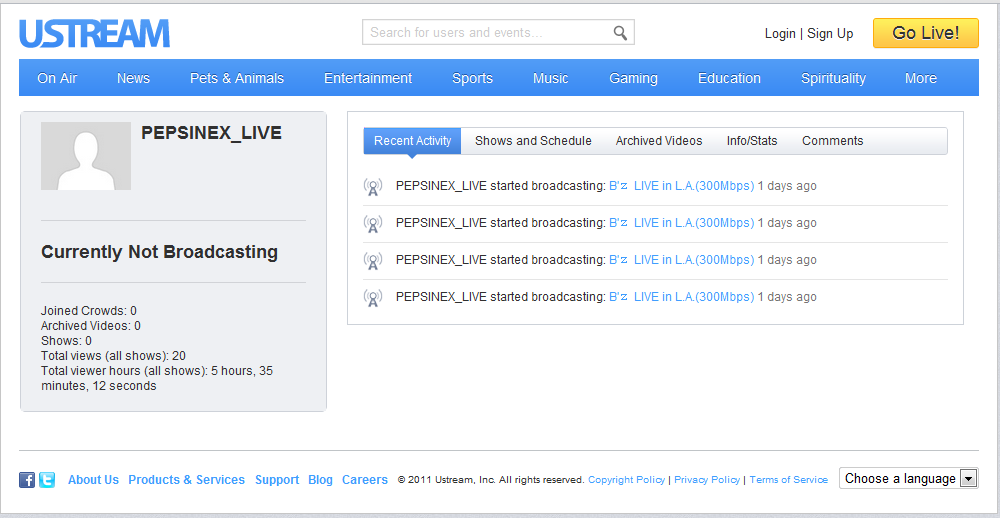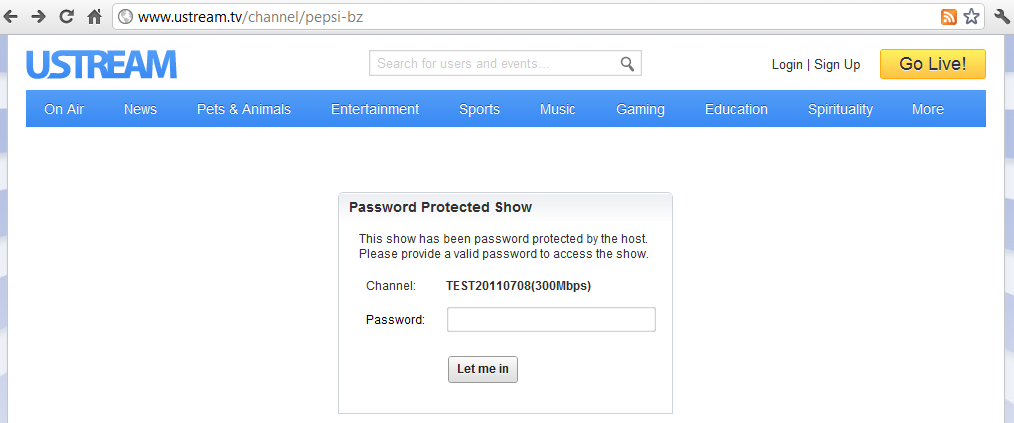 Source: http://www.ustream.tv/user/PEPSINEX_LIVE (Account was deleted I think, so I took screenshots)
B'z participating in Linkin Park secret concert in LA on August 31st
Linkin Park is inviting B'z to perform with them at their special secret concert. All you have to do is create a page at http://www.give2gether.com/projects/music-for-relief/, raise $500 for Japan with your page and get 2 tickets to the secret concert on August 31st!
C'mon full version is on air
The full version of C'mon is now broadcasted by radio stations across Japan. C'mon proves to be a good song, but it's far from hard-rock as you'd imagine. It's a song for a commercial after all. It does convince me with its bright melody and brilliant guitar solo (Tak :D). Look forward to listening to it!!
B'z performing at TV Asahi's Dream Festival
It was announced that B'z would be performing at the TV Asahi Dream Festival in Nippon Budokan on September 25th. A ticket costs 9,000 Yen and B'z will be performing at 3 PM. I couldn't find any information on whether it's on television or not, but I suppose it will be. 🙂
B'z guest in a radio show on J-WAVE
On July 18th, J-WAVE is hosting a special radio program called "J-WAVE HOLIDAY SPECIAL PEPSI NEX presents GO NEXT! GO SUMMER!". B'z will be there as a guest on the show. It will be broadcasted from 9AM to 5:55PM. I'll try to get you guys the B'z bit of the show 🙂