Posted on December 4, 2011 by Tobias in
News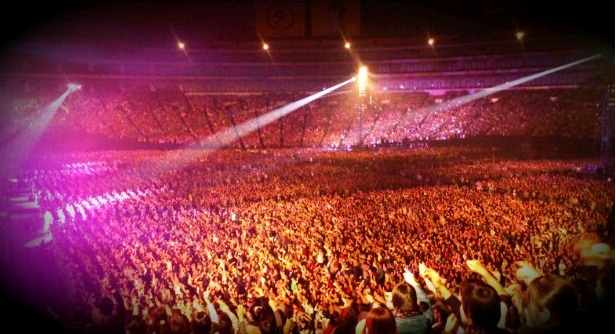 The first show of the LIVE-GYM 2011 C'mon Dome Tour has just wrapped up, and we have the set list right here for you. There have been a few changes, but nothing too major. I liked the fact that they threw in a few more rarely played songs. Changes made to the set list are marked as bold.
Check out the set list after the break!
Posted on September 17, 2011 by Jd- in
News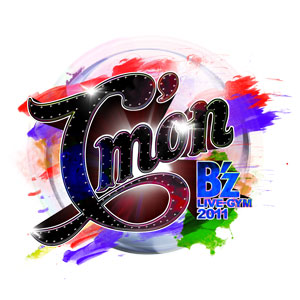 Just under two months since B'z made their triumphant return to the North American music stage following an eight year absence, they are now back in Japan and back doing what they do best. As support for only the latest number one studio effort from the band, the similarly titled "C'mon" LIVE-GYM tour kicked off today with a performance at Miyagi Sekisuiheim Super Arena.
B'z will play an encore concert at the venue again tomorrow night, and from there will move onto Sundome Fukui on September 24th. The arena portion of the tour will conclude on November 6th after seventeen performances, with the dome shows beginning on December 4th in Fukoka before wrapping up on Christmas Day at Tokyo Dome.
Setlist obscured beyond the break to avoid potential spoilers.
Posted on July 27, 2011 by Tobias in
News
B'z new album "C'mon" is in stores today, and 111,549 units have already been sold on the previous day. Unsurprisingly, B'z has done it again: They've earned the pole position on the Oricon Daily Album Chart. To celebrate the release of the new album, B'z has launched a special campaign:
Every copy of C'mon - be it the regular or the limited edition - comes with a small card that has an ID on the back. If you go to http://www.bz-vermillion.com/928live/, you can enter your ID by clicking on the button at the bottom.
Once you've entered your ID, you are automatically participating in a giveaway where you can win one of the few tickets they're giving out for the PEPSI NEX special performance in Shibuya AX on September 28th. Until now, you were only able to get a ticket by buying Pepsi Nex and collecting points until you've got enough points to redeem them and earn your ticket. The deadline to redeem your code is September 6th, 2011 11:59PM.
That is not all, however. Once you redeem your code, you'll also get special download contents. As I've found out, it's actually just a wallpaper available for Android/iPhone/PC/etc which you can download in whatever format you prefer. I haven't received my copy yet, so I don't know what kind of wallpaper it is, but I'm sure it must be something good 😉
Oricon Daily Album Charts: http://www.oricon.co.jp/rank/ja/d/2011-07-26/
Posted on July 6, 2011 by Tobias in
News
Hello folks.
I'm sorry that I wasn't able to update OFF THE LOCK for a few days as I was sick and luckily recovered just in time to go to Berlin and see X JAPAN live on stage. It was pretty good 😀
Before the concert, they distributed a survey and among the questions, there was one "What was the first band you listened to that got you into J-Rock?" and I replied with "B'z".
Let's hope that B'z makes it to Europe one day as well...
On to the news!
There have been quite a lot of good news the past days.
UStream Account indicates LA Performance will be streamed
An Account called PEPSINEX_LIVE has been spotted on UStream and it looks like they're testing the equipment for streaming the show right now. On the channel page it says " PEPSINEX_LIVE started broadcasting: B'z LIVE in L.A.(300Mbps) 1 days ago". And since the account is called Pepsi NEX... they might also stream the PEPSI NEX special performance on September 28th. Who knows? We expect official news in the next days. Stay tuned!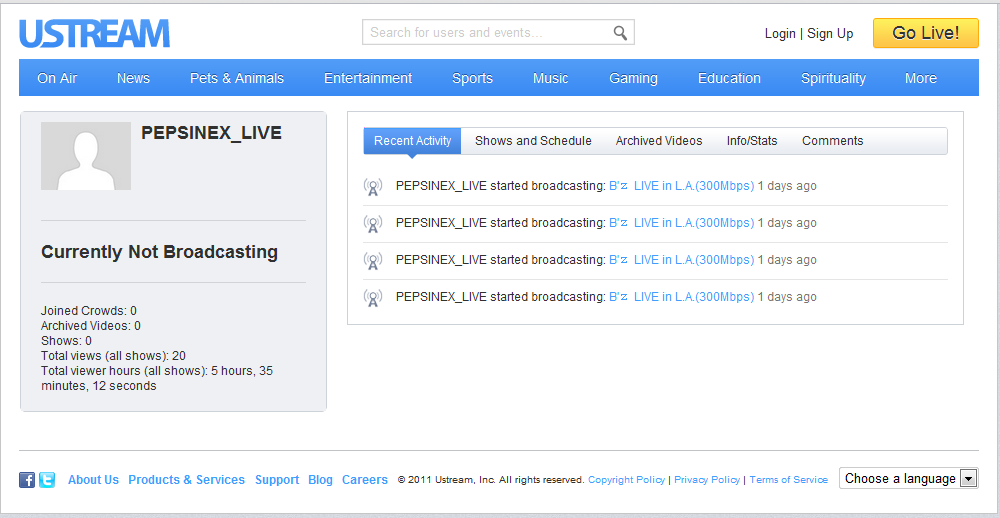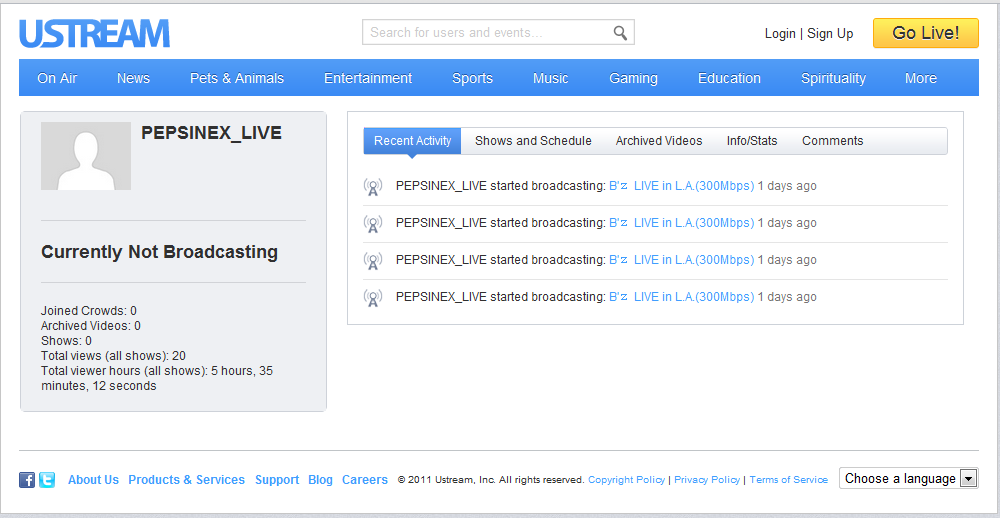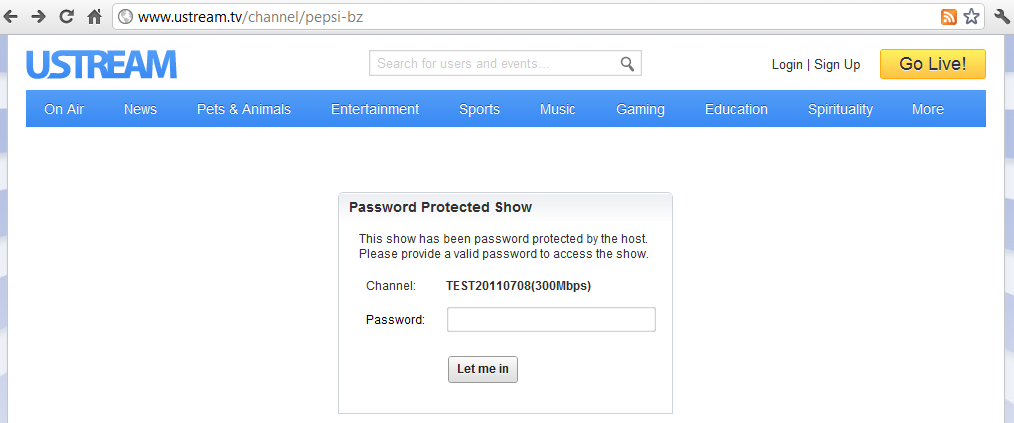 Source: http://www.ustream.tv/user/PEPSINEX_LIVE (Account was deleted I think, so I took screenshots)
B'z participating in Linkin Park secret concert in LA on August 31st
Linkin Park is inviting B'z to perform with them at their special secret concert. All you have to do is create a page at http://www.give2gether.com/projects/music-for-relief/, raise $500 for Japan with your page and get 2 tickets to the secret concert on August 31st!
C'mon full version is on air
The full version of C'mon is now broadcasted by radio stations across Japan. C'mon proves to be a good song, but it's far from hard-rock as you'd imagine. It's a song for a commercial after all. It does convince me with its bright melody and brilliant guitar solo (Tak :D). Look forward to listening to it!!
B'z performing at TV Asahi's Dream Festival
It was announced that B'z would be performing at the TV Asahi Dream Festival in Nippon Budokan on September 25th. A ticket costs 9,000 Yen and B'z will be performing at 3 PM. I couldn't find any information on whether it's on television or not, but I suppose it will be. 🙂
B'z guest in a radio show on J-WAVE
On July 18th, J-WAVE is hosting a special radio program called "J-WAVE HOLIDAY SPECIAL PEPSI NEX presents GO NEXT! GO SUMMER!". B'z will be there as a guest on the show. It will be broadcasted from 9AM to 5:55PM. I'll try to get you guys the B'z bit of the show 🙂
Posted on June 13, 2011 by Tobias in
News
Word was out early this time, as we already knew that B'z new album was called "C'mon" and would be out in July, so we were just waiting for B'z Official Website to get updated today! I proudly present B'z new album 「C'mon」! It'll be out July 27th, and feature 13 tracks with Sayonara Kizu Darake no Hibi yo, Homebound, Don't Wanna Lie and ultra soul 2011 among them. I'm hugely disappointed by the limited edition: The CD+DVD version will come with the music videos of Sayonara Kizu Darake no Hibi yo, Don't Wanna Lie and the new track C'mon.
In other words, all the people who bought the CD+DVD version of B'z past two singles, will have nothing but the music video of C'mon as an extra. Who came up with such a crappy idea?
Limited as well as regular editions will include a card with which you can enter a lottery to win tickets for a special B'z live in September. (see below)
B'z new song C'mon, which is also the title of the new album, will be the new PEPSI NEX commercial song starting from July. B'z will likely also be featured in the commercial. In addition to that, PEPSI NEX' summer campaign gives you the chance to win 2 tickets for a special B'z performance called "PEPSI NEX presents B'z 1DAY LIVE" at Shibuya AX on September 28th.
On to other news: the support members for the North American, as well as the Japanese tour have been announced! Also, the Japanese tour is called B'z LIVE-GYM 2011 -C'mon-.
Keyboards: Takanobu Masuda
Drums: Shane Gaalaas
Bass: Barry Sparks
Support Guitar: Yoshinobu Ohga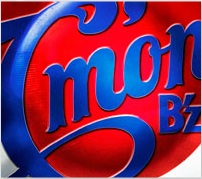 B'z - 「C'mon」
01. C'mon
02. Sayonara Kizu Darake no Hibi yo
03. Hito Shizuku no Anata
04. Homebound
05. Don't Wanna Lie
06. DAREKA
07. Boss
08. Too Young
09. Pilgrim
10. The Meister
11. Dead End
12. Mei Mei
13. ultra soul 2011
Price(limited edition w/ DVD): 3780 Yen
Price(regular edition): 3059 Yen
Release date: 2011.07.27
Pre-order your copy now! (Thanks to Lebon14!)
Normal Edition: [YesAsia (Global)] [YesAsia (US)] [CDJapan.co.jp] [Amazon.co.jp] [HMV.co.jp]
Limited Edition: [YesAsia (Global)] [YesAsia (US)] [CDJapan.co.jp] [Amazon.co.jp] [HMV.co.jp]